Prevalence of endometriosis and adenomyosis by transvaginal ultrasound.
By:
Selma Oransay
- May 4, 2022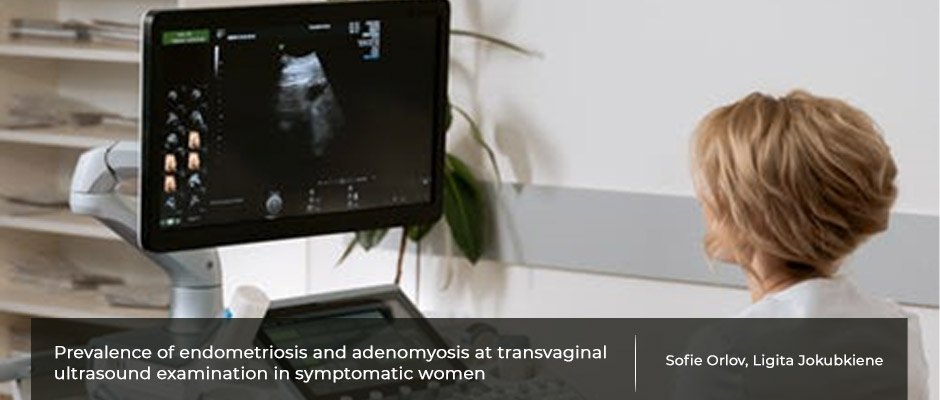 Endometrioma and deep endometriosis could be detected with a 25% prevalence in symptomatic women by transvaginal ultrasonography.
Key Points
Importance:
Deep endometriosis may be missed at the laparoscopy when it is especially in the lower rectum.
Transvaginal ultrasonography is accurate for the early detection and ascertaining the severity of pelvic endometriosis.
Highlights:
Women with pelvic pain or a history of infertility were diagnosed with a prevalence of 25% endometriosis and 12% adenomyosis at transvaginal ultrasound examination.
What's done here:
This retrospective, cross-sectional, single-center study planned to reveal the prevalence of deep endometriosis and adenomyosis among patients with chronic pelvic pain and infertility.
373 women from Sweden's tertiary clinic are included in the study after eliminating patients who had the exclusion criteria.
An experienced ultrasound examiner performed all the transvaginal ultrasonography to look for the pelvic lesions such as deep endometriosis, adenomyosis, ovarian cysts, adhesions, fibroids, malformations, and polyps.
Key results:
One-fourth of women had ovarian endometrioma and/or deep endometriosis. Only "deep endometriosis" prevalence was 9%.
12% of patients had adenomyosis and 22% had other abnormal pelvic findings such as polycystic ovaries, fibroids, polyps, etc.
Severe dysmenorrhea was common among women with other abnormal ultrasound findings and no abnormal findings when compared to women who were diagnosed with endometriosis.
The most common location of endometriosis was in the ovaries with a prevalence of 20%.
Almost half (48%) of the symptomatic women had no abnormal ultrasonographic findings.
Lay Summary
Women who present dyspareunia, dysmenorrhea, dysuria, dyschezia, chronic abdominal, and pelvic pain, and infertility would benefit from the early investigation. If the correct diagnosis of endometriosis and/or adenomyosis can be made in advance, early treatment will improve the quality of life in these patients. Transvaginal ultrasound is considered an accurate method for the diagnosis of endometriosis and adenomyosis as a first-line diagnostic method apart from its cost-effective nature.
This retrospective cross-sectional study by Orlov et al. from the Department of Obstetrics and Gynecology of Lund University, Malmö, Sweden, aimed to reveal the prevalence of endometriosis and adenomyosis, evaluating symptomatic patients with suspicion of endometriosis by transvaginal ultrasonography. A total of 373 women were included in the study and were asked to fill in their symptoms on a questionnaire and to scale them ranging from 0 to 100. Patients' demographic data with the duration of their symptoms were documented in this tertiary clinic while ultrasonographic examinations were made by an experienced radiologist.
The authors found the prevalence of ovarian endometrioma and/or deep endometriosis at 25% and adenomyosis at 12% in the population by the transvaginal ultrasonography. On the other hand, almost half of the symptomatic women did not have any abnormal ultrasound findings.
"These findings are important because previous studies reported a much higher prevalence of deep endometriosis and more patients to schedule laparoscopic operations when compared to ours", concluded the authors.
This recently published paper appeared in the journal "Acta Obstetricia et Gynecologica Scandinavica".
---
---
transvaginal ultrasonography
prevalence
dysmenorrhea
dyspareunia
endometrioma
deeply invaded endometriosis
adenomyosis
endometriosis.
DISCLAIMER
EndoNews highlights the latest peer-reviewed scientific research and medical literature that focuses on endometriosis. We are unbiased in our summaries of recently-published endometriosis research. EndoNews does not provide medical advice or opinions on the best form of treatment. We highly stress the importance of not using EndoNews as a substitute for seeking an experienced physician.
<< Previous Article