Therapeutic strategies involving uterine stem cells in reproductive medicine
By:
Murat Osman
- Jun 1, 2018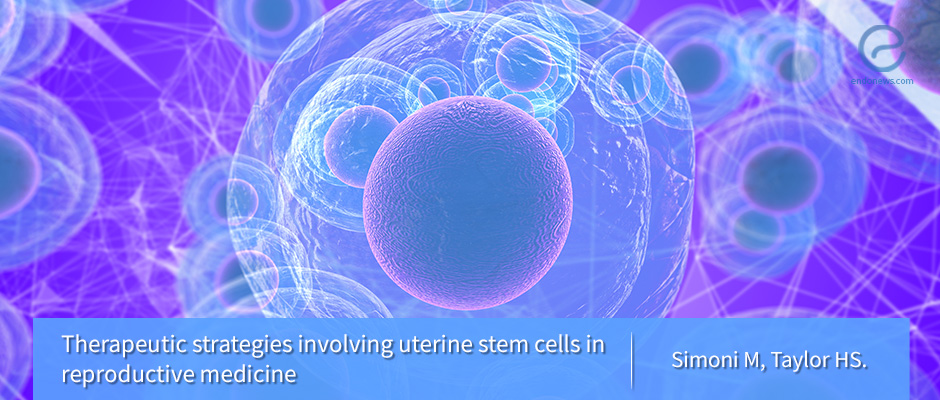 Stem cell research may hold promise for the treatment of endometriosis
Key Points
Highlights:
Understanding how stem cells move, grow, and contribute to endometriosis pathology can give way for treatments aimed at lessening disease burden for the woman with endometriosis.
Key Results:
Controlling the trafficking and modulation of stem cell growth has been seen to not only hold promise for gynecologic diseases such as endometriosis but also conditions such as diabetes and Parkinson's disease.
The endometrium is a rich source of multipotent stem cells that can be used to treat and help the woman become pregnant.
Further research is needed in the chemotactic environment that drives stem cell growth and trafficking.
What's done here?
This article provides an update on the recent advances in stem cell biology and how this technology can increase rates of fertility for the woman with endometriosis seeking pregnancy.
Limitations:
This is an opinionated article.
Lay Summary
Stem cells are undifferentiated cells that often serve to regenerate tissue in states of injury or apoptosis. The endometrium has progenitor cells that replace tissue lost after each menstrual cycle. It has been postulated that excessive stem cell recruitment to the endometrium may contribute to the development of endometriosis. Thus, preventing stem-cell trafficking may lessen disease progression.
Bone marrow-derived stem cells are mesenchymal stem cells that originate from the bone marrow. These cells not only produce immune cells, but also travel to different organs in the body such as the heart, liver, and endometrial stroma. Mouse studies involving restoring menses via ovarian transplant after the uterine injury to investigate the effect of estrogen on recruitment have found that the amount of these bone marrow stem cells did not differ in the uterine stroma. This may mean that other factors other than estrogen are driving the trafficking of these stem cells.
Endometrial stem cells (ESCs) are becoming more promising as an alternative source for stem cells and can be obtained with minimal risk to the donor. The biopsy to acquire these cells can be done in the office and without anesthesia. Furthermore, ESCs have been applied for the treatment of many non-gynecologic diseases such as diabetes, post-myocardial infarction heart healing, and multiple sclerosis via the use of cytokines to induce ESC differentiation.
ESCs have been mostly used for reproductive medicine. Current treatment options mainly aim to either reduce serum levels of estrogen or induce pseudo-decidualization, preventing the proliferative response of endometrial tissue to estrogen. Endometriotic lesions have been found to have an increased expression of CXCL12. Thus, blocking its receptor was shown to impact the migration and cytokine-induced trafficking of bone marrow-derived stem cells and ECSs to the uterus.
Considering the recent explosion in stem cell research and its seemingly limitless applications to medicine, stem cell control may hold promise in the long-term treatment of endometriosis.
---
---
endometriosis
stem cells
treatment
progenitor. trafficing
progression
bone marrow
heart
licer
estrogen
diabetes
healing
DISCLAIMER
EndoNews highlights the latest peer-reviewed scientific research and medical literature that focuses on endometriosis. We are unbiased in our summaries of recently-published endometriosis research. EndoNews does not provide medical advice or opinions on the best form of treatment. We highly stress the importance of not using EndoNews as a substitute for seeking an experienced physician.