Abnormal Regulation of Pathways Seen in Endometriosis
By:
Kasthuri Nair
- May 31, 2018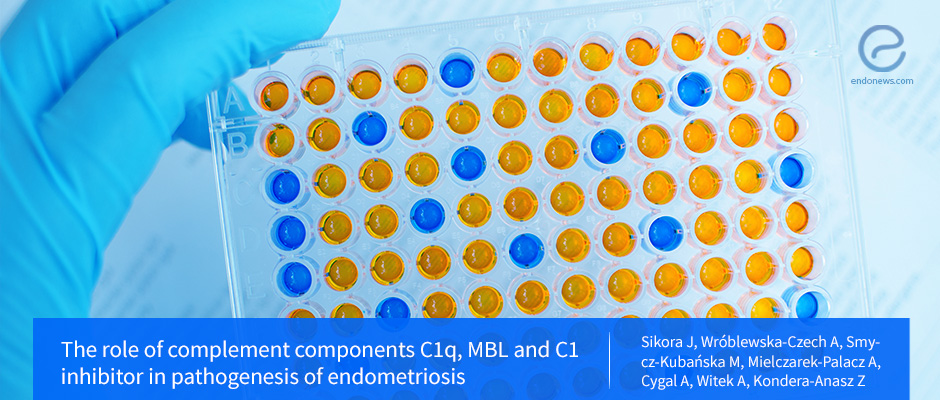 The complement system components are found in higher quantities in the peritoneal fluid in women with endometriosis.
Key Points
Highlights:
The complement system is very important in endometriosis, playing role in the peritoneal clearance and inflammation.
The researchers wanted to see if there was a link between endometriosis and the complement system components such as C1q, mannose-binding lectin (MBL); and C1 inhibitor (C1INH) in the peritoneal fluid.
Importance:
As the exact pathogenesis of endometriosis is unknown, identifying key factors will allow for more target therapies and treatments for those suffering from the disease.
What's done here?
The participants:

80 women undergoing diagnostic or therapeutic laparoscopy for infertility.
Of those, 60 had histologically confirmed endometriosis.

The researchers collected peritoneal fluid samples through aspiration and processed.
A standard cytokine-specific enzyme-linked immunosorbent assay (ELISA) was used to measure the peritoneal fluid levels of the studied parameters (concentrations of C1q, MBL, and C1INH).
A MicroVue C1-Inhibitor Plus EIA test was used to measure the C1 inhibitor levels.
Key results:
Peritoneal fluid levels of C1q, MBL and C1INH were significantly elevated in women with endometriosis when compared to the control group of women without endometriosis.
Women in earlier stages of endometriosis disease progression also had higher concentrations of the studied parameters.
The authors conclude that classical and lectin pathways of the complement system are abnormally regulated in the peritoneal cavity found in women with endometriosis.
Limitations of the study:
This study looks at the behavior of key molecular players in a given pathway outside of their proper environment.
Presence of comorbid diseases should be evaluated, as well as surrogate alterations should be considered.
Lay Summary
Sikora et al., a team from the Medical University of Silesia in Katowice, published a study in the Archives of Gynecology and Obstetrics titled "The role of complement components C1q, MBL and C1 inhibitor in the pathogenesis of endometriosis." It has been said that complement system disorders and endometriosis disease progression may be linked. The paper focused on the complement system components C1q, mannose-binding lectin (MBL), and C1 inhibitor (C1INH) in order to affirm or reject the previous statement.
In endometriosis, one of the most important immune mechanisms inflammation peritoneal clearance of the debris is the complement system. The complement is a critical component of the immune system and consists of over 30 small proteins acting as a cascade of proteases by activating each other in an enzymatic way, while effector mechanisms are mediated by specific cell receptors.
There were 80 women undergoing laparoscopy for infertility who were included in this study. Of those 80 women, 60 had histologically confirmed endometriosis. The researchers collected and processed peritoneal fluid from all of the participants. The samples were then measured by a standard cytokine-specific enzyme-linked immunosorbent assay (ELISA) in order to ascertain the levels of the components. A MicroVue C1-Inhibitor Plus EIA test was used to measure C1 inhibitor levels.
Women with endometriosis had higher levels of the components in their peritoneal fluid. That being said, as the stage of endometriosis advanced, there was found to be a lower concentration of the studied parameters in the peritoneal fluid.
The authors state that their research findings point towards abnormal regulation of the complement activation that leads to a chronic inflammation of endometriosis. They also believe that the results could suggest that women with endometriosis have improper purification of ectopic endometrial cells from the peritoneal cavity and augmented local inflammation.
---
---
endometriosis
C1q
MBL
C1INH
ELISA
complement system
peritoneal fluid
lectin pathway
classical pathway
inflammation
chronic inflammation
DISCLAIMER
Endonews is designed to strictly highlight the most recently published scientific research that focuses on endometriosis. It is not designed to provide medical advice or an opinion on the best form of treatment. We highly stress the importance of not using this site as a substitute for seeking an experienced physician, which is highly recommended if you have any questions or concerns regarding your endometriosis needs. We believe in the consciousness of our reader to discriminate that research is different than "standard of care," and trust that they can keep in mind that here at Endonews, we summarize the newest peer-reviewed scientific medical literature, without bias.
<< Previous Article

Next Article >>