The comparison of the effect of hemostatic techniques on ovarian reserve during endometrioma cystectomy
Nov 17, 2021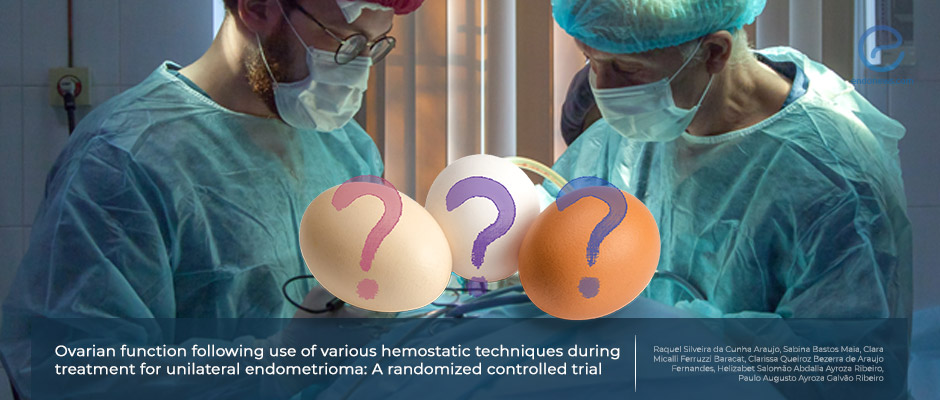 "Bipolar energy", "hemostatic sealants" and "suture" have similar effects on ovarian reserve during endometrioma excision.
Key Points
Highlights:
The effects of different hemostatic methods on ovarian reserve are similar during endometrioma surgery, which one to use should be decided based on the availability.
Importance:
Bipolar energy, hemostatic sealants, and suture are associated with a similar amount of reduction in ovarian reserve during endometrioma surgery.
What's done here?
This is a randomized controlled trial to compare the effect of 3 hemostatic methods (bipolar energy, hemostatic sealants and suture) on the ovarian reserve during laparoscopic cystectomy.
Unilateral endometrioma patients (n=77) undergoing laparoscopic cystectomy due to pelvic pain, infertility, or cyst persistence were included.
Endometriomas were excised by the same experienced team, the study population was randomized by a software program and divided into bipolar energy, hemostatic sealant or suture groups.
The ovarian reserve was assessed using serum Anti-Müllerian hormone levels before the surgery, and 1 and 6 months after surgery.
Key results:
Moderate or severe endometriosis was histopatholoically confirmed in all patients.
Therer was no significant difference in terms of the endometrioma size
There was no significant difference regarding serum preoperative and postoperative 1st and 6th month AMH levels between the groups.
Strenghts and Limitations
Small sample size cis a limitation of the study.
Comparison of three hemostatic techniques in a single clinical trial was the most important strength of the study.
Lay Summary
The possible negative effect of the surgical excision of endometriomas on the ovarian reserve has brought up the meticulous implementation of the decision for surgical approach.
Dr. Raquel Silveria da Cunha Araujo et al, from Brazil, published a study titled as "Ovarian function following use of various hemostatic techniques during treatment for unilateral endometrioma: A randomized controlled trial" in the "International Journal of Gynecology and Obstetrics".
The authors sought to evaluate the effect of different hemostatic techniques, namely bipolar energy, hemostatic sealants, and suture, on ovarian reserve in the patients having unilateral endometrioma who underwent laparoscopic cystectomy. The study population was divided into three groups regarding the hemostatic method and compared in terms of serum preoperative and postoperative 1st and 6th month AMH level as one of the ovarian reserve markers.
although serum AMH levels decreased in all the groups, there was no significant difference in terms of ovarian reserve between the three groups. Since the effects of abovementioned three different hemostatic methods on ovarian reserve are similar during endometrioma surgery, the decision of preference for hemostatic method should be personalized according to availability.
"These results suggest no difference between the different hemostatic techniques used in laparoscopic cystectomy to treat a unilateral endometrioma, allowing the hemostatic method to be chosen according to availability, while bipolar energy should be used judiciously." the authors added.
---
---
endometriosis
anti-Müllerian hormone
endometrioma
laparoscopy
ovarian reserve
DISCLAIMER
EndoNews highlights the latest peer-reviewed scientific research and medical literature that focuses on endometriosis. We are unbiased in our summaries of recently-published endometriosis research. EndoNews does not provide medical advice or opinions on the best form of treatment. We highly stress the importance of not using EndoNews as a substitute for seeking an experienced physician.
<< Previous Article

Next Article >>