Endometriosis, pelvic inflammatory disease and ovarian cancer
Nov 16, 2021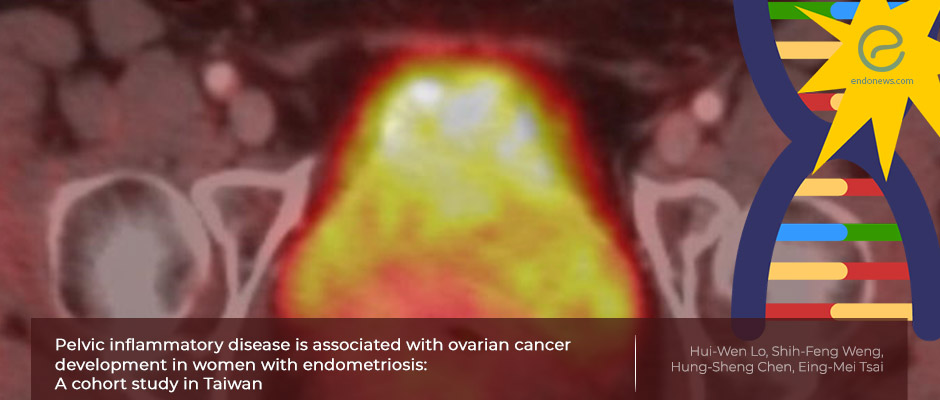 Endometriosis and pelvic inflammatory disease may create a susceptible environment for ovarian cancer
Key Points
Highlight:
Endometriosis patients who later develop a pelvic inflammatory disease may be at higher risk of developing ovarian cancer.
Importance:
Both endometriosis and pelvic inflammatory disease are chronic inflammatory conditions, that may cause genomic instability.
The causal relationship for both disease and ovarian cancer has been shown before.
What's done here:
This is a large retrospective cohort study that assessed 2-million patient data from a national database recorded over 15 years in Taiwan.
The patients with endometriosis and pelvic inflammatory disease were selected and classified into 5 groups and then were compared in terms of developing ovarian cancer.
Key results:
The patient group with a diagnosis of endometriosis prior to pelvic inflammatory disease had the highest risk for ovarian cancer.
The 5- and 10-year cumulative incidence of ovarian cancer was highest in this group.
There was no significance in the comparison of different locations of the pelvic inflammatory disease.
Strengths and limitations
A large, population-based database, a cancer registry, and a death registry are strengths.
The absence of documentation of parity, diet-alcohol, menarche, menopause, oophorectomy, ovulation, and mutation status is not documented
Endometriosis was not staged. The microbiome is not evaluated.
Lay Summary
Endometriosis is a locally aggressive and chronic inflammatory disease and it is now known that with various genetic pathways it creates susceptibility to certain cancers, the most common being ovarian cancer. Pelvic inflammatory disease on the other hand creates a dysbiotic pelvic microenvironment that results in extensive chronic inflammation and genomic instability which may then cause endometriosis and ovarian cancer.
In order to assess this possible relationship, a group of researchers from Taiwan conducted a large retrospective cohort study where they included women with a diagnosis of endometriosis and PID and healthy controls. The study was published in the September 2021 issue of the International Journal of Gynecology & Obstetrics.
More than 160.000 patients' data were collected from a 15-year national database with 2-million people. The subjects were classified into the group with "endometriosis" or pelvic inflammatory disease" alone, or one disease before the other, along with healthy controls. The risk of ovarian cancer was calculated and statistically analyzed for each group, after adjustment for covariates.
Researchers found that the patient group that developed endometriosis prior to pelvic inflammatory disease had the highest risk of ovarian cancer. There was no effect of oral contraceptive use. Endometriosis-associated cancer types, namely endometrioid and clear cell cancers were more common in the patient groups with a diagnosis of endometriosis. For the patient groups with PID and healthy controls, non-endometriosis-associated ovarian cancer types (mucinous, serous, sex-cord stromal, and germ cell tumors) were common.
The authors discuss their previous studies in which they reported specific gene mutations in endometrial and ovarian diseases and the role of pro-inflammatory cytokine IL-10 in the development of ovarian cancer in patients with endometriosis. They then state that pelvic inflammatory disease causes the bacterial microenvironment to change and there is ongoing research to show the possible relationship between pelvic microbiota, dysbiosis, and ovarian cancer. In conclusion, they report that their study findings need to be supported with larger epidemiological studies.
---
---
endometriosis
pellvic inflammatory disease
ovarian cancer
microbiota
dysbiosis
DISCLAIMER
EndoNews highlights the latest peer-reviewed scientific research and medical literature that focuses on endometriosis. We are unbiased in our summaries of recently-published endometriosis research. EndoNews does not provide medical advice or opinions on the best form of treatment. We highly stress the importance of not using EndoNews as a substitute for seeking an experienced physician.
<< Previous Article

Next Article >>