Stem cells could be a good choice for therapeutic steps in many gynecologic disorders, including endometriosis
Apr 26, 2023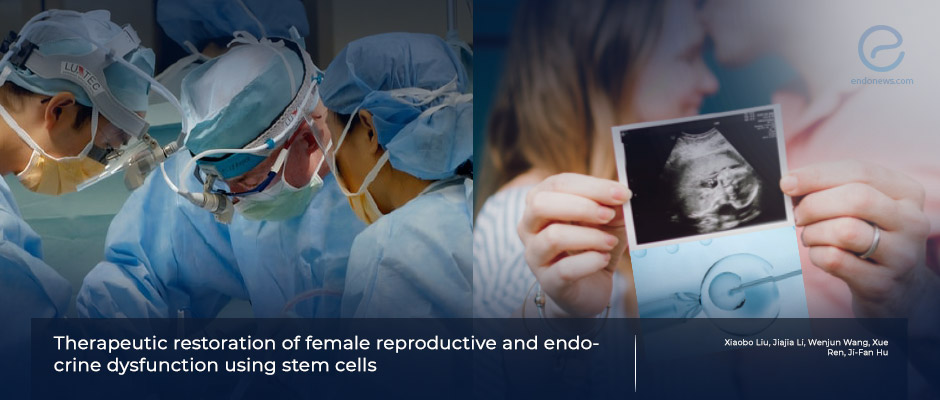 May we think of stem cells as a remedy for endometriosis ?
Key Points
Highlights:
Female infertility, which may be due to endometriosis, is an important health issue worldwide but there have been relatively few developments in this area of medicine.
Stem cells have been suggested as a therapeutic step in treating infertility associated with ovarian dysfunction and endometrial disease.
Importance:
Stem cells can be isolated from a variety of tissues such as adipose tissue, umbilical cords, embryos, bones, gums, menstrual blood, and others.
Now it is clearly seen that stem cells could well be a better strategy among existing infertility treatment options.
What's done here:
This is a comprehensive review article on the status of stem cell therapeutic approaches related to female genital tract disorders with authors contributing from China and USA.
The details of stem cells and stem cell therapy for endometriosis are also included.
Key Results:
Stem cells have been found to have promising results in the treatment of female infertility in both laboratory animal experiments and clinical studies.
It is expected that stem cells may offer patients unique therapeutic options for the treatment of female reproductive and endocrine dysfunction in the near future.
Concerning endometriosis, as stem cells may at least in part account for its development, it will be helpful to develop potential therapeutic targets by identifying diverse stem cell populations.
The major drawback of stem cell therapeutics:
Well-designed randomized clinical trials to measure the true clinical benefits of stem cell therapeutics are still lacking.
Lay Summary
Dr. Liu from the First Hospital of Jilin University, China, and colleagues from China and the USA have published their comprehensive review on the therapeutic gateways of stem cells in female genital tract disorders in a recent issue of Life Sciences.
A great number of women worldwide suffer from infertility associated with gynecologic disorders including endometriosis. There are drawbacks and potential safety hazards associated with therapeutic modalities for these disorders. Currently, the use of stem cells is being questioned as a promising therapeutic option for infertility associated with ovarian dysfunction and endometrium-related diseases.
Stem cells may be isolated from adipose tissue, umbilical cords, embryos, bones, gums, menstrual blood, and other tissues. The use of multiple stem cells has been investigated in various female infertility-causing diseases both in laboratory animal experiments and clinical studies. Notably, stem cells, especially bone marrow-derived stem cells and endometrial stem cells, have been hypothesized in the pathogenesis of endometriosis.
Currently, there is increasing evidence for the importance of endometrial stem cells residing in the basal layer of the endometrium in establishing and evolving from endometriosis.
Another intriguing issue is that defective endometrial mesenchymal fibroblasts may affect uterine factor infertility and endometriosis besides neoplastic transformation. Women with endometriosis have an inadequate progesterone response in the endometrial mesenchymal fibroblasts. disturbing the stromal-epithelial interactions required for proper endometrial circulation and function.
Recently, characteristics of human endometrium-derived mesenchymal stem cells and their tropism to endometriosis have been announced. Endometriotic lesions may produce local factors, such as pro-inflammatory molecules to attract endometrial mesenchymal stem cells that may be serving as drug delivery targeting endometriosis therapy.
Stem cells have shown great therapeutic potential in laboratory animal models and also in some clinical studies. Nevertheless, it is of utmost importance to investigate the specific epigenetic mechanisms of stem cell-mediated recovery to maximize the efficiency of this therapeutic modality. It is highly possible we are approaching a clinical milieu of stem cell therapeutics offering patients new horizons. However, we need more well-designed randomized clinical trials to yield the true clinical benefits of stem cell applications.
---
---
Infertility
Endometriosis
Stem cell therapy
DISCLAIMER
EndoNews highlights the latest peer-reviewed scientific research and medical literature that focuses on endometriosis. We are unbiased in our summaries of recently-published endometriosis research. EndoNews does not provide medical advice or opinions on the best form of treatment. We highly stress the importance of not using EndoNews as a substitute for seeking an experienced physician.
<< Previous Article

Next Article >>