Non-invasive diagnostic tools for endometriosis revisited
Apr 27, 2022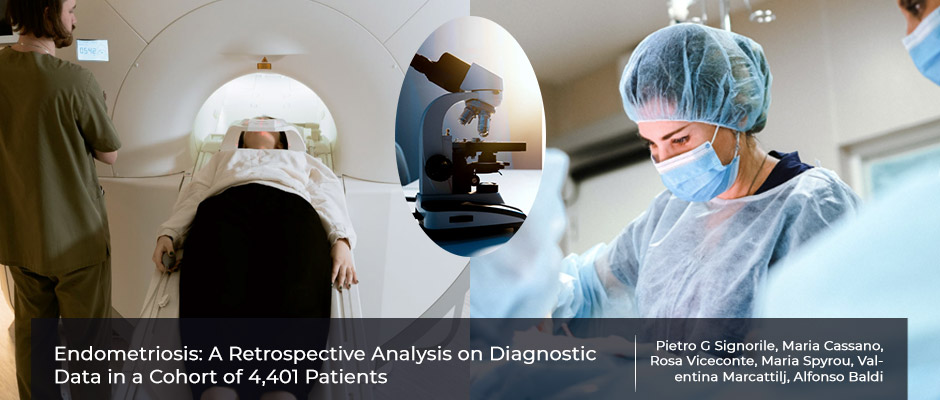 Is there any diagnostic modality comparable to biopsy diagnosis in endometriosis?
Key Points
Highlights:
Due to the controversial statements and the lack of precise knowledge about endometriosis, it is an incredibly underdiagnosed and undertreated condition with a long delay between the beginning of symptoms and clinical diagnosis.
Importance:
A definitive diagnosis of endometriosis can be reached by microscopic examination of tissue biopsies which are obtained by surgery or laparoscopy.
Non-invasive tools as diagnostic modalities vs. microscopic histological results still need to be validated as dependable non-surgical clinical assessments of endometriosis.
What's done here:
This is a retrospective study performed on a cohort of 4,401 endometriosis patients that visited the Italian Endometriosis Center for over 10 years.
Outcomes of the various diagnostic approaches are evaluated and compared with the microscopic evaluation of biopsies.
Key results:
MRI is the most sensitive and specific diagnostic tool for ovarian endometriosis, but sensitivity and specificity is poor for deep endometriosis. Not indicated at all for peritoneal lesions.
Negative results for Ca125 and Ca19.9 markers have poor reliability and in symptomatic patients, they have no clinical value, however, in positive cases, they may be used for follow-up.
Lay Summary
Dr. Signorile and associates from the Italian Endometriosis Foundation have published the results of their retrospective study on a large cohort of endometriosis patients in a recent issue of the periodical, In Vivo.
Endometriosis lacks precise scientific knowledge and this brings about an incredible underdiagnosis and undertreatment with a long interval of 8-12 years between the beginning of symptoms and the appropriate clinical diagnosis. Currently, there is not any non-invasive diagnostic tool for definitive diagnosis. The final diagnosis of endometriosis is by microscopic examination of ectopic endometrial tissues taken during surgery/laparoscopy.
This retrospective study was conducted on a significant cohort of endometriosis patients, for a period of over 10 years (from 2000 to 2010) at the Italian Endometriosis Foundation. The entire cohort consisted of 4.401 patients, 584 had also undergone surgery with a tissue biopsy. The association between outcomes of the various diagnostic approaches, using the microscopic evaluation of biopsies as a reference to evaluate the efficacy of the non-invasive tools was assessed.
The main results of this study revealed that MRI seems to be the most sensitive and specific diagnostic tool for ovarian lesions, but not in deep endometriosis lesions and totally not indicated and not informative for peritoneal lesions which still remain a definite candidate for surgery. Clinical signs are more reliable and remain essential for diagnosing deep lesions. The Ca125 and Ca19.9 markers are not reliable and their negativity in symptomatic patients is not valuable, however, their positivity may be used for follow-up.
As another clinically important observation, diagnostic surgical procedures alone may not detect all the patient's endometriotic lesions.
---
---
endometriosis
non-invasive diagnosis
correlation analysis
MRI
laparoscopy
DISCLAIMER
EndoNews highlights the latest peer-reviewed scientific research and medical literature that focuses on endometriosis. We are unbiased in our summaries of recently-published endometriosis research. EndoNews does not provide medical advice or opinions on the best form of treatment. We highly stress the importance of not using EndoNews as a substitute for seeking an experienced physician.