The underlying reason of implantation failure in women with endometriosis-associated infertility
By:
Hale Goksever Celik
- Apr 26, 2022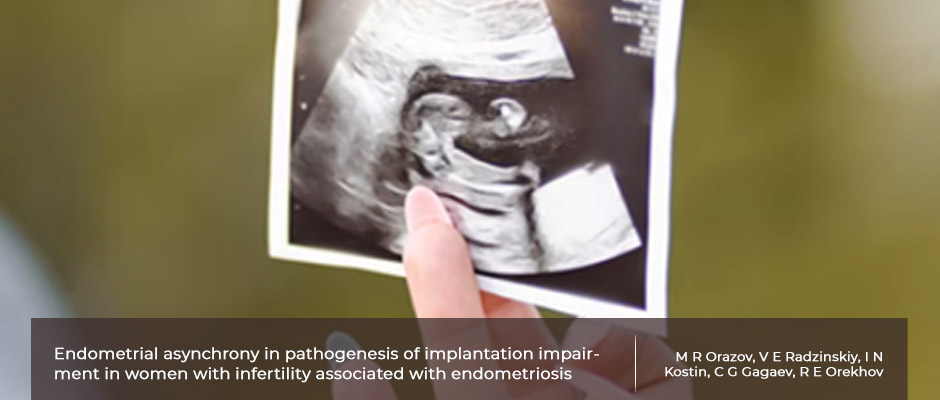 Angiogenetic and apoptotic mechanisms are responsible for recurrent implantation failure in women having endometriosis-associated infertility.
Key Points
Highlights:
Abnormal angiogenesis, decreased apoptosis, and abnormal molecular genetic features result in defective endometrial receptivity and asynchronous transformation of the epithelial-mesenchymal compartment in endometriosis patients.
Importance:
Infertile patients due to endometriosis may have impaired endometrial receptivity and they have to be informed about the management prior to assisted reproduction treatments.
What's done here?
This case-control study from Russia was conducted to investigate the underlying mechanism of endometriosis-associated implantation failure.
Women diagnosed with endometriosis-associated infertility and recurrent implantation failure (ERIF)Vwere compared to fertile endometriosis patients (EF) and healthy women without endometriosis.
Recurrent implantation failure was diagnosed as "a history of 3 or more unsuccessful attempts to transfer a single embryo of good quality into the uterine cavity" during IVF programs.
Endometrial biopsy samples were taken by pipelle biopsy on the 7th day of the luteinizing hormone peak which was supposed as the implantation period.
The expression of vascular endothelial growth factor (VEGF-A) as an angiogenic factor, the proapoptotic protein CASP3, and the HOXA10 gene as one of the endometrial receptivity factors were assessed by immunohistochemistry in endometrial tissue samples.
Key results:
A total of 123 women were included: 41 patients in the ERIF group, 42 patients in the EF group, and 40 patients in the morphological control group.
Immunological staining of VEGF-A in samples from the ERIF group showed a significant decrease and the expression of the proapoptotic protein CASP3 was significantly increased compared to the remaining participants.
The expression of HOXA10 in the stromal and glandular compartments was also significantly decreased in the ERIF group.
Lay Summary
Endometriosis is most frequently encountered in reproductive-aged women, with a prevalence of 10-15% in the general population. However, endometriosis is more frequently diagnosed in infertile women, with a prevalence of 25-40%.
Although the exact mechanism explaining the association between endometriosis and infertility has not been elucidated, distorted pelvic anatomy, impaired ovarian function, altered microenvironment, affected endometrial receptivity, and embryo quality has been accepted as the most common responsible mechanisms. Besides fertility problems, women with endometriosis may encounter recurrent implantation failures during assisted reproductive technology treatments.
Orazov et al., from Russia, published a study titled "Endometrial asynchrony in the pathogenesis of implantation impairment in women with infertility associated with endometriosis" in the journal Gynecological Endocrinology.
The authors aimed to explain the underlying mechanism of recurrent implantation failures in women having endometriosis-associated infertility compared to fertile endometriosis patients and women having no endometriosis. They evaluated endometrial biopsy samples immunohistochemically which were taken through pipelle biopsy during the implantation period.
A significant decline in expression of VEGF-A and HOXA-10 was detected whereas expression of the proapoptotic protein CASP3 was increased significantly in the samples of the ERIF group compared to the remaining participants.
"Basis of implantation impairment in patients with repeated implantation failures associated with endometriosis lies in angiogenetic and apoptotic disorders and leads to implantation failure in the eutopic endometrium due to desynchronous transformation of the epithelial-mesenchymal compartment and disruption of endometrial trophism." they added.
---
---
endometriosis
implantation failures
infertility
VEGF-A
CAPS3
HOXA-10
angiogenesis
apoptosis
DISCLAIMER
EndoNews highlights the latest peer-reviewed scientific research and medical literature that focuses on endometriosis. We are unbiased in our summaries of recently-published endometriosis research. EndoNews does not provide medical advice or opinions on the best form of treatment. We highly stress the importance of not using EndoNews as a substitute for seeking an experienced physician.
<< Previous Article

Next Article >>