How Ovarian Endometriomas and DIE affect ART outcomes
By:
Murat Osman
- Nov 5, 2018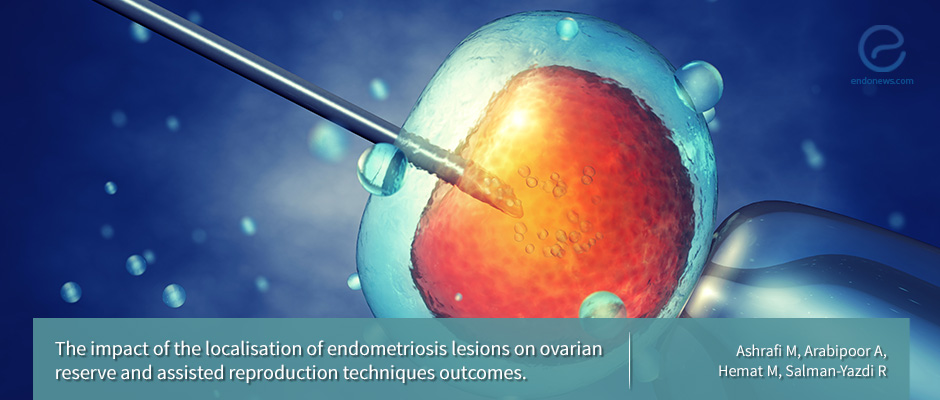 Presence of DIE, Ovarian Endometrioma, and hormonal aberrations have varying effects on ART outcomes
Key Points
Highlights:
Presence of DIE, ovarian endometrioma, and hormonal aberrations have varying effects on ART outcomes based on recent results published in the Journal of Gynaecology.
Importance:
What's done here:
This case-control study was designed to evaluate the impact of endometriosis and the presence of ovarian endometrioma (OMA) on serum AMH level and to compare the in vitro fertilization/intracytoplasmic sperm injection (IVF/ICSI) outcomes after therapeutic surgery in endometriosis patients who have ovarian endometrioma.
Key Results:
Limitations: Controls were not screened for asymptomatic endometriosis or specified as to what severe male factor infertility was defined as.
Lay Summary
Previous studies have evaluated the impact of an ovarian endometrioma on ovarian reserve and its impact on the success of assisted reproductive technology (ART) outcomes have controversial results.
ART is a method by which a woman's own hormones are used in a controlled and timed clinical setting to achieve fertility. One such hormone, anti-Müllerian hormone (AMH) is routinely used to predict how well a woman is likely to respond to ovarian stimulation for in vitro fertilization (IVF) treatment and what doses of hormones should be used during IVF. Previous studies have shown that the presence of ovarian endometriosis decreases the outcomes of ART due to its impact on controlled ovarian stimulation.
This case-control study published by Ashrafi et. al from the Reproductive Biomedicine Research Center, Tehran, Iran in the Journal of Obstetrics and Gynaecology aimed to evaluate the impact of endometriosis on IVF outcomes after therapeutic surgery. They included 152 infertile women below the age of 40 with symptoms consistent with endometriosis and used 131 woman the control group who were thought to be infertile due to "male factor infertility". Presence of endometriosis was based on surgical detection and histologic confirmation. Using Serum anti-mullerian hormone (AMH) levels and IVF/Intracytoplasmic sperm injection (ICSI), outcomes were compared according to the extent of endometriosis (via the ASRM classification) and the presence of an ovarian endometrioma.
The results of the study found that the severity of endometriosis could affect the ovarian reserve and COS outcomes; however, the existence of DIE alone and in combination with OMA was found to be associated with a decreased live birth rate in endometriosis patients. Additionally, the existence of OMA alone is not effective on pregnancy outcomes. Therefore, workup of the extent, location, and character of each women's endometriosis should be accomplished for appropriate pre-treatment counseling.
---
---
fertility
endometriosis
pregnancy
ART
endometrioma
DIE
antimullerian hormon
IVF
DISCLAIMER
Endonews is designed to strictly highlight the most recently published scientific research that focuses on endometriosis. It is not designed to provide medical advice or an opinion on the best form of treatment. We highly stress the importance of not using this site as a substitute for seeking an experienced physician, which is highly recommended if you have any questions or concerns regarding your endometriosis needs. We believe in the consciousness of our reader to discriminate that research is different than "standard of care," and trust that they can keep in mind that here at Endonews, we summarize the newest peer-reviewed scientific medical literature, without bias.
<< Previous Article