High-dose progestin intake and sexual functions in endometriosis patients
Jan 22, 2021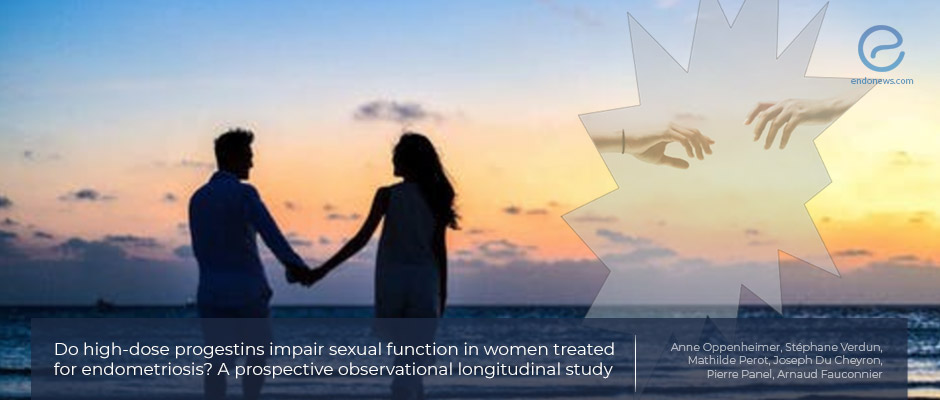 The effects of progestins on the central nervous system could lead to a reduction in libido.
Key Points
Importance:
High-dose progestins have been widely used for pain symptoms in endometriosis for more than 30 years, but their impact on sexual function is not clear.
Highlights:
High-dose progestins improve dyspareunia, but they impair the sexual function in women with endometriosis when used as medical treatment or as a complement of surgery.
What's done here?
This is a prospective observational longitudinal study on 514 women with endometriosis, performed in two different academic centers in France.
Sexual activity questionnaires were collected before, and 12 months after endometriosis treatment.
The authors also assessed the change in dyspareunia score and quality of life between the two groups.
Key Results:
Only 383 patients were sexually active before the high-dose progestins. The control group included 189 women.
264 women completed the questionnaires after high-dose-progestins, 214 (56%) were sexually active, and 25 women (12%) were exposed to high-dose progestins.
These sexual dysfunctions were decreased libido, pain, tiredness, fear of pain, etc.
Sexual activity scores were significantly low in women who exposed to high-dose progestins.
Lay Summary
Dr. Oppenheimer et al. from the Department of Reproductive Medicine and Fertility Preservation of Antoine Beclere University Hospital, Clamart, France, recently published this bi-center observational prospective study in "Acta Obstetrica et Gynecologica Scandinavica".
The study was designed to put forth the effect of high-dose progestin intake on sexual functions and includes 214 women who are sexually active and diagnosed with endometriosis. Every single patient completed the French version of the specific sexual activity questionnaire (SAQ) at the beginning and after 12 months of their high-dose progestin treatments. In the control group, there were women who had not been exposed to high-dose progestins but still receiving hormonal therapy as progestin implants, very low-dose progestins, and intrauterine devices with progestin.
The authors measured the outcomes by sexual activity scores of the questionnaires, and dyspareunia and the quality of life were also evaluated when comparing high-dose progestin exposed women to the control group. There were only 25 women who were exposed to high-dose progestin in this longitudinal prospective study compared to the control group which contains 189 women.
These patients who received high-dose progestin represent significantly low sexual activity scores compared to the control group. On the contrary, dysparenuia and quality of life scores did not show any statistical difference when compared to controls.
In this observational study, the authors concluded that the women treated with high‐dose progestin had impaired sexual function compared to those treated with other medications. "Practitioners should be aware that even though high‐dose progestins may improve pain symptoms, they negatively impact the sexual quality of life, and the patients should be informed of this potential side effect", they added.
---
---
dyspareunia
progestins
sexual activity questionnaire
sexual function
endometriosis
DISCLAIMER
EndoNews highlights the latest peer-reviewed scientific research and medical literature that focuses on endometriosis. We are unbiased in our summaries of recently-published endometriosis research. EndoNews does not provide medical advice or opinions on the best form of treatment. We highly stress the importance of not using EndoNews as a substitute for seeking an experienced physician.
<< Previous Article