Endometriosis, Fatigue and Productivity
Jan 21, 2021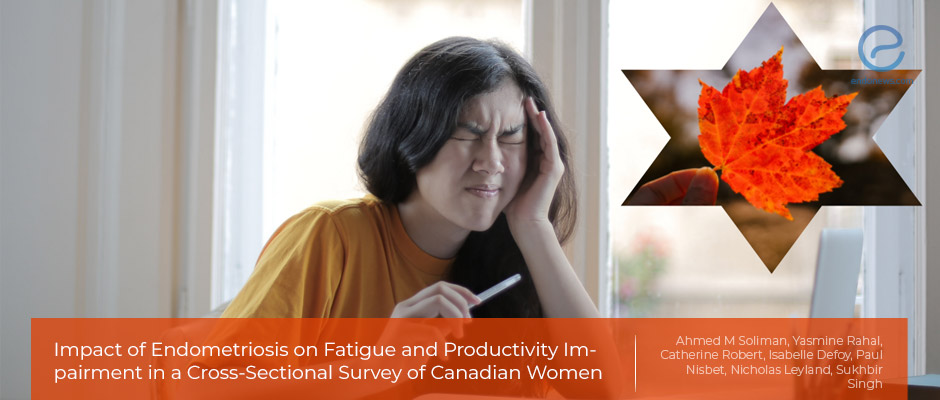 Endometriosis cause fatigue and negatively affects workplace productivity
Key Points
Highlights:
Fatigue has a significant impact on daily activities and of work productivity of Canadian women who have a "self-reported endometriosis diagnosis"
Importance:
Management strategies for endometriosis should be expanded to adequately address the effect of endometriosis-related fatigue.
What is done here?
A cross-sectional online survey was done to assess the symptomatic disease burden of endometriosis in Canada, fatigue, and productivity impairment of women with a self-reported endometriosis diagnosis were examined. Survey response data were collected from 30,000 Canadian women aged 18 – 49.
Fatigue was measured using the Patient-Reported Outcomes Measurement Information System (PROMIS) Short Form, Productivity impairment was assessed by the Work Productivity and Activity Impairment -Specific Health Problem (WPAI-SHP). Total raw scores from PROMIS fatigue Short Form were summed and converted to T-scores, with the highest indicating worse fatigue.
Key results
Fatigue and productivity impairment were significantly higher for women with self-reported endometriosis diagnosis, in all age groups
Women with self-reported endometriosis diagnosis experiencing moderate/severe symptoms also had significantly higher fatigue and productivity impairment compared to those with mild symptoms.
Work impairment and activity impairment are significantly higher than respective impairment percentages in other age groups except the 30-34 group.
Limitation of the study
Sample bias may be present due to the respondents were limited to women who participated in online research, or baseline demographic differences between cohorts.
The patient's reports on endometriosis diagnosis and clinical characteristics cannot be clinically confirmed and work loss data cannot be verified.
Lay Summary
Fatigue is one of the prominent and distressing symptoms of endometriosis-associated with insomnia, depression, pain, occupational stress, and reduced health-related quality of life. Endometriosis-related fatigue causes significant impairments in workplace productivity and daily activities of women with endometriosis. Loss of productivity in the workplace imposes a steep societal economic burden.
It is only recently that evaluation on endometriosis-related fatigue was performed in larger studies. The article "Impact of Endometriosis on Fatigue and productivity Impairment in a Cross-sectional survey of Canadian Women" published in Gynaecology, is the first study to evaluate the extent of fatigue in Canadian women with endometriosis and to assess the impact of endometriosis on work productivity.
This cross-sectional online survey and sample weighting ensured that the study is representative of the general population of Canadian women with self-diagnosed endometriosis at various stages of the disease. The patient-reported outcomes instruments included in the survey are valid and reliable. Even though the study provides valuable information on two aspects of the burden of endometriosis from a patient's perspective, it posed some important limitations.
The results of the study showed that a greater percentage of Canadian women with self-reported endometriosis were strongly affected by fatigue than those without. Both fatigue burden and work performance and activity impairment were consistently greatest for women with endometriosis aged 30 to 39, with less impact among women aged >40. Moreover, the economic impact on productive losses is likely significant because most women of reproductive age are affected by endometriosis and represent a large proportion of the workforce. The differences in work and activity impairments are reflective of different fatigue severity among the age group.
The overall results of the study highlighted the significant burden of fatigue and productivity impairments among Canadian women with endometriosis and suggest that management strategies on endometriosis will not only focus on pain and infertility but expand to address endometriosis-related fatigue.
---
---
endometriosis-related fatigue
work productivity
self-report diagnosis of endometriosis
DISCLAIMER
EndoNews highlights the latest peer-reviewed scientific research and medical literature that focuses on endometriosis. We are unbiased in our summaries of recently-published endometriosis research. EndoNews does not provide medical advice or opinions on the best form of treatment. We highly stress the importance of not using EndoNews as a substitute for seeking an experienced physician.
<< Previous Article

Next Article >>