Development of Less Invasive Diagnostic Tests for Endometriosis Through Proteomics
Jan 31, 2019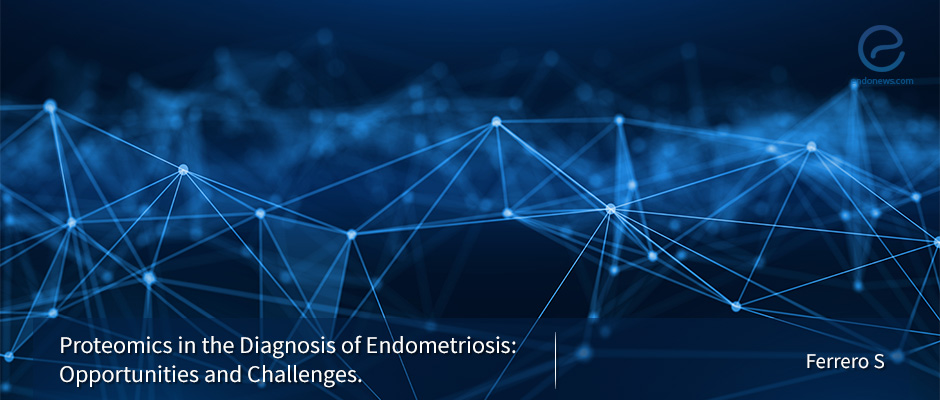 Current Obstacles In the Development of a Blood Test for Endometriosis
Key Points
Highlights:
This article highlights the potential of proteomic technology for the development of less invasive diagnostic testing, namely serum protein markers, for the diagnosis of endometriosis.
Key results:
Obstacles (confounding variables) that proteomic technology face when trying to identify aberrant or differentially expressed proteins in normal versus endometriotic lesions include:

There are various forms of endometriosis (superficial, ovarian, or deeply infiltrating lesions).
The variable severity of the disease.
The use of hormonal therapies may significantly change protein expression.

A diagnostic test should have good sensitivity, specificity, and satisfactory positive and negative predictive values.
What's done here?
The utility of proteomics for the development of diagnostic tools for endometriosis.
Limitations:
This is a commentary that discusses recently published research. Further research is needed to confirm the utility of the previously mentioned proteins to be used for markers in the clinical setting.
Lay Summary
Proteomics is a field which utilizes various methods to carry out large-scale studies of proteins. Due to the inherent nature of the field, proteomics focuses on the identification, localization, and functional analysis of the protein make-up of a given type of cell. Understanding different proteins and their function, expression, and structure allow researchers to understand complex disease processes and identify new drug targets that may be useful in the clinical setting for individuals who suffer from endometriosis. Currently, the gold standard in the diagnosis of endometriosis is based on the visualization of lesions during laparoscopy and histologic confirmation of at least one suspected lesion. However, researchers aim to develop less invasive methods for the diagnosis of endometriosis through the use of proteomic technology.
A recent commentary article titled, "Proteomics in the Diagnosis of Endometriosis: Opportunities and Challenges" written by Professor Simone Ferrero, a specialist in Gynecology and Obstetric research at the University of Genoa, Italy aims to address the utility of proteomics in the diagnosis of endometriosis and the current barriers for its success.
Specifically, the article describes Proteomic technologies and its possible application for the identification of plasma markers of endometriosis. Recent research that has utilized these technologies have recently identified several potential protein targets as a diagnostic tool; proteins that are aberrantly expressed in endometriosis versus eutopic endometrium.
Samples from normal endometrium, peritoneal lesions peritoneal fluid, urine, and menstrual blood have been analyzed using proteomic technology. Several serum markers such as CA 19-9, serum protein PP14, and interleukins have been found to be abnormally expressed in endometriosis however were found to yield low diagnostic value.
In one recent study by Manousopoulou et al, 21 proteins were found to be aberrantly expressed between eutopic endometrium and serum of women with endometriosis. Thus, these proteins were discussed to hold potential value as serum markers for the diagnosis of endometriosis. However, further research is necessary to ensure that these proteins can be used as a diagnostic tool when compared to the current gold standard.
---
---
endometriosis
proteomics
diagnosis
blood
test
DISCLAIMER
EndoNews highlights the latest peer-reviewed scientific research and medical literature that focuses on endometriosis. We are unbiased in our summaries of recently-published endometriosis research. EndoNews does not provide medical advice or opinions on the best form of treatment. We highly stress the importance of not using EndoNews as a substitute for seeking an experienced physician.