Clinical trial for the use of oral lactobacillus on endometriosis pain severity
By:
Yu Yu
- Aug 30, 2019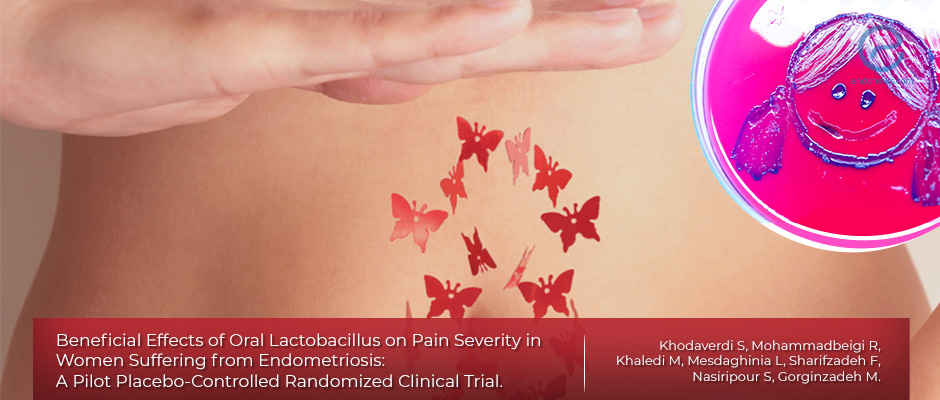 Probiotics to reduce endometriosis pain
Key Points
Highlight:
This is a pilot placebo-controlled randomized clinical trial to assess the effects of lactobacillus-based medication on endometriosis related-pain intensity.
Importance:
The study finding suggests some beneficial effects of lactobacillus administration for reducing endometriosis-related pain.
What's done here:
Thirty-seven women who were surgically and pathologically diagnosed with endometriosis, and with no prior hormonal treatment in the last three months were enrolled in the study.
Participants were randomized into lactobacillus treated and placebo groups, which were administrated orally once a day for 8 weeks.
The pain severity was scored using Visual Analogue Scale (VAS) scores for dysmenorrhea, dyspareunia and chronic pelvic pain at baseline and after 8 and 12 weeks treatment.
Data:
Lactobacillus-based medication administered group had a greater reduction in dysmenorrhea-related pain and the overall pain after 8 weeks of treatment as to the placebo.
Limitation:
The beneficial finding that was not really significant and convincing.
Small sam­ple size
This is a pilot study and should be further assessed in a future larger study population.
Lay Summary
The standard treatment of endometriosis consists of surgery and hormonal based treatment. There is evidence for the efficacy of these types of treatment, although their side effects remain a critical consideration for women. Based on molecular studies, changes in the function of immunologic cells like monocytes, macrophages, natural killer cells (NK), cytotoxic T cells and B cells have been detected in the peritoneal fluid of women with endometriosis.
Lactobacillus bacteria consist of a number of species with Lactobacillus Aci­dophilus, Lactobacillus Plantarum, Lactobacillus Fermentum and Lactobacillus Gasseri being the predominant healthy microbial flora for the gut and genitourinary tract. These constitute the probiotics and is effective in maintaining the normal pH of the vagina and preventing genital infections. They are believed to work via modifying the host immunity and interfere with the colonization of external pathogens.
There is now also evidence that normal flora within the gut may affect pain by affecting neurologic pathways. Therefore, lactobacillus may be useful for relieving endometriosis-related pain. The current study by Khodaverdi et al. from Iran University of Medical Science, Tehran, Iran tested this hypothesis in a pilot placebo-controlled randomized clinical trial. The paper was recently published in the International Journal of Fertility and Sterility.
The study recruited thirty-seven patients with endometriosis diagnosed surgically and pathologically. Participants were then ran­domly assigned to receive either one capsule per day of lactobacillus medication or placebo as the control group. The lactobacillus-based medication contains four different Lactobacillus strains. It should be noted that the mean age of participants and mean body mass index for the two groups were similar. All the women recruited had stage 3 and 4 endometriosis.
Initially, the mean pain scores for dysmenorrhea, dyspareunia, and chronic pelvic pain before medications were not different for the experimental and the control group. Lactobacillus-based medication group experienced a greater reduction in dysmenorrhea related pain and the overall pain after 8 weeks of treatment as compared to the control group. The overall pain score was also decreased.
These data suggest that lactobacilli have some beneficial effects in reducing endometriosis-associated pain. However, this finding is limited by the small sample size and was designed initially as a pilot study. Therefore, this study warrants a future larger study population to determine the benefit of probiotics in treating endometriosis pain.
---
---
clinical trial
pain
lactobacillus
endometriosis
VAS
dysmenorrhea
dyspareunia
DISCLAIMER
Endonews is designed to strictly highlight the most recently published scientific research that focuses on endometriosis. It is not designed to provide medical advice or an opinion on the best form of treatment. We highly stress the importance of not using this site as a substitute for seeking an experienced physician, which is highly recommended if you have any questions or concerns regarding your endometriosis needs. We believe in the consciousness of our reader to discriminate that research is different than "standard of care," and trust that they can keep in mind that here at Endonews, we summarize the newest peer-reviewed scientific medical literature, without bias.
<< Previous Article

Next Article >>