Assessing endometrial receptivity using menstrual blood samples in patients undergoing in-vitro fertilization
By:
Eylül GÜN
- Sep 14, 2023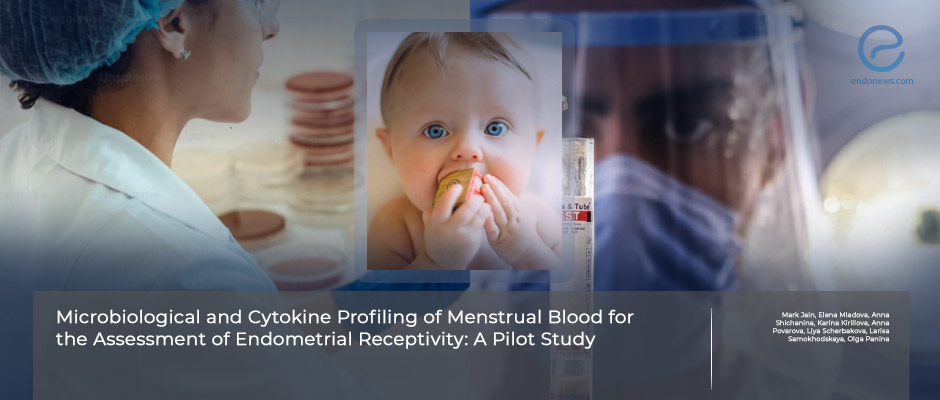 Immunological analysis of the menstrual blood might be useful as a prognostic indicator, study shows
Key Points
Highlight:
Menstrual blood analysis might be a promising prognostic tool in assessing endometrial receptivity in patients suffering from infertility.
Importance:
The causes of impaired function of endometrial receptivity in infertility have not been fully understood.
This study provides the most comprehensive immunological and microbiological analysis of the menstrual blood in patients undergoing cryo-embryo transfer.
What's done here:
This is a Russian pilot study aiming to investigate menstrual blood as a biomarker in understanding endometrial receptivity and its prognostic value in patients undergoing embryo transfer.
Menstrual blood samples from 42 patients were taken and analyzed for immunological markers and microbiological agents.
A total of 48 immune mediators were analyzed using a multiplex immunoassay and real-time PCR was used to detect the different microbiota elements.
The results were compared between patients with successful pregnancies and those without.
Key results:
A statistically significant difference was observed in levels of several immune mediators (G-CSF, IL-6, IL-9, MCP-1, M-CSF, IP-10, TNF-β, TRAIL, MIG,..) between the two groups.
IP-10 and MIG in particular showed significant prognostic value.
Significantly lower levels of IP-10 and SCGF-β were seen in patients with endometriosis.
No significant differences were identified regarding the endometrial microbiota status.
Limitations:
The small study group, the possibility of contamination of menstrual blood by cervical microbiota, possible changes in cytokine levels in different cycle periods, and the exploratory design of the study were the limitations.
Lay Summary
Endometrial receptivity is the endometrium's capacity to allow the embryo the chance to adhere, infiltrate, and develop while ensuring an ideal microenvironment. When impaired, it is one of the two major factors contributing to infertility along with embryo quality by causing implantation failure. In patients who are being treated for infertility, endometrial receptivity could not be evaluated thoroughly because of the inability to sample it outside the embryo transfer cycle.
Researchers led by Dr. Mark Jain from Moscow, Russia conducted a pilot study in which they assessed the menstrual blood at the beginning of an embryo transfer cycle. They aimed to use menstrual blood as a biomaterial in order to get information on the microbiological and cytokine profiling of endometrial receptivity and therefore have knowledge about the prognosis of the in vitro fertilization procedure. The study was published in the April 2023 issue of the journal named Biomedicines.
The study included 42 patients undergoing a cryo-embryo transfer. After the collection of the menstrual blood, the samples were processed and analyzed using a multiplex immunoassay for various immune mediators (48 in total) and real-time PCR for microbiological agents. The results were compared between patients who achieved pregnancy and those who did not.
Several immune mediators including G-CSF, IL-6, IL-9, MCP-1, M-CSF, IP-10, TNF-β, TRAIL, and MIG showed statistically significant differences between the two groups. Among these, the authors noted that IP-10 and MIG demonstrated substantial prognostic significance for the outcome of the assisted reproductive technology treatment. The authors discussed that this result does not indicate an active inflammatory state, but rather a more "proinflammatory phenotype with increased proliferative status". Additionally, looking at it from a clinical standpoint, patients with endometriosis had considerably lower levels of IP-10 and SCGF-β. It is pointed out that IP-10 might be mediating endometriosis but is not a reliable diagnostic/prognostic marker.
The microbiological analysis did not reveal any significant findings between the groups regarding endometrial microbiota. The authors conclude by saying that this important biomaterial may be providing more opportunities for non-invasive evaluation of endometrial receptivity, however, larger cohort studies are needed.
---
---
endometrial receptivity
microbiota
in-vitro fertilization
endometriosis
infertility
chemokines
menstrual
ART; IVF
DISCLAIMER
EndoNews highlights the latest peer-reviewed scientific research and medical literature that focuses on endometriosis. We are unbiased in our summaries of recently-published endometriosis research. EndoNews does not provide medical advice or opinions on the best form of treatment. We highly stress the importance of not using EndoNews as a substitute for seeking an experienced physician.
<< Previous Article