Algorithm for pain management in endometriosis
Apr 6, 2022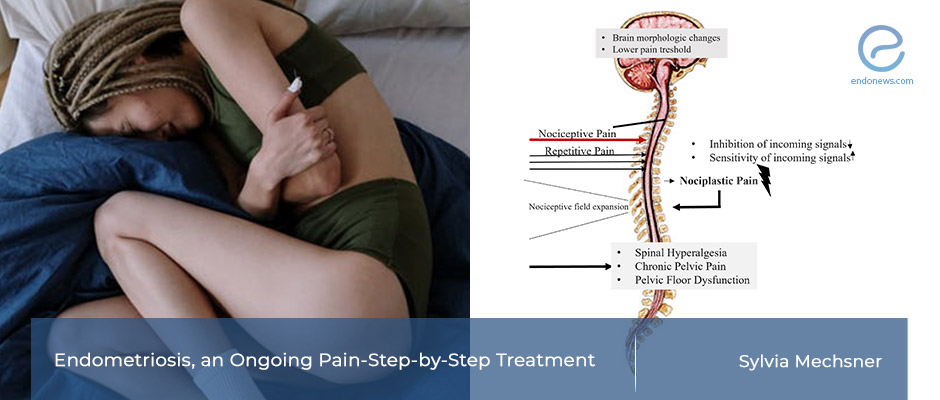 Multimodal treatment strategies for chronic pain should be considered as an interdisciplinary intervention.
Key Points
Importance:
Endometriosis is a chronic pain disorder with a high recurrence rate, even after surgical removal of the lesions.
Highlights:
Pain management for endometriosis patients could be successful through multimodal treatment strategies:
Surgery, hormonal therapy, and special analgesics are the first step; whereas physiotherapy, osteopathy, psychotherapy, and diet may help in more complex cases.
What's done here:
Dr.Mechsner from Germany penned this article to provide an overview of treatment strategies for chronic symptomatic endometriosis.
Basic remarks:
"Pain" is the major symptom that brings the patient into the clinic.
Half of these patients were treated already with hormonal therapy, and 41,6% reported that their pain continued to occur "cyclically".
Nociceptive pain (dysmenorrhea and cyclic lower abdominal pain) is the main symptom.
Over time, nociplastic process leads to a lower pain threshold accompanied by spinal hyperalgesia and pelvic floor dysfunction, resulting in dyspareunia, dyschezia, and chronic pelvic pain.
The inflammatory characteristics of the disease also cause neurogenic inflammation which creates hormone-independent acyclic pains.
Multimodel treatment strategies for pain in endometriosis start with the optional surgical and hormonal approach.
Then the pain management may go on with psychotherapy/osteotherapy and nutrition. More complex cases should be treated as gynecological/psychosomatic inpatients.
Lay Summary
One of the debilitating symptoms of endometriosis is pain. Mostly due to delayed diagnosis and the high recurrence rate, even after the surgical and hormonal therapy pain control may not be sufficient causing the patient to suffer for decades.
Endometriosis-associated pain is caused by peripheral and central sensitization. Peripheral pain is due to the lesions themselves, and from the related nerve fibers. This type of pain can be treated hormonally and surgically, as well as using analgesics. However, the continuous pain may lead to nociplastic changes with central sensitization, meaning that the pain threshold is lowered. Further imprecise relieving postures can cause additional muscle cramps. Several complementary measures such as physiotherapy, osteopathy, acupuncture, and dietary changes can be applied to relieve the patients' pain.
Endometriosis is also a considerable source of stress. Patients should also receive psychological support during the time they are dealing with and coping with the disease. If eventually, a severe chronic pain syndrome develops, inpatient complex therapy might be beneficial. Effects of the central sensitization are often underestimated and can be confused with other chronic pain syndromes ( such as irritable bowel syndrome, painful bladder, or vulvodynia).
Dr. Sylvia Mechsner from the Endometriosis Center in Berlin University, Berlin, Germany recently shared her knowledge about pain management in endometriosis in the Journal of Clinical Medicine. This article includes the outlines of the pathophysiology of chronic pain disorders and step-by-step multimodel treatment strategies for pain-ridden patients. The cornerstones of this valuable article are as below:
For the early initiation of drug therapy, early diagnosis of pelvic pain for endometriosis is essential. The pain profile of the endometriotic patient can be assessed via an in-depth medical history is important to determine the further steps.
Once organ destruction is eliminated, pain due to endometriosis lesions can be treated hormonally and with analgesics. Yoga and pelvic floor relaxing exercises also can be helpful.
Primary surgical treatment may not always be necessary if there is no organ destruction or a desire to have children.
Gastrointestinal symptoms such as functional bowel emptying disorders, food intolerances, and pain before defecation, a high-fiber diet, and reduced consumption of sugar and animal products are recommended.
---
---
nociceptive pain
nociplastic pain
acyclic pain
repetetive pain
chronic lower abdominal pain
adenomyosis
dyspareunia
spinal hyperalgezia
endometriosis.
DISCLAIMER
EndoNews highlights the latest peer-reviewed scientific research and medical literature that focuses on endometriosis. We are unbiased in our summaries of recently-published endometriosis research. EndoNews does not provide medical advice or opinions on the best form of treatment. We highly stress the importance of not using EndoNews as a substitute for seeking an experienced physician.
<< Previous Article