Adenomyosis (endometriosis interna): an enigmatic disease that has to be discovered yet
May 9, 2019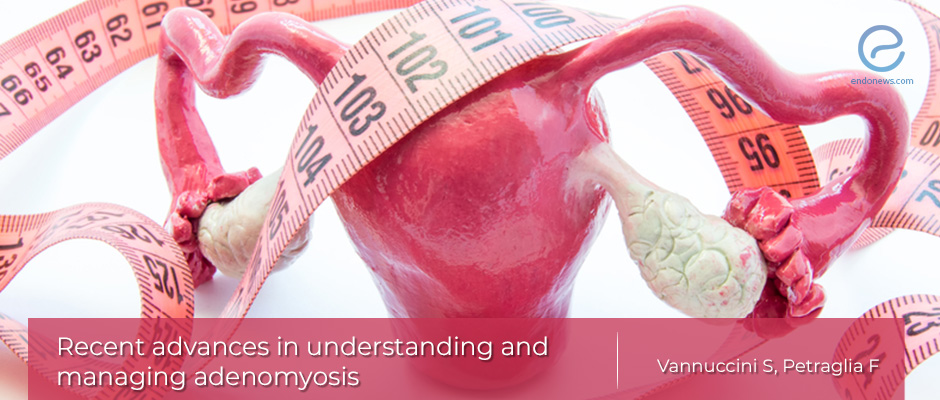 Adenomyosis: A prevalent gynecological disorder needs that the diagnostic criteria to be reassessed
Key Points
Highlights:
In order to have the correct diagnosis, to have reliable epidemiological information, better evaluate the imaging features - their relationship with pathogenic theories, their importance in terms of clinical symptoms and response to treatment along with the clinical management for "adenomyosis", there is a necessity for a uniform, a standardized and shared reporting system for both in histopathology and imaging.
Importance:
Besides causing infertility and pregnancy problems, adenomyosis has a negative impact on women's quality of life because of abnormal uterine bleeding and pain requiring a lifelong management plan through medical or surgical treatment.
Background:
Adenomyosis is a benign disorder where endometrial-like tissue is found in the uterine muscles, called myometrium.
Adenomyosis is a histopathological diagnosis after hysterectomy, however, it can be reliably diagnosed by non-invasive imaging modalities.
Adenomyosis is increasingly diagnosed in young women with pain, abnormal uterine bleeding, infertility, or no symptoms by using imaging techniques such as transvaginal ultrasound and magnetic resonance.
What's done here:
A comprehensive review of current knowledge in all aspects of adenomyosis was made with strong clinical relevance.
Key Results:
The most popular theory is the invagination of basalis endometrium into the myometrium through an altered or interrupted junctional zone.
The pathogenesis of adenomyosis is not clear yet and cannot be explained by a unique theory.
Adenomyosis has become a clinical entity, i.e. not just a microscopic tissue diagnosis and can be identified by non-invasive imaging techniques.
Uniform histopathologic and imaging criteria are needed in order to standardize the diagnosis and to have reliable epidemiological figures.
Lay Summary
Scientists, Drs. Vannuccini and Petraglia from Italy have published an open access comprehensive review of Adenomyosis in "F1000Research" in March 2019 issue.
Adenomyosis is a uterine disorder in which endometrial glands and stroma are pathologically demonstrated within the myometrium, i.e. uterine muscles. For years, adenomyosis has remained a microscopic tissue diagnosis made after hysterectomy in perimenopausal women with heavy menstrual bleeding or pelvic pain. However, adenomyosis has also become a condition identified in young fertile-age women due to recent advances in imaging techniques.
The theory of basalis endometrium invaginating into the myometrium through an altered or interrupted junctional zone is still popular. Metaplasia of embryonic pluripotent cells or Müllerian remnants within the myometrium is an alternative theory. Chapron`s "from outside to inside invasion" theory, hypotheses the migration of ectopic endometrial cells from serosal endometriosis nodules into the myometrium. Nevertheless, adenomyosis pathogenesis is still unclear and cannot be explained by only a unique theory. Recent studies have shown that sex steroid hormone receptors, inflammatory molecules, extracellular matrix enzymes, growth factors, and neuro-angiogenic factors play a major role in the pathogenesis of adenomyosis.
Adenomyosis has a negative impact on women's quality of life because of abnormal uterine bleeding and pain requiring a lifelong management plan through medical or surgical treatment. Adenomyosis is considered as a reproductive disorder also. An increasing number of papers are showing that not only fertility but also pregnancy outcome may be affected adversely.
The gold standard of adenomyosis diagnosis is the histological examination of hysterectomy specimens, however, no uniform criteria regarding the depth of invasion, the number, size or location of the foci for the diagnosis. Noninvasive imaging techniques such as transvaginal ultrasonography (TVUS) and MRI have allowed clinicians for non-invasive adenomyosis diagnosis. Ultrasound imaging shows a 20.9% prevalence of sonographic signs of adenomyosis in the general population, whereas the figures range from 10% to 35% in surgical pathology reports following a hysterectomy.
"There is still an urgent need for a uniform and shared diagnostic criteria and reporting system, in both imaging and histology, in order to identify all of the clinical and imaging phenotypes of adenomyosis. This is the first step to share a common language among scientists and clinicians, who would share the same diagnostic criteria, and would allow clinicians to design and perform methodologically well-conducted prospective studies on adenomyosis prevalence, gynecological comorbidities, the effectiveness of medical or surgical treatments, and impact on fertility and pregnancy outcome", concluded the authors.
---
---
adenomyosis
diagnostic modalities
endometriosis interna
diagnosis
epidemiology
MRI
ultrasound
TVU
DISCLAIMER
EndoNews highlights the latest peer-reviewed scientific research and medical literature that focuses on endometriosis. We are unbiased in our summaries of recently-published endometriosis research. EndoNews does not provide medical advice or opinions on the best form of treatment. We highly stress the importance of not using EndoNews as a substitute for seeking an experienced physician.