A study design to improve the patient-centeredness in endometriosis care.
Jan 31, 2022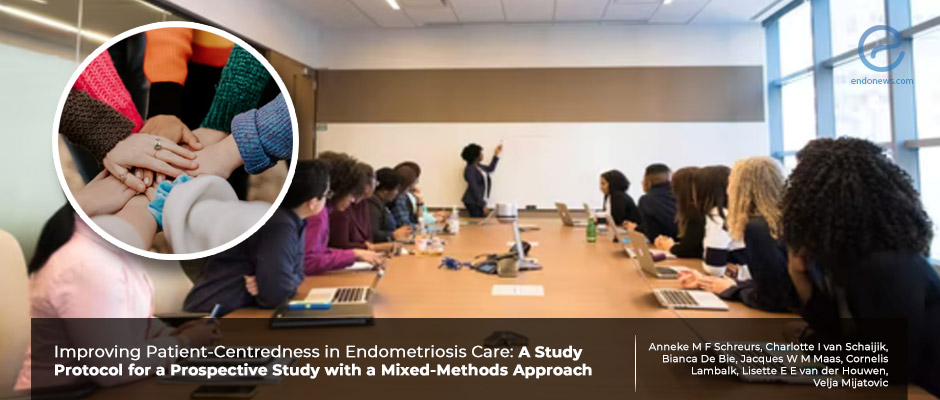 Patient-centeredness in endometriosis needs to be improved, but we need an appropriate plan.
Key Points
Importance:
Although ENDOCARE Questionnaire (ECQ) is a validated survey for patient-centeredness in endometriosis, it still needs to be improved over different care aspects.
Highlights:
Prospective studies with appropriate design, with an understanding of the targets for improvement, are necessary for the improvement of patient-centeredness in endometriosis care.
What's done here:
A prospective study plan for improving patient-centered endometriosis care is presented.
An algorithm they were created could be useful in evaluating other chronic illnesses as well as endometriosis in the future.
The proposed study steps are:

Baseline measurements of ECQ in women who were involved with endometriosis and identifying the targets need to be improved.
The working focus groups (health care providers and patient organizations) draft an improvement plan
Implementation of the improvements.
Re-evaluation by a final step.
Participants, sample size, and the analysis should be performed appropriately.
Limitations and Strengths:
This is a clinic-specific study and can possibly not be extrapolated to other endometriosis clinics.
Spoken language should be country-specific
Strength is to optimize the chances of succeeding by involving both patients and healthcare providers.
Lay Summary
It is well known that endometriosis causes impaired daily activity and productivity along with energy loss, fatigue, pelvic pain, deep dyspareunia, and further, infertility accompanies all these negative influences. The chronic nature of the disease forces clinicians to plan long-term care with frequent check-ups and long-lasting medical treatments.
Patient-centeredness can be defined as "providing care that is respectful of and responsive to the individual patient preferences, needs, and values and ensuring that patient values guide all clinical decisions". Currently, patient-centeredness in endometriosis care is measured by an already validated questionnaire, named ENDOCARE (ECQ). As far as it does not guide how to improve the targets that need to be improved, Dr. Schreurs et al. from Endometriosis Center of Vrije University, Amsterdam, Netherland, suggested organizing focus groups to aid understanding how to meet improvement goals of patient-centered endometriosis care. The study protocol with a mixed-methods approach is recently published in the journal "Gynecologic and Obstetric Investigation.
The study steps are baseline measurements of ECQ in women who were involved with endometriosis and identify the targets for the improvement. The working focus groups composed of health care providers and patient organizations draft an improvement plan and implement the improvements. The approved plan should be re-evaluated by the last step which is distributing the questionnaire again to the women with endometriosis who visited their clinic and comparing the results with previous ones.
"If the current study proves to be able to successfully improve patient-centeredness in endometriosis care, after validation, this method may be used as an instrument for auditing value-based health care. The aim is to compose an easily accessible improvement strategy...." continued the authors, whether this improvement strategy is successful, needs to be investigated after the implementation of the improvement plan.
---
---
quality of life
patient-centered
ENDOCARE questionnaire
endometriosis
Endometriosis
care
Qualitative
Patient-centredness
DISCLAIMER
EndoNews highlights the latest peer-reviewed scientific research and medical literature that focuses on endometriosis. We are unbiased in our summaries of recently-published endometriosis research. EndoNews does not provide medical advice or opinions on the best form of treatment. We highly stress the importance of not using EndoNews as a substitute for seeking an experienced physician.
<< Previous Article

Next Article >>