Emotions on the 'Surgery Requirement' in patients with bowel endometriosis
By:
Eylül GÜN
- Jan 28, 2022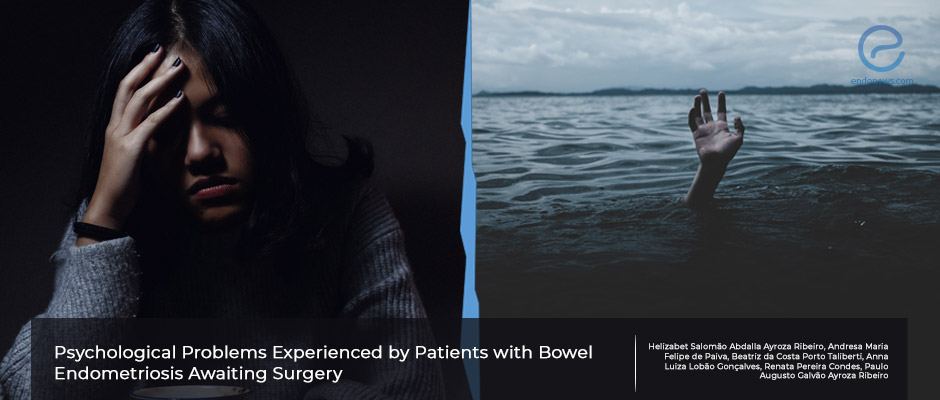 Deep endometriosis patients with bowel involvement were anxious and depressed study finds
Key Points
Highlight:
Bowel endometriosis patients who need to undergo a surgical intervention are most likely to be more anxious and/or depressed.
Importance:
Endometriosis patients carry huge burdens in their lives with the disease-caused chronic pain, psychological aspects should be evaluated.
Anxiety and depression may alter the patient's quality of life and well-being.
What's done here:
This is a cross-sectional observational study to evaluate the psychological distress of bowel endometriosis patients and to find out the coping mechanisms.
Forty women with deep bowel endometriosis getting prepared for surgery were included.
The severity of anxiety/depression and coping mechanisms were assessed by surveys.
Key results:
The most common psychological problems were anxiety (87.5%), depression (70%), with simultaneous co-occurrence in 77%.
The most common coping mechanism was problem-solving strategies, and the second was religious practices.
Limitations:
The exclusion of patients with psychopathologies already under treatment and of those taking antidepressants.
Lay Summary
Endometriosis is known to have many adverse effects in patients' lives such as a significant decrease in the quality of life, psychosocial problems, loss of productivity and focus while working. With the constant chronic pain, the patients mostly present with psychological matters. Patients diagnosed with deep endometriosis on the other hand, also suffer from additional psychological stress that is brought on by the necessity of having to have surgery.
Researchers from São Paolo, Brazil performed a cross-sectional observational study on women with deep endometriosis with bowel involvement where they evaluated the psychological problems that these patients faced and the coping mechanisms that they used. The study was published in the September 2021 issue of the journal Revista Brasileira de Ginecologia e Obstetrícia.

A total of 40 patients were randomly selected among 302 women with deep bowel endometriosis and included in the study. Two specific questionnaires were used for the severity of anxiety-depression and the coping mechanisms. The coping mechanisms in the presence of specific stressors were grouped into 4 categories (problem-focused, emotion-focused, religious introspection, social support).
Only 10% of the patients did not show any psychological problems while 90% had either depression or anxiety or both. The main coping mechanism was the strategies that focused on problems followed by religious practices. The same mechanisms were also the most common ones to be used as a secondary mode of confronting the problems when the first one failed to do so. Focusing on emotions and seeking social support came last.
The authors discussed that the way these patients were shown to be coping with their problems reflected their personalities which were mostly built by the fear of feeling more pain and the feeling of uncertainty about their future with this disease and pointed out that this may be very helpful in treating their psychological problems.
---
---
endometriosis
deep endometriosis
bowel involvement
psychological problems
anxiety
depression
coping
religious
emotion
problem
social
support
DISCLAIMER
EndoNews highlights the latest peer-reviewed scientific research and medical literature that focuses on endometriosis. We are unbiased in our summaries of recently-published endometriosis research. EndoNews does not provide medical advice or opinions on the best form of treatment. We highly stress the importance of not using EndoNews as a substitute for seeking an experienced physician.
<< Previous Article