Which comes first in endometriosis management: In vitro fertilization or surgery?
Mar 7, 2019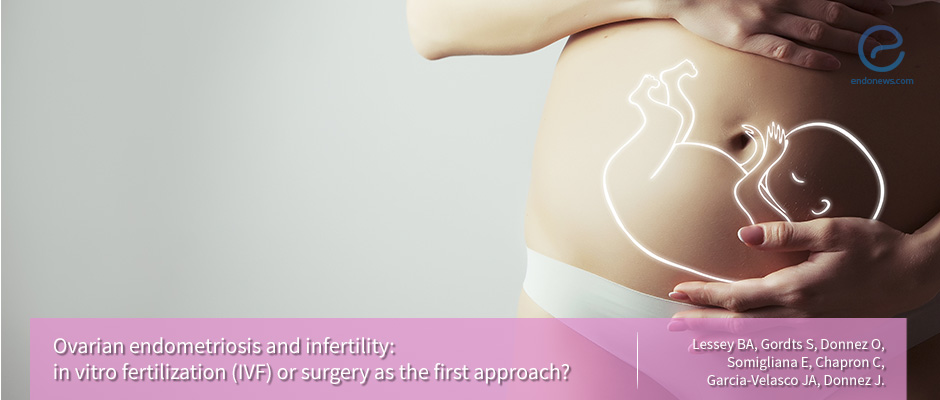 Infertile women with endometriosis seek a treatment strategy to improve the fertility problems as soon as possible.
Key Points
Highlights:
Endometriosis is an important underlying cause of unexplained infertility which can be managed with surgery or in vitro fertilization (IVF) techniques in a personalized approach.
Importance:
Endometriosis is a chronic disease resulting in infertility problems. Management strategies including surgery and IVF should be discussed with these women to improve their fertility outcomes.
What's done here?
Strategies for the treatment of infertile women with endometriosis are summarized by four different authors as a debate in this article.
All the advantages and disadvantages of both management methods are evaluated based on recent publications and guidelines.
Authors suggesting surgery as the first approach in the management of endometriosis list the reasons as follows:
Endometriosis, which can be diagnosed definitively by histopathological examination, is an important underlying cause of unexplained infertility.
These women successfully conceive within a short period of time after surgery even without IVF.
The delayed diagnosis and management of endometriotic ovarian cysts named as endometriomas lead to a growth of cysts in size. Adhesion formation and fibrotic tissue surrounding endometriomas also show progression if not intervened.
As the cyst grows, the focal inflammation of the ovarian cortex also increases resulting in structural alterations and reduced ovarian reserve.
Surgery in an early stage on smaller endometriomas cause less ovarian trauma, especially in experienced hands.
Postoperative pain reduction and obtaining a high spontaneous pregnancy rate have been shown by evidence-based medicine.
Surgery should be performed by experienced surgeons and an appropriate technique in order to experience all these surgical advantages.
The combined technique has been preferred which is a technique combining excision and then ablation.
Authors suggesting IVF as the first approach in the management of endometriosis list the reasons as follows:
Infertile women prefer treatment strategy that they can reach to pregnancy as soon as possible. Surgery and IVF have similar rates of success in the treatment of endometriosis. However, IVF is advantageous in terms of earlier success for pregnancy.
Surgery has also some specific risks and complications including negative impacts on ovarian reserve and the responsiveness to controlled ovarian stimulation, recurrences after cystectomy and incomplete surgery requiring unnecessary and/or repetitive surgeries.
However, IVF has more innocent risks such as a low risk of tubo-ovarian abscess during oocyte retrieval, a theoretical risk of disease progression, a minimal increase in risk for the development of ovarian cancer later in life, a negative impact on health outcomes and a risk for multiple pregnancies.
IVF is also advantageous in women with decreased ovarian reserve, associated infertility factors (male, tubal, etc), recurrent endometriomas and previous history of surgery for endometriosis.
Recent publications show that removal of endometriomas does not improve IVF cycle outcomes. In contrast, higher doses of gonadotropins are required after surgical intervention due to lower production of estradiol during stimulation.
On the other hand, surgery is disadvantageous because of the cost, prolonged time to achieve pregnancy, damage to ovarian reserve during excision of endometriomas.
New guidelines including the European Society of Human Reproduction and Embryology (ESHRE) recommend more conservative approaches in the management of endometriosis and counseling these women about the surgical risks on ovarian function.
Lay Summary
Endometriosis is defined as the localization of endometrial glandular and stromal tissue outside the uterine cavity. The prevalence is found to be 7%–10%, but among infertile women, it increases up to 50%.
Early diagnosis and personalized management are important to improve fertility outcomes. Although there are several treatment strategies, there is no clear consensus about the definitive approach.
Surgery or IVF can be suggested as the first approach in the management of endometriosis. Lessey et al, a group of scientists from the USA, Belgium, France, Italy, and Spain, published an article titled as "Ovarian endometriosis and infertility: in vitro fertilization (IVF) or surgery as the first approach?" in the journal named as Fertility and Sterility.
The authors aimed to discuss both approaches in all aspects with their advantages and disadvantages. They also summarized the differences in surgery and IVF based on recent publications.
They emphasized that endometriosis should be considered as a heterogeneous disease and managed in a personalized approach.
"A decision based on transparent and complete information and freedom is thus required. There is growing agreement that most attention should be given to freedom to choose," they added.
---
---
endometriosis
infertility
surgery
in vitro fertilization (IVF)
ovarian reserve
pregnancy rate
combined technique
recurrence
DISCLAIMER
EndoNews highlights the latest peer-reviewed scientific research and medical literature that focuses on endometriosis. We are unbiased in our summaries of recently-published endometriosis research. EndoNews does not provide medical advice or opinions on the best form of treatment. We highly stress the importance of not using EndoNews as a substitute for seeking an experienced physician.
<< Previous Article

Next Article >>