Self-management of endometriosis symptoms: from Australia
Mar 6, 2019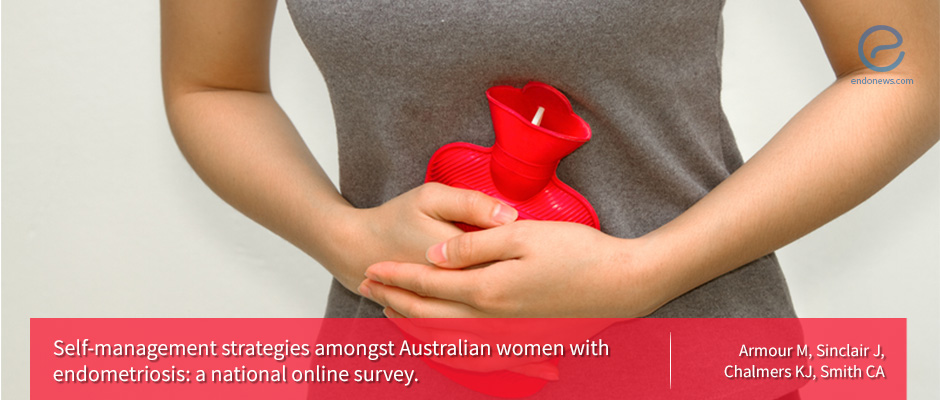 Australian women use various self-management strategies to ease endometriosis-related symptoms
Key Points
Highlights:
Self-management is very commonly used by women with endometriosis
Heat, rest, meditation, and cannabis are amongst the most common forms of self-care
The heat was the only modality that was both commonly used and rated as effective by women
Importance:
Between 25 and 50% of women with endometriosis are likely to use self-care to manage some of their symptoms
Evaluating the effectiveness of commonly used self-management strategies may assist other women considering self-management or lifestyle interventions
What's done here?
A national survey of over 400 Australian women with endometriosis to determine the use, safety, and self-rated effectiveness of common forms of self-management strategies
Key results:
The most commonly used self-management strategies were: heat (70%), rest (68%), meditation or breathing exercises (47%), dietary changes such as gluten-free or vegan (44%), and massage (32%)
Cannabis, heat, diet, hemp/CBD oil, and acupressure were the most effective strategies according to the surveyed women
Physical interventions such as yoga, Pilates, stretching, and exercise were rated less effective as well as an adverse event causing
Limitations of the study:
Effectiveness outcomes are self-reported by women, which may lead to over or underestimation of benefits and harms
Women recruited from support groups may have more severe symptoms than others. Likewise, women recruited from remote regions of Australia, where availability of medical resources are limited, might use different self-management strategies
Survey did not allow free responses where women could add self-management strategies other than the ones present in survey lists, thus, some alternative self-care strategies that are utilized by women may not be captured here
Lay Summary
Effective self-management techniques and lifestyle changes may play an important role in the management of endometriosis symptoms by many women. Due to various reasons such as limited effectiveness of some medications, potential side effects, availability of medical resources, self-desire to take more control over own health; many women might turn to self-care strategies for management of their endometriosis symptoms.
This study by Armour et al. aimed to determine the kinds of self-management strategies used by women with endometriosis. By surveying over 400 Australian women with endometriosis, they were able to identify the most commonly used forms of self-care in Australia and whether these are effective as reported by women who use them.
According to the survey, heat, rest, meditation or breathing exercises, dietary choices, and physical activity were among the most commonly used self-care techniques. Of these, the heat was reported as the most effective strategy along with Cannabis (although not as commonly used). Dietary choices such as paleo, vegan, and gluten-free were all reported as effective, though, no difference between a certain diet and symptom improvement were indicated.
Exercise and heat, although effective in improving symptoms, reportedly caused adverse reactions. Over 30% of women reported increased pelvic pain and fatigue with exercise; while 15% of heat users reported burns as adverse events. High levels of adverse events suggest exercise as an ineffective self-care technique.
Cannabis users reported significant effectiveness in reducing endometriosis-related symptoms and 50% or more reduction in medication taken to control these symptoms. However, the number of women using Cannabis is small (13% of survey participants), the outcomes are self-reported (benefits or harms may be over or underestimated), and there is an indication that the cannabis used by these women are illicit. Medicinal cannabis, although becoming available rapidly, remains illegal for treating pelvic pain in many countries.
"Cannabis should only be considered as a possible self-management option by those who can obtain medicinal cannabis through legal means", added the authors.
---
---
Self-management
self-care
endometriosis
heat
cannabis
exercise
diet
DISCLAIMER
EndoNews highlights the latest peer-reviewed scientific research and medical literature that focuses on endometriosis. We are unbiased in our summaries of recently-published endometriosis research. EndoNews does not provide medical advice or opinions on the best form of treatment. We highly stress the importance of not using EndoNews as a substitute for seeking an experienced physician.
<< Previous Article

Next Article >>