Validity of Magnetic Resonance Imaging for Deep Pelvic Endometriosis.
By:
Selma Oransay
- Sep 1, 2022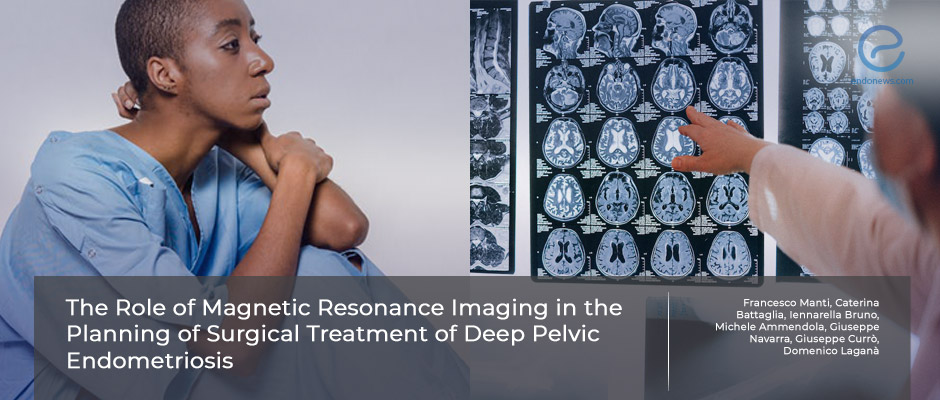 Enema-guided MRI is especially useful in localizing and measuring intestinal endometriosis.
Key Points
Importance:
MRI is a potentially helpful non-invasive technique to assess the extent of endometriosis before surgery, especially for precise localization in patients with deeply infiltrated endometriosis (DIE).
Highlights:
MR imaging demonstrates high accuracy in detecting deep pelvic endometriosis in specific locations.
Hardly recognizable deep pelvic lesions with highly fibrotic components can become visible.
What's done here:
This is a prospective study to evaluate the diagnostic accuracy of magnetic resonance imaging before planning surgical treatment of pelvic endometriosis.
Seventy-two women with suspected endometriosis were evaluated to plan a proper therapeutic approach.
Statistical analyses (sensitivity, specificity, and positive- and negative predictivity) performed for DIE in different locations.
Key results:
Fifty-six patients out of 72 were found pathologically positive for pelvic endometriosis.
The sensitivity, specificity, and positive and negative predictivity to diagnose intestinal endometriosis were 100%, 93,3%, 100%, and 87,5% respectively. Diagnostic accuracy was 95,4%.
Similar results were obtained for ureteral, recto-vaginal septum, and uterosacral ligament endometriosis (diagnostic accuracy 80% to 94,5%).
For bladder endometriosis, complete concordance with 100% accuracy was detected for all calculated values.
Limitations:
The authors did not mention the exact diagnosis of the other 16 patients who don't have the pathological approval of endometriosis.
The criteria for the selection of 22 patients for video laparoscopy and 16 patients for surgery is not clear.
Some statistical studies have been done on a very small number of patients.
Lay Summary
Video laparoscopy has become a valuable tool for diagnosing and managing endometriosis in recent years. In cases associated with deep infiltrating endometriosis, the need for a non-invasive diagnostic method before laparoscopic evaluation paves the way for using MRI. The use of MRI becomes important to precise the location and spread of the disease.
Manti et al. together with the radiology and the pathology departments of Magnea Grazia University, Catanzaro, Italy, intended to evaluate the diagnostic accuracy of MRI for surgical planning of deeply invaded endometriosis. In this prospective survey, 72 patients who were suspected of endometriosis underwent MRI detection between Jan 2021 and Dec 2022. Only 22 of 56 patients who were pathologically confirmed with a diagnosis of endometriosis were subjected to video laparoscopy. Statistical studies of the cases have shown almost similar results in terms of different endometriosis locations.
In their series, the authors used enema-RM-CE during MRI and compared this method with video laparoscopy as a gold-standard reference.
They concluded that the MRI-enema method is especially accurate for the lesions involving the intestines regarding localization and the measurement of colic lesions.
This important paper was recently published in the journal Frontiers in Surgery.
---
---
deep pelvic endometriosis
magnetic resonance imaging
surgical treatment
videolaparoscopy
diagnosis
endometriosis.
DISCLAIMER
EndoNews highlights the latest peer-reviewed scientific research and medical literature that focuses on endometriosis. We are unbiased in our summaries of recently-published endometriosis research. EndoNews does not provide medical advice or opinions on the best form of treatment. We highly stress the importance of not using EndoNews as a substitute for seeking an experienced physician.
<< Previous Article

Next Article >>