Urocortin: A biomarker deserving investigation for endometriosis patients
By:
Irem Onur
- Jun 20, 2019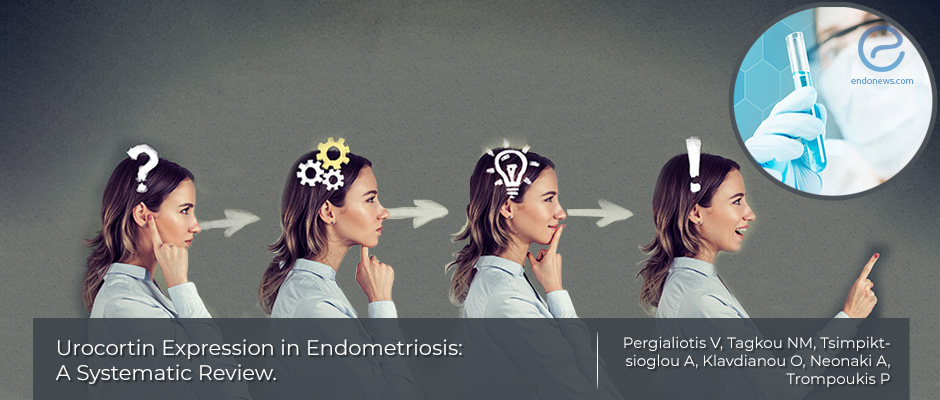 Urocortin may be a potentially useful tool for the classification of endometriosis regarding its correlation with the severity of the disease.
Key Points
Highlights:
Importance:
Objective:
What's done here:
Key Results:
Limitations:
Lay Summary
Urocortin is a neuropeptide in the corticotropin-releasing hormone family and is expressed by eutopic and ectopic human endometria. Since it has paracrine and immunomodulatory effects, urocortin is thought to contribute to the pathogenesis of endometriosis. Its expression has been thoroughly investigated in the field of endometriosis. To find out if urocortin may be used as a screening and/or prognostic biomarker of endometriosis, Pergialiotis V. et al. from Athens, Greece, reviewed the literature and published their results in the "International Journal of Fertility and Sterility".
Authors carried out a search of databases of Medline (1966-2018), Scopus (2004-2018), EMBASE (1947-2018) and Clinicaltrials.gov (2008-2018) using the terms "endometriosis and urocortin" for all prospective and retrospective observational studies. A supplementary literature search was performed through the Google Scholar (2004-2018) database. All studies with data relevant to the expression of urocortin in tissue and blood samples of endometriosis patients were included in this systematic review. The methods of assessment of the tissues were RT-PCR, ELISA or enzyme immunoassay. Overall, 8 studies were included in the present systematic review and the results from a total of 567 women were evaluated.
Three studies (Carrarelli, Novembri, Vergetaki) suggested that the expression of urocortin transcripts is significantly higher in endometriotic lesions compared with eutopic endometrium of women with endometriosis. The extent, depth of invasion and location of endometriotic lesions were shown to be associated with urocortin transcript levels. Specifically, Carrarelli et al. reported that deep infiltrating endometriosis is associated with higher levels of urocortin than ovarian endometriomas.
Urocortin is found to be a potentially useful tool for the classification of endometriosis regarding its correlation with the severity of the disease. Some studies showed a difference in the levels of urocortin between patients with endometriomas and control patients, whereas some studies did not.
In the study of Novembri et al., women with endometriosis were found to have decreased levels of corticotropin-releasing hormone and urocortin which could negatively affect decidualization.
Although urocortin may be a promising biomarker for the identification and follow-up of endometriosis patients, there are some limitations precluding definitive conclusions. First of all, there is not enough available data and the findings of currently published studies need to be validated. The correlation between the expression of urocortin in endometriotic lesions and peripheral blood remains to be investigated. Whether urocortin levels are elevated not only in endometriomas but also in non-ovarian endometriosis and in early-stage disease needs to be clarified. If the peptide concentration is affected by factors including the menstrual cycle, obesity, exercise, stress, diabetes mellitus, and other chronic diseases is yet not known. Whether the expression of urocortin is an effect rather than a cause of inflammation is also not clear. Shortly, more studies are needed to rely on the predictive accuracy of urocortin.
---
---
endometrioma
endometriosis
urocortin
corticotropin-releasing hormone
neuropeptide
biomarker
DISCLAIMER
EndoNews highlights the latest peer-reviewed scientific research and medical literature that focuses on endometriosis. We are unbiased in our summaries of recently-published endometriosis research. EndoNews does not provide medical advice or opinions on the best form of treatment. We highly stress the importance of not using EndoNews as a substitute for seeking an experienced physician.
<< Previous Article

Next Article >>