TSH receptor antibodies show promising results in the diagnostic workup of endometriosis
By:
Nasuhi Engin Aydin
- Nov 21, 2022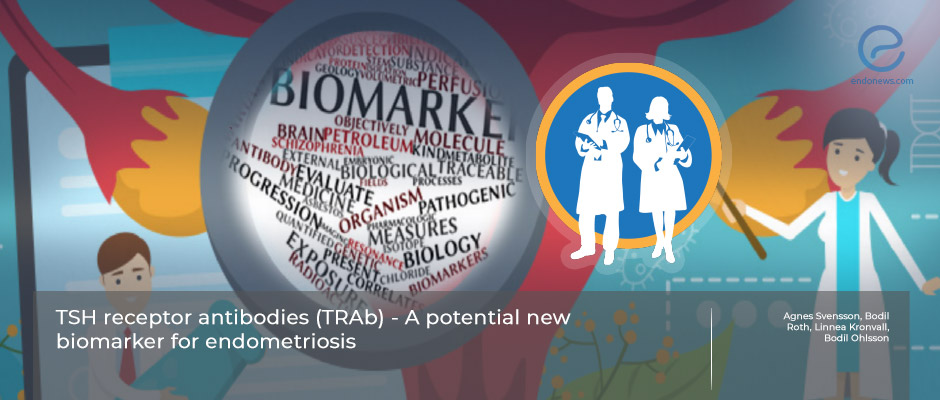 A novel possible biomarker for endometrisosis ?
Key Points
Highlights:
Endometriosis is assumed to be an inflammatory condition and immune dysfunction has been implicated in the pathophysiology.
It is a well-known fact that endometriosis patients have several more autoimmune diseases, including thyroid dysfunction compared to the overall population.
Importance:
The plausible hypothesis put forward to identify circulatory biomarkers that could help diagnose endometriosis has not yet been verified.
In this regard, there are studies yielding thyroid autoantibodies in endometriosis patients emphasizing the potential of TSH receptor IgG antibody as a possible diagnostic marker in this context.
What's done here:
The levels of TSH receptor IgG and IgM autoantibodies in women with endometriosis and two control groups were compared so that clues for a new diagnostic biomarker could be evaluated.
Key Results:
TSH receptor IgG and IgM antibodies are slightly elevated in endometriosis cases without any cross-reactivity to other autoantibodies.
TSH receptor antibodies are truly elevated, hence they may be potential candidates as a diagnostic biomarker in endometriosis patients.
Lay Summary
Dr. Svensson with collaborators from the Swedish Lund University has published their results on the possible role of TSH receptor antibodies as biomarkers in endometriosis diagnosis in a recent issue of "European Journal of Obstetrics & Gynecology and Reproductive Biology".
Possible pathophysiologic mechanisms in endometriosis include molecular abnormalities and a defective immune system enabling the growth of ectopic endometria. Besides, the presence of a wide range of autoimmune diseases, including thyroid disorders is known to be increased in endometriosis patients.
Upregulated thyroid stimulation hormone (TSH) receptors in ectopic endometrium and elevated serum titers of TSH receptor antibodies in endometriosis patients have been reported in scientific papers. It is also possible that this might be due to cross-reactivity with other antibodies, and needs to be excluded.
The authors compared the expression of autoantibodies in women with endometriosis and two control groups to evaluate the potential of TSH IgG antibody as a diagnostic marker for endometriosis. Fort his purpose a cross-sectional study was carried out on 172 women with surgically confirmed endometriosis. Titers of both TSH IgG and IgM were increased in patients compared to controls from the general population and blood donors.
Of the endometriosis patients, almost one-third had TSH IgG antibodies above the present detection limit compared to 2.6 % of the controls from the general population group. There was no increase of autoantibodies against FSH, FSH receptor, hCG, LH, LH receptor, or TSH compared to the blood donor controls.
As a final conclusion from this research, it is plausible that endometriosis patients have increased serum titers of TSH antibodies compared to the normal population, without correlations to other antibodies indicating cross-reactivity. The levels of these antibodies are moderate in need of methodological sensitivity at low levels. The findings of this cross-sectional study emphasize the potential of these antibodies biomarkers for endometriosis but also need further examination.
---
---
TSH
autoantibodies
endometriosis
biomarker
diagnosis
DISCLAIMER
EndoNews highlights the latest peer-reviewed scientific research and medical literature that focuses on endometriosis. We are unbiased in our summaries of recently-published endometriosis research. EndoNews does not provide medical advice or opinions on the best form of treatment. We highly stress the importance of not using EndoNews as a substitute for seeking an experienced physician.
<< Previous Article

Next Article >>