Transvaginal Ultrasound Could Be Sufficient to Properly Diagnose Deep Endometriosis and Ovarians Endometriomas
By:
Özge Özkaya
- Sep 16, 2022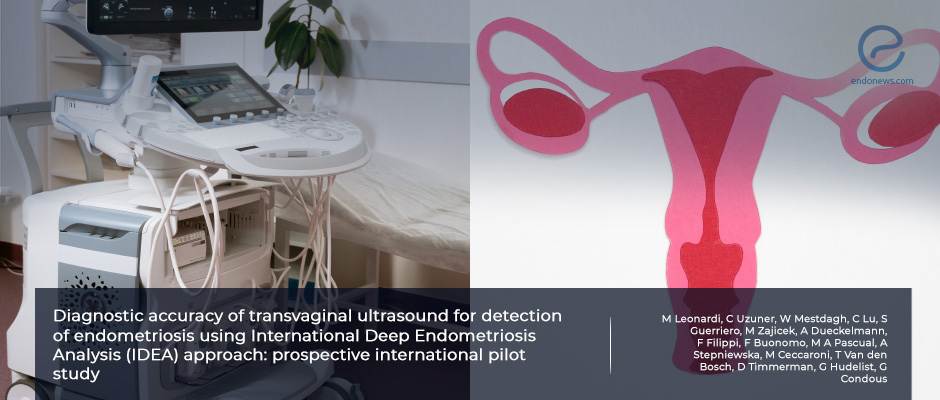 However, a systematic approach is essential.
Key Points
Highlights:
Transvaginal ultrasound can reliably diagnose ovarian endometrioma and deep endometriosis as long the International Deep Endometriosis Analysis consensus approach is adopted.
Importance:
The findings highlight the importance of a systematic approach to diagnosing endometriosis.
What's done here:
Researchers conducted an international, multicenter prospective diagnostic accuracy study between August 2018 and November 2019.
Key results:
The transvaginal ultrasound detection rate of overall deep endometriosis was higher than previously reported in terms of sensitivity but had lower specificity.
Limitations:
Ovarian endometriosis drainage or ablation sometimes led to the unavailability of histologic samples, which may influence the diagnostic accuracy of transvaginal ultrasound.
The diagnosis was based on a single transvaginal ultrasound at a single time point.
The size of the ovarian endometrioma could change the diagnostic accuracy of transvaginal ultrasound at the time of surgery.
Lay Summary
Following the International Deep Endometriosis Analysis consensus can improve the accuracy of transvaginal ultrasound to diagnose ovarian endometriomas and deep infiltrating endometriosis, according to a new study published in the scientific journalUltrasound in Obstetrics & Gynecology.
" (…) at this point, we believe there is sufficient evidence for integrating routine clinical evaluation of [deep endometriosis] using [transvaginal ultrasound] for patients with suspicion for endometriosis rather than relying exclusively on laparoscopy as the historical gold standard," wrote Dr. Mathew Leonardi, the first author of the study and his colleagues. They added that a large-scale international multicenter study is necessary to confirm this finding.
The team analyzed 273 participants with suspected endometriosis based on clinical symptoms or a previous diagnosis of the disease in eight centers across six countries between August 2018 and November 2019. Of these 256 (93.8%) were confirmed histologically to have endometriosis.
Around half of the patients (139) had ovarian endometrioma and 207 had deep infiltrating endometriosis based on surgical visualization. Deep infiltrating endometriosis was confirmed histologically in 190 patients.
The accuracy of transvaginal ultrasound based on surgical visualization was 86.1%. The sensitivity of the approach was 88.4% while its specificity was 78.8%. The positive predictive value of the approach was 92.9% and its negative predictive value was 68.4%. The positive and negative likelihood ratios were 4.17 and 0.15 respectively.
The accuracy of transvaginal ultrasound based on histology was 85.9%. Its sensitivity was 89.8% while its specificity was 75.9%. The positive and negative predictive values were 90.4% and 74.6% respectively Finally the positive likelihood ratio. was 3.71 and the negative likelihood ratio was 0.14.
The authors concluded that a systematic approach to deep endometriosis transvaginal ultrasound is of utmost importance.
---
---
deep infiltrating endometriosis
ovarian endometrioma
diagnosis
transvaginal ultrasound
DISCLAIMER
EndoNews highlights the latest peer-reviewed scientific research and medical literature that focuses on endometriosis. We are unbiased in our summaries of recently-published endometriosis research. EndoNews does not provide medical advice or opinions on the best form of treatment. We highly stress the importance of not using EndoNews as a substitute for seeking an experienced physician.
<< Previous Article

Next Article >>