Toxic Pelvic Cavity and Infertility
By:
Murat Osman
- Sep 21, 2018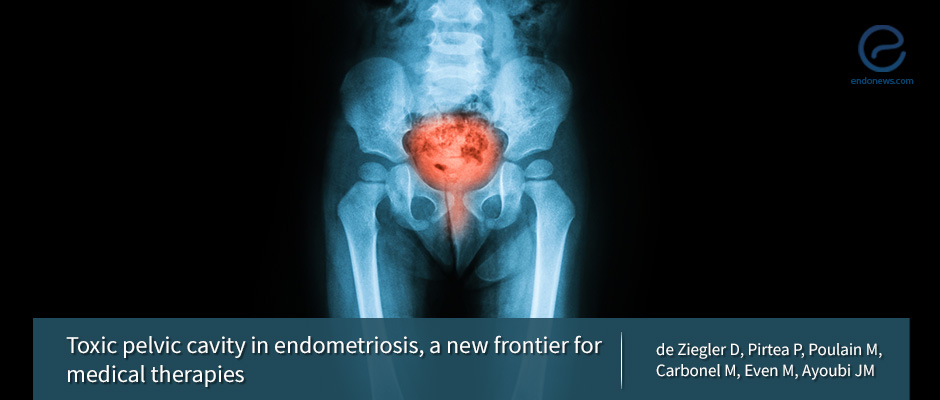 Endometriosis is associated with a "Toxic Pelvic Cavity" that is a major contributor to infertility rates
Key Points
Highlights:
Endometriosis is associated with a toxic inflammatory environment in the pelvic cavity that is thought to be a major cause of infertility seen among affected women.
Key Points:
Endometriosis is well known to cause infertility issues and decreases the success of assisted reproductive technologies.
Surgically removing endometriotic lesions has been seen to improve chances of conceiving naturally 12-18 months after surgery.
A toxic inflammatory environment is thought to contribute to the infertility rates seen among women with endometriosis.
What's done here?
This opinion article discusses the chronic inflammatory environment of the pelvic cavity associated with endometriosis and its negative effect on fertility rates.
It is written based on a paper by Lee in the same issue of Fertility Sterility journal, that extends the long list of toxic factors in the peritoneal fluid of endometriosis patients that reduces the ability to conceive naturally.
Limitations:
Further research is needed to substantiate the inflammatory environment, and better defining the links between inflammation and the toxic pelvic environment involved in endometriosis.
Lay Summary
Endometriosis is a disease defined by the presence of endometrial tissue outside of the uterine cavity and has an incidence of approximately 10% in women of reproductive age. Thus, it is an important consideration in chronic pelvic pain and infertility in this age group. Additionally, it can also interfere with the success of assisted reproductive technology (ART) and in vivo conception.
Removing endometriotic lesions via surgery has been seen to improve the ability to conceive naturally between 12-18 months after the surgery. Medical treatment of endometriosis has been seen to significantly improve the endometriotic size and pain symptoms. However, it does improve rates of conceiving naturally after medical therapy is discontinued.
Endometriosis affects three main areas: The pelvic cavity, uterus, and the ovaries. While endometriosis has been seen to affect these areas, recent research has found that the quality of oocytes retrieved in women with endometriosis through ART is not altered. Evidence also suggests that endometriosis negatively affects the uterus but that GnRH agonist blockage during ART treatments may improve embryo implantation rates.
The pelvic inflammatory environment associated with endometriosis, also known as the "toxic pelvic cavity", is thought to negatively affect natural conception. Thus, therapeutic targets against this environment may hold promise in improving natural conception.
---
---
endometriosis
inflammation
infertility
ART
fertility
DISCLAIMER
Endonews is designed to strictly highlight the most recently published scientific research that focuses on endometriosis. It is not designed to provide medical advice or an opinion on the best form of treatment. We highly stress the importance of not using this site as a substitute for seeking an experienced physician, which is highly recommended if you have any questions or concerns regarding your endometriosis needs. We believe in the consciousness of our reader to discriminate that research is different than "standard of care," and trust that they can keep in mind that here at Endonews, we summarize the newest peer-reviewed scientific medical literature, without bias.