Thoracic Endometriosis Syndrome : A case report describing endometriosis involvement of the lung
May 14, 2018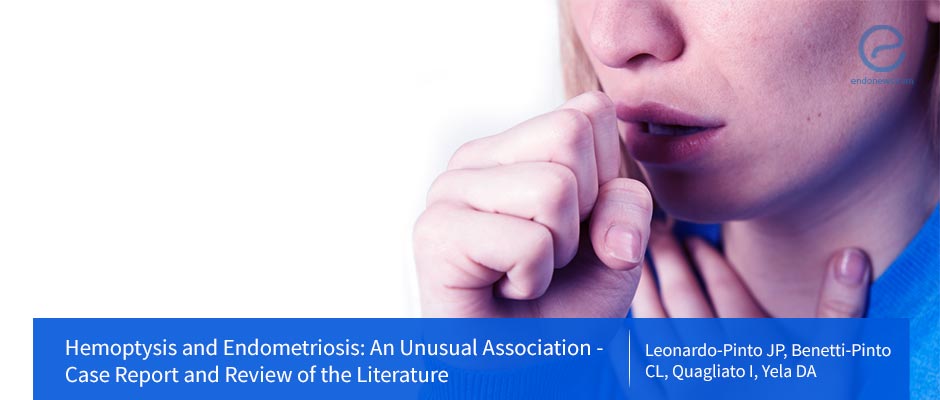 Thoracic Endometriosis Syndrome: A case report describing endometriosis involvement of the lung
Key Points
Highlights:
Endometriosis involvement of the lungs (TES) may be difficult to detect and thus requires special consideration in young women with tuberculosis-like symptoms.
Key Results:
Thoracic endometriosis syndrome (TES) is characterized by catamenial pneumothorax (air leaking into the pleural space occurring during menstrual periods), hemothorax, hemoptysis, and lung nodules.
This case report describes a patient's complaints of catamenial hemoptysis which was later found to be thoracic endometriosis.
Medical management of TES using progestin medication may be enough to prevent further recurrence of endometriosis symptoms.
What's done here?
This is a case report describing endometriosis involvement of the lungs (TES) and the medical management that this patient received to treat their endometriosis symptoms.
Limitations:
This article describes only one case of TES and thus may not describe all of the symptoms or appropriate therapeutic management associated with TES.
Lay Summary
Leonardo-Pinto and authors from the Universidade Estadual de Campinas, Brazil, have recently published a case report titled, "Hemoptysis and Endometriosis: An Unusual Association - Case Report and Review of the Literature" in the Journal, Revista Brasileira De Ginecologia E Obstetricia describing a rare clinical presentation of endometriosis.
Thoracic endometriosis syndrome describes one of the extrapelvic manifestations of endometriosis. TES is characterized by catamenial (symptoms predominantly during menstrual periods) pneumothorax (air in the pleural space), hemothorax (blood in the pleural space), hemoptysis (coughing blood-stained sputum), and lung nodules. Pneumothorax is by far the most common form of TES as opposed to hemothorax. Patients may also present with chest or shoulder pain, and difficulty breathing during menstrual periods. Because this condition is so uncommon, its diagnosis can be delayed and confused for other diseases such as active tuberculosis.
This case report describes a 23-year old woman who complained of coughing blood (hemothorax) during menstrual periods and pain in her shoulder for 2 years. She had no history of tuberculosis or smoking. After further workup and a chest x-ray, no abnormalities were seen. While her suspicion for tuberculosis was low, her doctors started treatment against possible tuberculosis. Not surprisingly, her symptoms continued. Further work-up and questioning revealed that she was also experiencing dyspareunia (painful sexual intercourse) and dysmenorrhea (painful periods) so they ordered a CT scan while she was on her period which revealed an abnormal nodule in her right lung. At that point, the diagnosis of endometriosis was made. She was given Dienogest (a Progestin medication) and a repeat CT scan performed two months after beginning Dienogest revealed that the abnormal region in her lung had completely recovered. One year after starting Dienogest, the patient denied recurrence of her previous symptoms.
While TES is a rare disorder of endometriosis, its clinical diagnosis is often missed or delayed. This case report reveals that multiple symptoms can occur at once (in this patient, painful periods and coughing blood) and that CT scans may increase the suspicion of TES while ruling out other causes.
Authors note that while surgical treatment may be an option for TES, medical treatment may be enough to suppress recurrence of symptoms in this particular case, during the follow-up period.
More Information about Thoracic Endometriosis Syndrome & Endometriosis of the Diaphragm
---
---
TES
thoracic endometriosis
hemoptysis
pain
dyspareunia
DISCLAIMER
EndoNews highlights the latest peer-reviewed scientific research and medical literature that focuses on endometriosis. We are unbiased in our summaries of recently-published endometriosis research. EndoNews does not provide medical advice or opinions on the best form of treatment. We highly stress the importance of not using EndoNews as a substitute for seeking an experienced physician.
<< Previous Article