The role of inflammation, oxidative stress, angiogenesis, and apoptosis in the pathophysiology of endometriosis
By:
Dr. Youngran Park
- Dec 13, 2019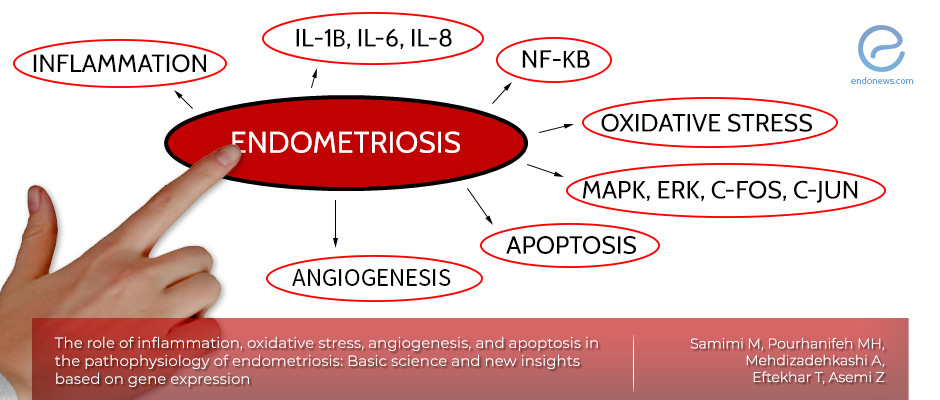 Important factors in the endometriosis pathogenesis
Key Points
Highlight:
Background:
Key points:
Conclusions:
Lay Summary
Endometriosis is a very common gynecological disorder affecting approximately 10% of reproductive-aged women, and it is known by the abnormal growth of endometrial stroma and glands outside the uterus. Though the pathogenesis of endometriosis is not clearly understood so far, several findings suggest that inflammation plays a critical role in endometriosis initiation and progression. Also, other critical factors such as oxidative stress, apoptosis signaling, and angiogenesis are suggested. In this review, the Dr. Asemi group from Iran summarized the current understanding and importance of those factors in the endometriosis pathogenesis. This review article was recently published in the "Journal of Cellular Physiology".
Endometriosis is a chronic inflammatory condition. Concentrated inflammatory mediators have been observed in the peritoneal, endometrium, and serum of endometriosis cases. Those inflammatory factors including interleukin‐1β (IL‐1β), IL-6 and IL-8 enhanced the proliferation of endometriotic cells, but this effect is only observed in the endometriotic tissue. NF‐κB, a master regulator of various inflammatory signaling pathways, is also increased in both ectopic and eutopic endometrium. Therefore, NF‐κB inhibitors treatment has shown promising results showing that the inhibition of NF‐κB could reduce endometriosis maintenance and development.
Oxidative stress, an imbalance between reactive oxygen species (ROS) and antioxidants, may have an essential role in the endometriosis pathogenesis which results in inflammatory responses in the peritoneal cavity. According to several studies, increased antioxidant concentrations is significantly and positively related to the prevention of endometriosis onset. One of the main effects of oxidative stress on endometrial cells is cell proliferation. Oxidative stress activates mitogen‐activated protein kinase (MAPK)/extracellular signal‐regulated kinase (ERK) pathway for survival and proliferation of endometriotic lesions by elevating c‐Fos and c‐Jun expression.
Apoptosis is programmed cell death and plays a vital role in homeostasis and maintenance of tissue by removing dysfunctional or excess cells. In endometriosis, many studies suggested that reduced cell death in endometriotic cells may be the main cause of endometriosis development. The apoptosis rate was significantly reduced in endometrial cells, particularly for patients who have progressive endometriosis. Interestingly, NF‐κB mentioned above is an important modulator of inflammation, cell proliferation and apoptosis in endometriosis.
Lastly, angiogenesis has a key function in endometriosis progression. This is because increased proliferation and larger size of endometriosis lesions require more nutrients and oxygen supplies through new blood vessels. Therefore, the level of angiogenesis is significantly increased in endometriosis patients.
In conclusion, several studies support suggested the importance of inflammation, oxidative stress, apoptosis and angiogenesis in endometriosis. Therefore, the development of appropriate treatments such as anti‐inflammatory, antioxidative, antiangiogenic, and apoptosis regulator therapies is highly important for treating this gynecological disorder. Also, more clinical trials with a larger number of patients and mechanistic studies are required in the near future.
---
---
Endometriosis
Angiogenesis
Apoptosis
Inflammation
Oxidative stress
DISCLAIMER
EndoNews highlights the latest peer-reviewed scientific research and medical literature that focuses on endometriosis. We are unbiased in our summaries of recently-published endometriosis research. EndoNews does not provide medical advice or opinions on the best form of treatment. We highly stress the importance of not using EndoNews as a substitute for seeking an experienced physician.
<< Previous Article

Next Article >>