The Oocyte Quality in Ovarian Endometriosis
Sep 9, 2022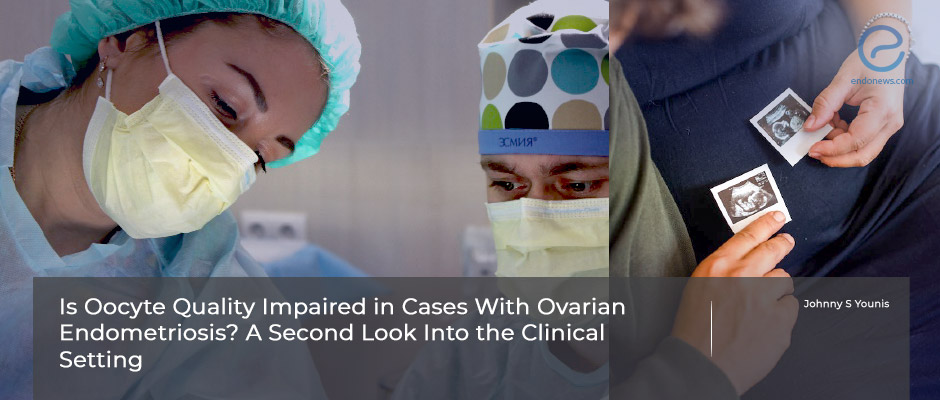 Available literature in cases with intact endometrioma does not show an adverse impact on oocyte quality.
Key Points
Importance:
Endometriosis-associated infertility may be caused by pelvic adhesions, pelvic inflammation, increased oxidative stress, dysregulation of the immune system, disturbed folliculogenesis, ovulatory dysfunction, and defective implantation.
Highlights:
The negative effect of ovarian endometriosis on oocyte quality and competence is not different from the other forms of endometriosis.
What's done here:
An English literature review by Dr. Younis, from Israel, discusses if ovarian endometrioma negatively affects oocyte quality and competence.
Key results:
Lay Summary
Endometrioma is the ovarian involvement of endometriosis affecting up to 44% of women diagnosed with the disease. Owing to the anatomical locus, ovarian endometriosis may impair folliculogenesis and oocyte competence, differing from other forms of endometriosis.
When investigating the relationship between endometrioma and pregnancy outcomes it would be helpful to consider the clinical settings of assisted reproductive techniques which need to measure oocyte quality and development. In the need to assess the effect of endometrioma on oocyte sufficiency, numerous aspects of oocyte quality and competence should be explored in terms of morphology, embryology, morphokinetics, and survival following vitrification as well as clinical pregnancy and live births.
Dr. Younis from the Department of Gynecology and Obstetrics, Baruch-Padeh Medical center, Israel, searched English literature of the last decade from PubMed with the keywords " endometrioma", "IVF", "ICSI", "oocyte morphology", "oocyte fertilization", "top quality embryo", "blastulation", "time-lapse", "morphokinetics", "oocyte vitrification", "clinical pregnancy", "live birth", "meta-analyses".
The primary aim was to clarify the doubts about the relation between endometrioma and adversely affected folliculogenesis with oocyte competence when compared to the superficial and deep invading forms of endometriosis.
This literature review of the last decade did not indicate any significant negative effects of ovarian endometrioma on oocyte quality as well as clinical pregnancy and live births when compared to superficial and deep endometriosis.
This article was recently published in the reproduction section of the journal "Frontiers in Endocrinology".
---
---
ovarian endometriosis
morphology
embriyology
oocyte fertilization
blastulation
morphokinetics
ART
ICSI
clinical pregnancy
live births
endometriosis.
DISCLAIMER
EndoNews highlights the latest peer-reviewed scientific research and medical literature that focuses on endometriosis. We are unbiased in our summaries of recently-published endometriosis research. EndoNews does not provide medical advice or opinions on the best form of treatment. We highly stress the importance of not using EndoNews as a substitute for seeking an experienced physician.