The impact of laser vaporization on reproductive outcomes in women with endometrioma
Aug 31, 2020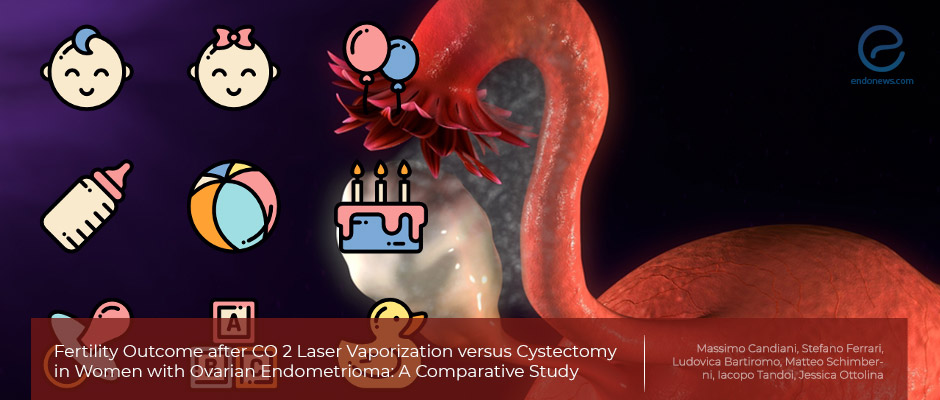 The pregnancy rates following the management of endometriomas by either CO2 laser vaporization or cystectomy are comparable.
Key Points
Highlights:
CO2 laser vaporization is a reliable and feasible option to treat patients with ovarian endometrioma.
Importance:
What's done here?
This retrospective study with a prospective recording of data was conducted on patients who underwent an operation for endometrioma and larger than 3 cm, in a university hospital.
After cystectomy, the patients younger than 35y were allowed to seek pregnancy spontaneously for 12mths, those older than 35y were followed for 6 to 9mths, but all the patients managed by CO2 vaporization were allowed to get spontaneous pregnancy for 6-9mths regardless of age.
If a spontaneous conception was not achieved during these periods, the patients were referred for assisted reproductive techniques (ART).
The demographic and clinical characteristics of the patients were evaluated and compared in the above 2 groups [ovarian cystectomy (n=73) vs CO2 laser vaporization (n=69)].
The primary aim was to evaluate the postoperative pregnancy rates and the secondary aim was to identify the independent predictors of pregnancy in women having endometrioma.
Key results:
The mean diameter of endometrioma was larger in Group 1, postoperative antral follicle count and serum AMH levels were higher in Group 2.
Thirty-nine women from each group desired to conceive following surgery, the mean follow-up was comparable (35.2±12.6mths).
Endometrioma recurrence occurred in 11.1% in Group 1, and 12.8% of patients in Group 2.
Twenty-six patients in Group 1 (72.2%) and 29 patients in Group 2 (74.3%) conceived.
Spontaneous pregnancies were 55.6% and 35.9% in Group 1 and 2, respectively, the remaining achieved pregnancy through ART (50% in Group 1 vs 71.4% in Group 2).
The number of patients who never became pregnant was around 26% in each group.
Age at the time of surgery and duration of infertility were independent predictors for pregnancy.
Strengths and Limitations
The retrospective design and small sample size could be accepted as the limitations of the study.
The different time restrictions to attempt a spontaneous conception Group 1 and 2 was another limitation.
The prospective recording of data and the subsequent accurate estimation of all pregnancies were the major strengths of the study.
The performance of the surgeries and ultrasonographic procedures by the experienced team was another strength.
Lay Summary
Despite extensive research, the optimal method for the management of endometriosis still remains unclear. Excisional surgery is claimed with a more favorable outcome than drainage and ablation regarding the recurrence of disease and symptoms. On the other hand, cyst vaporization with CO2 fiber laser which aims to destroy endometriotic epithelium surrounded by stroma lining the cyst is a viable alternative comparing to ovarian cystectomy in terms of endometrioma recurrence, and pain symptoms.
CO2 laser vaporization is simple and easy to use, and the surgeon does not have to be experienced in this method. However, there are controversial studies on spontaneous conception rates and obstetric outcomes.
Candiani et al., from Italy, published a study entitled "Fertility Outcome after CO2 Laser Vaporization versus Cystectomy in Women with Ovarian Endometrioma: A Comparative Study" in the "Journal of Minimally Invasive Gynecology". These authors aimed to assess postoperative pregnancy rates either spontaneously or through ART in women with ovarian endometriomas managed by cystectomy or CO2 laser vaporization. They also sought to identify the independent predictors of pregnancy in these women.
The authors found that the spontaneous pregnancy rates were lower in the patients managed by CO2 laser vaporization although there was no statistical significance. On the other hand, women treated by cystectomy achieved conception through ART at a lower rate, though not statistically significant. Postoperative endometrioma recurrence rates were comparable in the patients managed by cystectomy and CO2 laser vaporization. The number of patients who never became pregnant either spontaneously or with ART was similar between the groups. Age at the time of surgery and duration of infertility were defined as independent predictors for pregnancy following both surgical methods.
"CO2 laser-treated endometrioma is associated with pregnancy rates equal to those observed after cystectomy and favorable reproductive ART outcomes, we are confident in the positive effects of this technology on the ovarian reserve.CO2 fiber laser vaporization may represent a viable alternative to traditional cystectomy." the authors concluded.
---
---
endometriosis
endometrioma
carbon dioxide fiber laser
cystectomy
ablation
reproductive surgery
spontaneous pregnancy rate
assisted reproductive techniques
DISCLAIMER
EndoNews highlights the latest peer-reviewed scientific research and medical literature that focuses on endometriosis. We are unbiased in our summaries of recently-published endometriosis research. EndoNews does not provide medical advice or opinions on the best form of treatment. We highly stress the importance of not using EndoNews as a substitute for seeking an experienced physician.