The higher the cyst fluid iron concentration, the more severe the pain symptom for endometrioma
Jul 6, 2021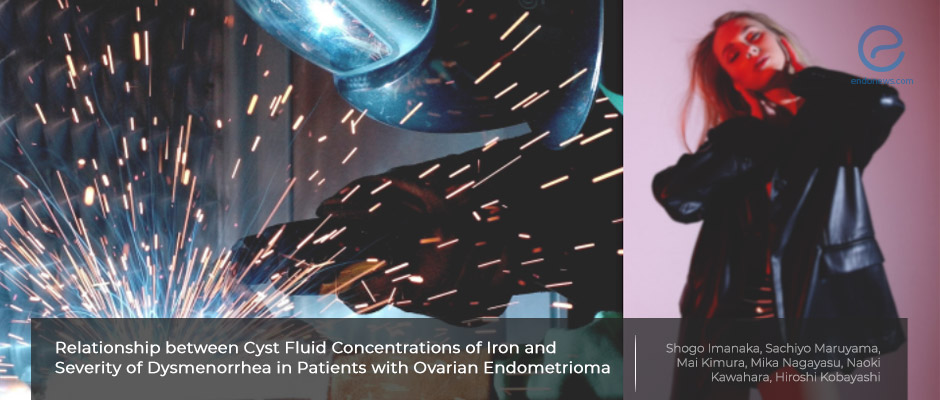 Iron concentration in cyst fluid of endometrioma patients is an independent predictor to identify severity of dysmenorrhea.
Key Points
Highlights:
The intracystic iron concentration is positively associated with the severity of pain in patients with endometrioma.
Importance:
Iron concentration of endometrioma may be closely associated with dysmenorrhea.
What's done here?
This prospective cohort study was conducted to evaluate the association between cyst fluid iron concentration and the severity of dysmenorrhea in endometrioma patients.
Patients with pathologically confirmed endometriosis were included.
The severity of dysmenorrhea was assessed in four categories; "no pain," to "severe", and cyst fluid iron concentration in each group was assessed.
Serum CA125 and CA19-9 levels were also measured before surgery.
Key results:
A total of 83 women who met the criteria were included.
There was no significant difference in age at diagnosis, serum CA125, and CA19-9 levels, cyst size, and localization between four different groups.
Total iron concentration and heme iron were significantly correlated with the severity of dysmenorrhea, highest in the "severe pain" group.
Limitations
The small sample size due to exclusion of women with adenomyosis, superficial endometriosis, and deep endometriosis are limitations of this study.
The association between iron concentration and endometriosis stage using the revised American Society of Reproductive Medicine score was not evaluated.
Lay Summary
Endometriosis usually is encountered in three different forms: superficial peritoneal endometriosis, ovarian cysts (endometrioma) and deep infiltrating endometriosis. Endometrioma can be identified as cystic lesions consisting of dark brown endometrial fluid and are sometimes referred to as "chocolate cysts." The presence of endometriomas indicates a more severe stage of endometriosis.
Dr. Kobayashi group from Nara Medical University, Japan, recently published a study entitled "Relationship between Cyst Fluid Concentrations of Iron and Severity of Dysmenorrhea in Patients with Ovarian Endometrioma" in the journal "Gynecologic Obstetric Investigation".
The authors aimed to investigate whether there was an association between cyst fluid iron concentration and severity of dysmenorrhea in women having endometrioma. If such a relationship exists and is elucidated, dysmenorrhea in these patients could be managed more effectively by non-invasive measurement of iron concentration in the cyst content in the future.
They evaluated 83 women who met the criteria, and different pain severity groups (no pain, mild, moderate, severe) were compared to the iron concentration in cyst fluid. The authors found that the total iron concentration and heme iron increased significantly with the severity of dysmenorrhea.
"Cyst fluid concentrations of iron are positively correlated with the severity of dysmenorrhea in endometrioma patients. However, this data is not sufficient to establish the direct role of iron in the etiology of the disease." they added.
---
---
endometriosis
endometrioma
dysmenorrhea
iron
pain severity
oxidative stress
reactive oxygen species
DISCLAIMER
EndoNews highlights the latest peer-reviewed scientific research and medical literature that focuses on endometriosis. We are unbiased in our summaries of recently-published endometriosis research. EndoNews does not provide medical advice or opinions on the best form of treatment. We highly stress the importance of not using EndoNews as a substitute for seeking an experienced physician.
<< Previous Article