The genomic linkage between ovarian cancer and endometriosis
Jun 23, 2021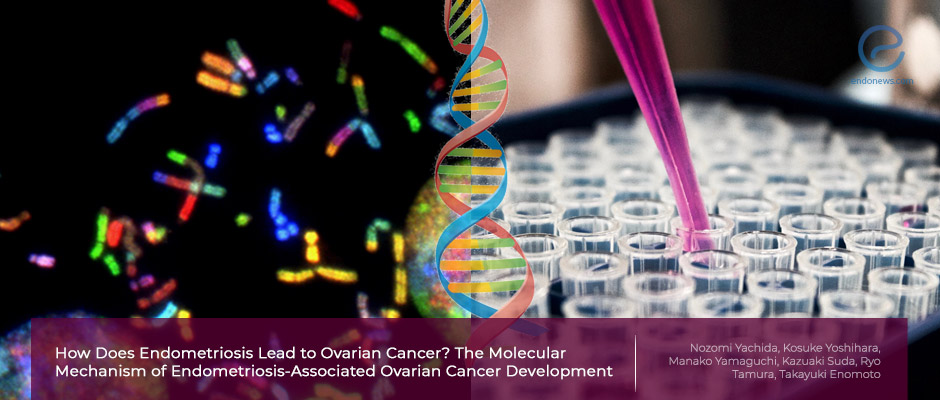 Certain ovarian cancer subtypes are genomically related to endometriosis
Key Points
Highlight
The genomic alterations in patients with endometriosis have been linked to clear cell and endometrioid carcinomas of the ovary.
In the carcinogenesis pathway from normal endometrium to ovarian cancer, oncogenic mutations, as well as tumor suppressor gene inactivation, should occur concurrently.
Importance
There are many genomic pathways involved in endometriosis-associated ovarian cancer. It is important to identify the most common ones to be able to use these genes as targets in cancer therapy.
With the help of new improved technologies in genetics such as next-generation sequencing, even the less common mutations can be identified.
What's done here?
This is a review article discussing the current molecular findings in the relationship between endometriosis and associated ovarian cancers.
Key results
Most of the endometriosis-associated ovarian cancers harbor mutations of the genes that belong to the SWI/SWF complex, PI3K/AKT/mTOR pathway, and MAPK pathway.
ARID1A is the most commonly mutated gene and a second hit is needed for malignant transformation after a first heterozygous mutation in benign endometrium.
The clonal expansion of oncogenic driver mutations such as PIK3CA and KRAS have been found in both endometriosis and normal endometrium which supports the retrograde menstruation hypothesis of endometriosis. However, it was observed that KRAS mutations alone are not enough to cause carcinogenesis.
Lay Summary
Endometriosis has been proven to be the precursor of ovarian clear cell and endometrioid carcinomas, however, it is not well understood why and how endometriosis goes into malignant transformation.
To address this issue, in their review article, Dr. Yachida and colleagues from Niigata University in Japan have shed some light on the molecular mechanisms responsible for the development of ovarian cancer in endometriosis patients which was recently published in "Cancers".
The genes that play a crucial role in the chromatin remodeling therefore carcinogenesis belong to the SWI/SNF complex. ARID1A is found to be the most mutated gene amongst them in endometriosis-associated ovarian cancers (EAOC). It is a driver mutation that causes loss-of-function in the gene and can be detected by immunohistochemistry with the loss of protein expression. ARID1B and SMARC4 play a similar role, however, their mutations are seen less frequently.
Another pathway that is responsible for malignant transformation with a role in tumor proliferation and growth is the PI3K/AKT/mTOR pathway and multiple genes are usually harbored in EAOCs. PIK3CA is the most mutated gene from this complex and several studies have suggested that it mostly coexists with ARID1A mutations. AKT/mTOR activity in these tumors has been emphasized as the inhibitors of these genes may be helpful in ovarian cancer treatment. Also, the activation of the MAPK pathway which is seen less commonly has been found to be associated with better overall survival.
Even though mutations in TP53 and BRCA1-2 have been highly associated with high-grade serous carcinomas, the authors state that the ATM gene that regulates TP53 and BRCA1 is also seen in clear cell and endometrioid carcinomas and this creates a potential to use PARP inhibitors in the treatment of tumors with ATM mutations. In the molecular subgroup of endometrioid carcinomas that show TP53 mutation, the copy number alterations are high which causes a worse outcome whereas CTNNB1 mutation has a low copy number alteration burden and a better outcome.
The article further reports the results of the studies about next-generation, targeted and whole-exome sequencing performed on these tumors. Dr. Yachida concludes the review with their previous study which investigated the genomic relationship between normal endometrium and EAOC through endometriosis where they performed whole-exome sequencing in a clear cell carcinoma patient and found that for the malignant transformation to happen, a "second-hit" in the alleles of ARID1A gene is required.
---
---
endometriosis
ovarian cancer
mutation
next-generation sequencing
DISCLAIMER
EndoNews highlights the latest peer-reviewed scientific research and medical literature that focuses on endometriosis. We are unbiased in our summaries of recently-published endometriosis research. EndoNews does not provide medical advice or opinions on the best form of treatment. We highly stress the importance of not using EndoNews as a substitute for seeking an experienced physician.