The genetic mutations in uterine adenomyosis
Mar 11, 2020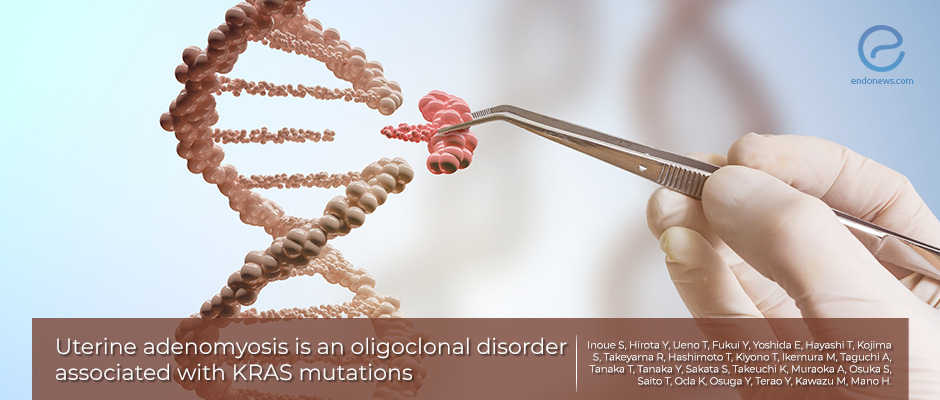 The genetic analysis of tissues from women with uterine adenomyosis proved the presence of oligoclonality and recurrent KRAS mutations.
Key Points
Highlights:
The oligoclonality and recurrent KRAS mutations in women with adenomyosis help us understand the underlying mechanism involved in the pathogenesis of adenomyosis and develop effective treatment modalities.
Importance:
The demonstration of genetic mutations in women with adenomyosis will lead to the development of genetically guided therapies in this disease.
What's done here?
This article was conducted to clarify the genetic background in the etiopathogenesis of adenomyosis and the differences from the co-occurring endometriosis and leiomyoma.
This prospective study was conducted in the Department of Gynaecology and Obstetrics at the University of Tokyo Hospital and Juntendo University Hospital between 2016-2019.
A total of 70 individuals was included in this study to collect the samples for next-generation sequencing analysis.
Magnetic resonance imaging was performed in all patients to confirm the diagnosis of adenomyosis.
During the surgery, the adenomyotic tissue and the normal tissue surrounding adenomyosis were biopsied and examined histopathologically.
Some medical treatments including gonadotropin-releasing hormone agonists, progestins or levonorgestrel-releasing intrauterine device were recommended to these patients based on their symptomatology.
Following the resection and immediately freezing of the excised specimens from the adenomyotic lesions and adjacent normal tissues, as well as co-occurring leiomyoma and endometriosis, NGS was performed to detect the genetic mutations.
Key results:
Uterine adenomyosis is still an enigmatic disease in which the etiopathogenetic mechanisms have not been clearly described.
In this study, Inoue et al showed the importance of genetic basis for the development of adenomyosis.
The presence of oligoclonality and recurrent KRAS mutations were revealed using NGS in adenomyotic tissues on a large panel of adenomyosis and co-occurring endometriosis and leiomyomas.
Somatic mutations were also detected in the epithelial component of adenomyotic tissues comparing with normal tissues.
There was not a clonal relationship between adenomyosis and co-occurring leiomyomas. Furthermore, common molecular evidence was not shown in co-existing adenomyosis and endometriosis lesions.
The mutated clones, especially recurrent KRAS and PIK3CA mutations, in normal tissue revealed that they lead to the development of adenomyosis.
In women who are resistant to hormone treatment, KRAS mutations were detected more frequently.
Lay Summary
Adenomyosis is defined as the localization of endometrial stromal and glandular cells in the myometrium. This disease is a reproductive-aged women disease, like endometriosis.
Additionally, adenomyosis is frequently observed together with endometriosis and leiomyomas due to common histological features and molecular changes. However, these diseases show some differences according to their pathogenesis, localization of the lesions and clinical features.
Underlying etiopathogenetic mechanisms of adenomyosis have not been understood clearly despite several proposed theories. As in many diseases, it is thought that there is a genetic background in adenomyosis and a common molecular mechanism may play a role for the development of adenomyosis, endometriosis, and leiomyomas.
For this purpose, Inoue et al, a group of scientists from Japan, published an article titled "Uterine adenomyosis is an oligoclonal disorder associated with KRAS mutations" in the journal Nature Communications. They aimed in this study to determine the genetic alterations in women with adenomyosis using next-generation sequencing (NGS). They also compared adenomyotic tissues with adjacent normal tissues and co-existing endometriosis and leiomyomas. They found that adenomyotic tissues showed oligoclonality with recurrent KRAS mutations. The epithelial component of adenomyotic tissues also showed somatic mutations at low variant allele frequencies (VAF). A clonal relationship and common molecular evidence between adenomyosis and co-occurring endometriosis and leiomyomas could not be identified. The presence of mutant clones in normal tissues suggested that adenomyosis would arise from these mutated tissues. This study also proved that women having mutated clones would be resistant to medical treatments, especially to dienogest. Because genetic alterations were detected more frequently in the adenomyotic tissues excised from women who did not respond to progestin therapy. This finding has been associated with KRAS mutations silencing Progesterone A and B receptors.
"Identification of the molecular underpinnings of adenomyosis could offer opportunities for precision treatment of this condition." the authors added.
---
---
adenomyosis
endometriosis
leiomyoma
next-generation sequencing (NGS)
KRAS mutations
oligoclonality
genetic alterations
normal endometrium
etiopathogenetic mechanisms
DISCLAIMER
EndoNews highlights the latest peer-reviewed scientific research and medical literature that focuses on endometriosis. We are unbiased in our summaries of recently-published endometriosis research. EndoNews does not provide medical advice or opinions on the best form of treatment. We highly stress the importance of not using EndoNews as a substitute for seeking an experienced physician.
<< Previous Article

Next Article >>