The enhanced invasiveness, migration and the development of adenomyosis: Importance of M2 macrophages
By:
Hale Goksever Celik
- Apr 7, 2023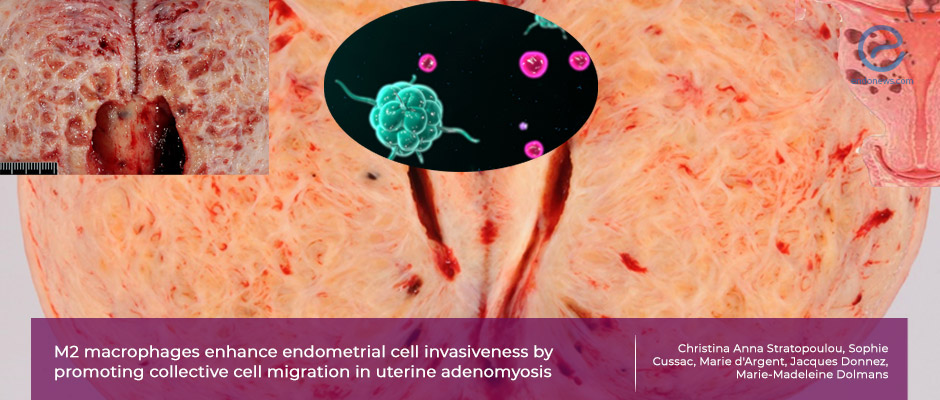 M2 macrophages in the eutopic endometrium of adenomyosis patients promote migration and enhance their invasion capacity suggesting their fundamental role in the development of the disease.
Key Points
Highlights:
Endometrial invasiveness mediated by M2 macrophages has a key role in the pathogenesis of adenomyosis.
Importance:
Therapeutic options targeting M2 macrophages would be effective in managing adenomyosis-associated symptoms.
What's done here?
This study was conducted to investigate the significance and implication of endometrial M2 macrophages in adenomyosis.
Endometrial samples were taken from women with (n=6) or without adenomyosis (n=10, controls).
Adenomyosis was diagnosed by imaging methods such as transvaginal ultrasound (TV-US), magnetic resonance imaging, or by histopathological confirmation of surgical specimens.
The predominant macrophage population (M1 or M2) was examined by double immunofluorescence, and endometrial cell invasion was assessed by invasion assays.
Subtypes of macrophages (M1 and M2 macrophages) were identified by CD80/CD163 double immunofluorescence.
Cell motility and epithelial-mesenchymal transition (EMT) were assessed by qPCR for genes involved in cell motility and EMT.
Tissue invasiveness and EMT activation cascade were determined by evaluation of related genes such as matrix metalloproteinase 9 (MMP9), E-cadherin, and N-cadherin.
Key results:
Strengths and Limitations
Differentiation of subtypes of macrophages, specific use of M2 macrophages, and isolation of both epithelial and stromal cells were the main strengths of the study.
The 2D nature of the cultures and lack of interpatient cell population heterogeneity are the limitations of the study.
In addition, potential differences in terms of macrophage characteristics between adenomyosis patients and healthy women could not be denied.
Lay Summary
Adenomyosis is the ectopic presence of endometrial stromal and glandular cells inside the myometrial tissue. Adenomyosis is diagnosed in women with gynecological problems with an incidence of 20%, although it is encountered much more frequently in hysterectomy specimens.
Among many theories proposed as the reason for adenomyosis development, the most accepted one is the invasion of the myometrium by the eutopic endometrial basalis via a traumatized endometrial-myometrial junctional zone. It is also confirmed that immunological dysregulation is important for endometrial invasiveness where macrophages play a key role.
Dr.Dolman's group., from Belgium, published a study titled "M2 macrophages enhance endometrial cell invasiveness by promoting collective cell migration in uterine adenomyosis" in the journal named "Reproductive BioMedicine Online".
Researchers aimed to investigate the role and implication of M2 macrophages in terms of endometrial invasion to establish adenomyosis. They used double immunofluorescence to detect the predominant macrophage population. When the subtypes of macrophages, namely M1 and M2 macrophages were differentiated by double immunofluorescence, significantly higher rates of M2 macrophage accumulation were detected in both endometrium and adenomyosis compared to those from healthy patients. Invasion assays and quantitative PCR were performed to evaluate the invasion capacity of endometrial cells. After co-culture with M2 macrophages, the invasiveness of isolated eutopic epithelial and stromal cells was increased not only from adenomyosis patients but also from controls, although adenomyotic endometrial tissue was significantly more invasive than healthy cells.
When it comes to the EMT genes, Matrix metalloproteinase 9 (MMP9), E-cadherin, and N-cadherin were used to evaluate tissue invasiveness and the activation of the epithelial-mesenchymal transition (EMT) cascade. No E- and N-cadherin protein expression differences were noted, either between co-cultured and control cells or between healthy and adenomyotic cells. MMP9 expression, a marker of tissue invasiveness, was increased in eutopic endometrial stroma from adenomyosis patients compared to healthy controls. When the E-cadherin and N-cadherin protein levels were compared between the "basalis", and "functionalis" and adenomyosis, both were more extensively expressed in basal glands than functional glands.
"M2 macrophages play a key role in disease pathogenesis and could be targeted to develop novel therapeutic options." the authors concluded.
---
---
adenomyosis
collective cell migration
endometrial invasiveness
epithelial-mesenchymal transition
M2 macrophages
DISCLAIMER
EndoNews highlights the latest peer-reviewed scientific research and medical literature that focuses on endometriosis. We are unbiased in our summaries of recently-published endometriosis research. EndoNews does not provide medical advice or opinions on the best form of treatment. We highly stress the importance of not using EndoNews as a substitute for seeking an experienced physician.
<< Previous Article

Next Article >>