The compliance for post-surgical follow-ups after endometriosis surgery
By:
Selma Oransay
- Aug 25, 2023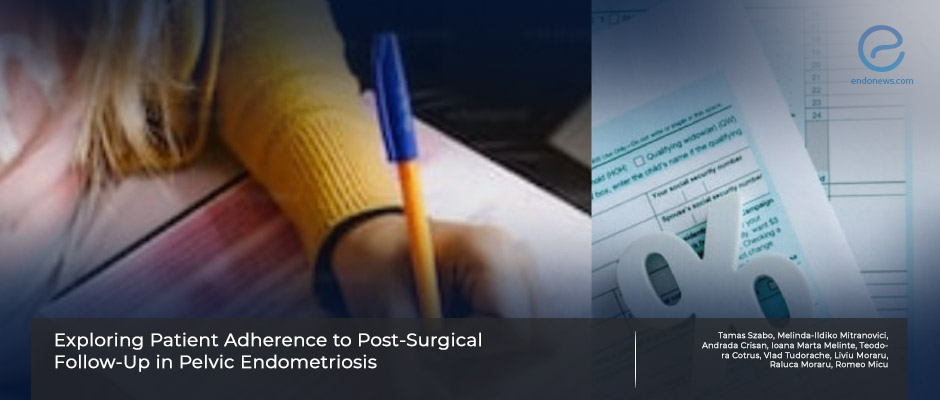 Follow-up compliance may measure patient dissatisfaction
Key Points
Highlights:
Personalized management is crucial for endometriosis, and surgery remains an important therapeutic option.
Importance:
. The improvement of pain symptoms in patients after endometriosis surgeries remained unclear due to a lack of follow-ups.
What's done here:
A Romanian team retrospectively analyzed 1, 3, 5, and 7 years of follow-up data of 2538 surgeries, performed in ten years.
All data of women were with histologic confirmation, and incomplete questionnaires were excluded.
The primary aim was to evaluate the patient's participation in follow-ups.
The change in the quality of life, fertility, pain complaints, and disease recurrence were determined as secondary goals.
Key Results:
Out of a total of 2538 women, only 356 completed the entire follow-up schedule.
Those patients who answered the questionnaires before, and 1 year after surgery formed Group A, which was composed of 445 patients.
Group B included 528 patients who answered the questionnaires before and more than one year after the surgery.
. Regardless of age, dysmenorrhea and pelvic pain are common symptoms of patients that were not generally improved.
. Comparing group A to group B, no difference was determined in pregnancy desire, primary or secondary infertility rates, and improvement in general postoperative symptoms, including health and physical conditions.
. Comparing pain improvement to two groups showed it was significantly lower in Group A, who disappeared after filling the first postoperative follow-up form.
. Noticeably, more patients who completed the questionnaires after surgery were diagnosed with stage IV rAFS endometriosis.
Lay Summary
. The patient's adherence to follow-ups after surgery is essential as it is the only way to evaluate the surgery's benefits in improving pain symptoms and recurrences, measuring the quality of life, and fertility outcomes.
. Dr. Szabo and his team from the University of Medicine, Pharmacy, Science and Technology, Targu Mures, Romania, aimed to determine the postoperative outcomes of endometriosis patients by examining the follow-ups retrospectively using the electronic database of the Cirendo database, which compromise 15 institutions.
. Cirendo database is a progressive cohort under the North-West Inter-Regional Female Cohort for Patients with Endometriosis funded by Group 4. ( University Hospitals of Rouen, Lille, Amiens, and Caen in France. )
. Surgeons filled in intraoperative findings and immediate postoperative management using questionnaires while postoperative 1, 3, 5, and 7-year self-questionnaire follow-ups addressed patients, including questions related to endometriosis symptoms and fertility outcomes.
. Data collection between June 2009 and June 2019 showed that most patients quit the postoperative follow-ups and disappeared from the system. Almost one-fifth of them filled out the questionnaire forms for the postoperative first and third years.
. The authors found that complaints of pain were more pronounced among those who disappeared after the first follow-up. The authors interpreted the significant lack of filling the addressed questionnaires as attributed to patient dissatisfaction.
. This study was recently published in Medicana.
---
---
laparoscopy
diagnosis
management
follow-up adherence
chronic pelvic pain
malignancy
endometriosis.
DISCLAIMER
EndoNews highlights the latest peer-reviewed scientific research and medical literature that focuses on endometriosis. We are unbiased in our summaries of recently-published endometriosis research. EndoNews does not provide medical advice or opinions on the best form of treatment. We highly stress the importance of not using EndoNews as a substitute for seeking an experienced physician.
<< Previous Article