The appearance of postoperative endometriosis by imaging methods
By:
Hale Goksever Celik
- Mar 27, 2019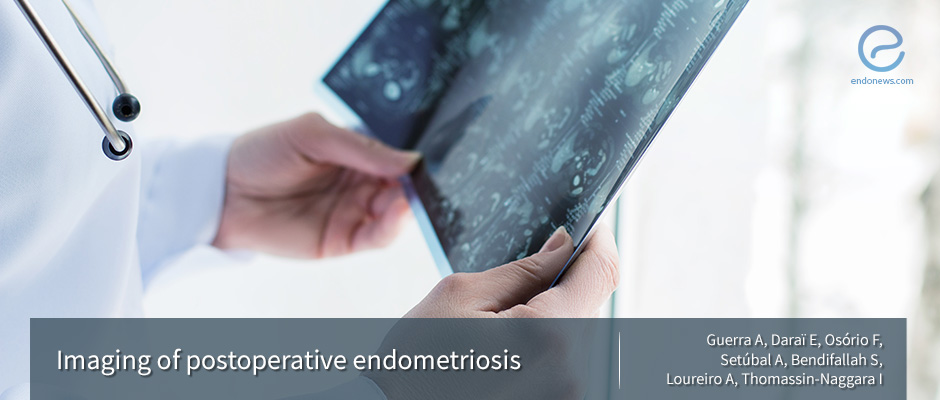 Imaging has an important role for the identification of postoperative endometriosis complications and recurrence as well as for the diagnosis and preoperative mapping of the disease.
Key Points
Highlights:
Endometriosis is a chronic gynecological disease which is prone to develop complications during surgery and may recur postoperatively.
Importance:
The diagnosis of endometriosis recurrence and postoperative complications in endometriosis is only possible through clinical examination and carefully performed imaging methods.
What's done here?
This review summarizes the normal postoperative findings, disease recurrence and complications, with a special emphasis on magnetic resonance imaging (MRI), in women undergoing surgery for pelvic endometriosis.
All literature including meta-analyses, systematic reviews and original scientific articles published in the English language published between 2000 and 2018 have been evaluated.
Although the definitive diagnosis of endometriosis depends on the histopathologic evaluation, the patient's history, clinical examination, and imaging modalities may provide a clue for the diagnosis of endometriosis.
The surgical management, especially ovarian cystectomy as the most commonly preferred surgical method, remains a necessary part of the treatment algorithm of endometriosis.
MRI can be used to evaluate postoperative complications and recurrence which may vary depending on the patient, study's sample size, type of surgery, the extent of the disease and total follow-up.
Postsurgical changes in pelvic imaging including adhesions, bands, linear tracks are normal. The presence of minimal pelvic effusion and gas is a common finding if laparoscopic hysterectomy performed.
There are different surgical methods to manage bowel endometriosis. While rectal shaving is sufficient for the lesions only localized to the bowel wall superficially, discoid resection and segmental resection are performed in the treatment of deeper lesions. Hemi-circular suture in anterior bowel wall and a circular hypointense band on T2-weighted images can be observed after these surgical interventions normally.
If endometriosis infiltrating the bladder is surgically treated, vesical and vesicouterine pouch resection can result in obliteration of vesicouterine pouch without fat tissue and the bladder wall appears as an asymmetric, dark, thickened fibrotic band on T2-weighted images.
The surgical management of ureteral endometriosis can appear a slow signal, linear strands and fibrotic ureteral wall thickening on T2-weighted MR images.
Infection/sepsis, urological injuries or pelvic hemorrhage; abnormal vaginal discharge, persistent abdominal distension, pelvic and perineal pain can be listed among postoperative complications many of which can be easily determined by imaging methods including transvaginal ultrasonography, computed tomography, and MRI.
The hematoma as hyperattenuating collection above the vaginal vault and the infection as a heterogenous fluid collection with enhancing wall and internal gas mainly above the vaginal vault can be observed.
Bowel injuries can be diagnosed by the observation of free intraperitoneal fluid or gas out of proportion for the expected postoperative period, direct visualization of discontinuity of bowel tract or enteric contrast leak, fluid collection/abscess, focal bowel wall thickening, or development of fistulous tracts between the vagina or uterus and bowel, rectum or anal canal.
The complications after the surgery of endometriosis located on urinary tracts such as cystotomy, ureteral injury, vesicovaginal fistula, and ureterovaginal fistula can be diagnosed using imaging modalities. Obliteration of fat planes between the urinary bladder and vagina with soft tissue stranding, the presence of air in the bladder and/or fluid in the vaginal lumen are suspicious findings on computed tomography.
Endometriosis may have relapsed in patients with recurrent symptoms and/or new lesions on systematic imaging. Although the best method for identifying endometriosis recurrence after surgery has not yet been identified, transvaginal ultrasonography and MRI can be used for this purpose.
The important thing to differentiate recurrent from persistent disease is the comparison of the postsurgical findings with presurgical examinations.
Recurrent endometrioma is observed as hyperintense ovarian cysts on T1-weighted images, whereas superficial endometriotic lesions appear hyperintense on T1-weighted images.
If endometriosis recurs in the region of uterosacral ligaments, irregular or nodular thickening of the uterosacral ligaments appear on MRI images.
Lay Summary
Endometriosis is a chronic gynecological disease mostly encountered in reproductive-aged women.
Endometriosis can occur in three different entities: peritoneal, ovarian and deep endometriosis. Golden standard diagnosis is made by histopathological examination of surgical material after laparoscopic surgery in women with suspicious symptoms.
Although there are several medical treatment options for endometriosis, surgery remains the most important and necessary part of the treatment algorithm.
Postoperative follow-up plays a vital role to determine the development of postoperative complications and/or recurrence.
Guerra et al, a group of scientists from Portugal and France, published a review titled as "Imaging of postoperative endometriosis" in the journal named as "Diagnostic and Interventional Imaging". These authors sought to review the postoperative findings, including normal postoperative findings, initial disease recurrence, and complications, especially with MRI, in women who have undergone surgery for pelvic endometriosis.
In women with recurrent symptoms and/or new or consistent lesions on systematic imaging, MRI can be preferred as an imaging modality.
"Further large studies are needed to improve the performance of imaging techniques to diagnose recurrence" they added.
---
---
endometriosis
endometrioma
magnetic resonance imaging (MRI)
postoperative findings
disease recurrence
DISCLAIMER
EndoNews highlights the latest peer-reviewed scientific research and medical literature that focuses on endometriosis. We are unbiased in our summaries of recently-published endometriosis research. EndoNews does not provide medical advice or opinions on the best form of treatment. We highly stress the importance of not using EndoNews as a substitute for seeking an experienced physician.
<< Previous Article