Sacral neuromodulation for endometriosis-related chronic pelvic pain
Nov 9, 2023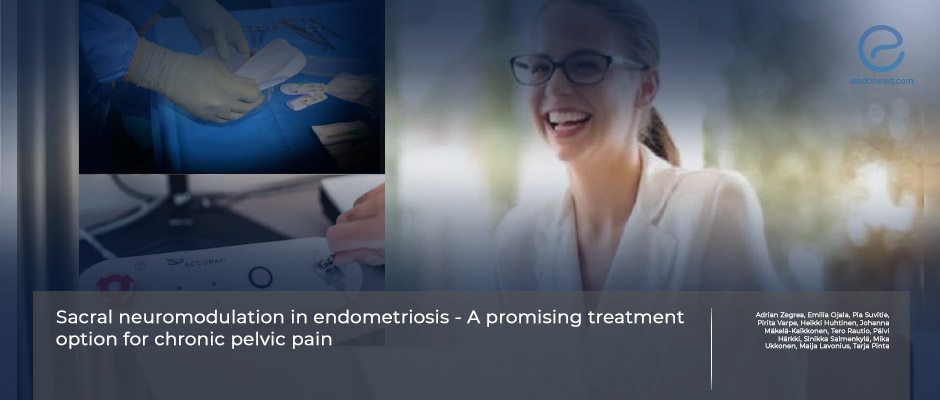 Sacral neuromodulation could be an option to relieve the pelvic pain of women with endometriosis.
Key Points
Importance:
Sacral neuromodulation, the electrical stimulation of a sacral nerve route through an implantable neurostimulator can cure fecal incontinence, urge urinary incontinence, and nonobstructive urinary retention.
This technique has not been used earlier on chronic pelvic pain for endometriosis.
Highlights:
Based on the results of the current preliminary study, sacral neuromodulation may be promising for relieving chronic pelvic pain in women with endometriosis.
What's done here:
This is a multicenter prospective pilot study that includes patients with chronic pelvic pain without other obvious pathology than endometriosis.
A Finland author team examined whether sacral neuromodulation therapy could be effective on chronic pelvic pain symptoms for endometriosis.
Postoperative pain reduction and quality of life measurements after the sacral neuromodulation implantation procedure by a colorectal surgeon were assessed in 31 women.
Only 21 of the patients completed the sixth-month questionnaire forms, and 15 returned to complete the one-year questionnaire forms.
Key Results:
Worst experienced daily pain significantly decreased from a median of 9 to 5 after 12 months. However, at 12 months, almost half of the patients still reported occasional severe pain.
There was no statistical difference in the use of analgesics such as NSAID, paracetamol, or weak or strong opioids. Only the use of pregabalin or gabapentin decreased from 86% to 43%.
Life enjoyment, relationships with others, and mood changes of the study population improved after 12 months of -the application.
Lay Summary
Sacral neuromodulation is a therapeutic technique that involves electrical stimulation of a sacral nerve route to modulate a neural pathway. The device is an implantable neurostimulator, and the procedure is a minimally invasive procedure with good long-term outcomes. This technique can cure fecal incontinence, urge urinary incontinence, and nonobstructive urinary retention.
The latest application of sacral neuromodulation is chronic pelvic pain, which endometriotic patients frequently complain about. Zegrea et al., from Finland, intended to examine the effect of sacral neuromodulation on chronic pelvic pain caused by endometriosis through a prospective study on 35 women with surgically confirmed diagnoses of endometriosis. All patients were operated on with either radical pelvic surgery or fertility-sparing surgery. These patients had already undergone conventional therapies due to their chronic pelvic pain, and all of them suffered from medication-resistant pelvic pain.
After the application of the sacral neuromodulation device to 31 women who suffer severe, moderate, and mild pelvic pain postoperatively, improvement of the pain and quality of life scores were evaluated in the sixth and twelfth months. All fifteen patients who completed the annual questionnaires reported improved pelvic pain and quality of life.
Based on this preliminary study, the authors concluded that sacral neuromodulation could be a good option in women with severe pelvic pain after both radical and fertility-sparing pelvic surgeries.
This interesting article was recently published in the December 2023 issue of Acta Obstetricia et Gynecologica Scandinavica.
---
---
chronic pelvic pain
nervous system activity
sacral neuromodulation
permanent implant
bowel function
urinary function
endometriosis.
DISCLAIMER
EndoNews highlights the latest peer-reviewed scientific research and medical literature that focuses on endometriosis. We are unbiased in our summaries of recently-published endometriosis research. EndoNews does not provide medical advice or opinions on the best form of treatment. We highly stress the importance of not using EndoNews as a substitute for seeking an experienced physician.
<< Previous Article