Recent advances in the diagnosis and treatment of endometriosis
By:
Hale Goksever Celik
- Dec 17, 2019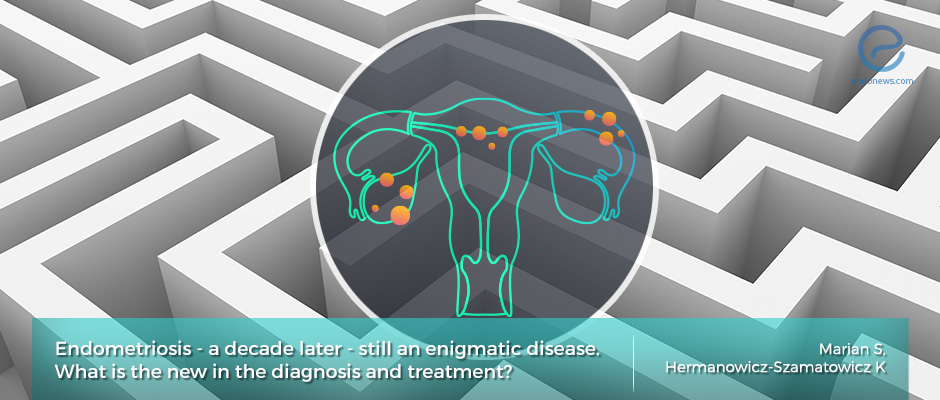 Endometriosis is a still enigmatic disease regarding its diagnosis and management despite extensive research.
Key Points
Highlights:
Endometriosis is a disease that expects to be enlightened in many aspects concerning its diagnosis and treatment.
Importance:
Women with endometriosis which is related to pain and infertility should be informed about the differential diagnosis, treatment options, and fertility preservation methods.
What's done here?
This review was conducted to clarify the developments about the diagnosis and treatment of endometriosis based on the literature.
The articles were reviewed using "endometriosis, pathogenesis, treatment and infertility" as the search words from Medline and other browsers.
Pathophysiological mechanisms, classification, and treatment options were presented to the readers.
Additionally, fertility preservation methods were also mentioned for women with endometriosis who might have a desire to get pregnant in the future.
Key results:
Endometriosis is a chronic inflammatory disease, the most common symptoms are pain and fertility problems.
There are many theories underlying its pathophysiological mechanism- but the exact mechanism is not known yet.
The presence of genetic predisposition in women with endometriosis has been clarified by using single nucleotide polymorphism array and genome-wide association studies (GWAS).
The bacterial contamination hypothesis is another new concept to explain the etiopathogenetic mechanisms.
Abnormal oocyte quality and decreased endometrial receptivity correlate with the negative impact of endometriosis on in vitro fertilization outcomes.
The association between endometriosis and the increased risk for clear-cell carcinoma and endometrioid ovarian cancer.
Revised American Society for Reproductive Medicine is the most commonly used classification system. However, it does not provide a prognostic clue for the fertility potential, hence Endometriosis Fertility Index (EFI) is used for non-IVF treatments.
The current three management modalities are medical treatment, surgery, and medically assisted reproduction, medical treatment options are suppressive, rather than curative.
Women with endometriosis should be informed about fertility preservation methods including embryo and oocyte freezing and ovarian tissue cryopreservation.
Lay Summary
Endometriosis is an estrogen-dependent disease that is commonly diagnosed in reproductive-aged women. The most common complaints of women with endometriosis are pain and fertility problems. Although many advanced types of research about the etiology, differential diagnosis and treatment have been performed, it remains a still enigmatic disease.
The most commonly accepted theory which explains the development of endometriosis is retrograde menstruation theory. Other theories are celomic metaplasia, hormonal changes, oxidative stress and inflammation, immune dysfunction, apoptosis suppression, genetic predisposition, and stem cell theory to understand the underlying mechanism of endometriosis.
Genome-wide association studies have demonstrated that there is a genetic susceptibility in women with endometriosis. The bacterial contamination hypothesis and vitamin D deficiency hypothesis have recently been discussed for a role in its development.
Endometriosis is associated with poor fertility outcomes due to the negative impact on oocyte quality and endometrial receptivity.
There are three forms of endometriosis: peritoneal, ovarian (endometrioma) and deep infiltrating endometriosis. The most commonly used classification system is the revised American Society for Reproductive Medicine which based on the localization, size of implants, ovarian endometriosis and extent of adhesions to define endometriosis as mild, moderate or severe. Enzian classification of deep infiltrating endometriosis and Endometriosis Fertility Index was proposed to detail this classification and to predict the success rate of non-IVF treatments.
The optimal management of endometriosis also still remains unclear. The decision for treatment should be patient-centered considering her clinical presentation and age, symptom severity, disease extent and location, reproductive desires, other comorbidities, side effects and complications related to medical treatment and surgery, and cost. Relief of pain, amelioration of infertility, or both should be aimed at the management of endometriosis. Current medical and surgical treatment options have several limitations including the side effects, costs, risk of recurrence, effects on conception capability. Surgical management remains a necessary part of the treatment algorithm.
"There are clinical trials devoted to finding new medical agents for coping with pain and with infertility in cases of endometriosis and the results might be known relatively soon." the authors concluded.
---
---
endometriosis
pathology
classification
infertility
fertility preservation
treatment
DISCLAIMER
EndoNews highlights the latest peer-reviewed scientific research and medical literature that focuses on endometriosis. We are unbiased in our summaries of recently-published endometriosis research. EndoNews does not provide medical advice or opinions on the best form of treatment. We highly stress the importance of not using EndoNews as a substitute for seeking an experienced physician.
<< Previous Article

Next Article >>