Promising therapeutic results in experimental endometriosis model
Aug 24, 2021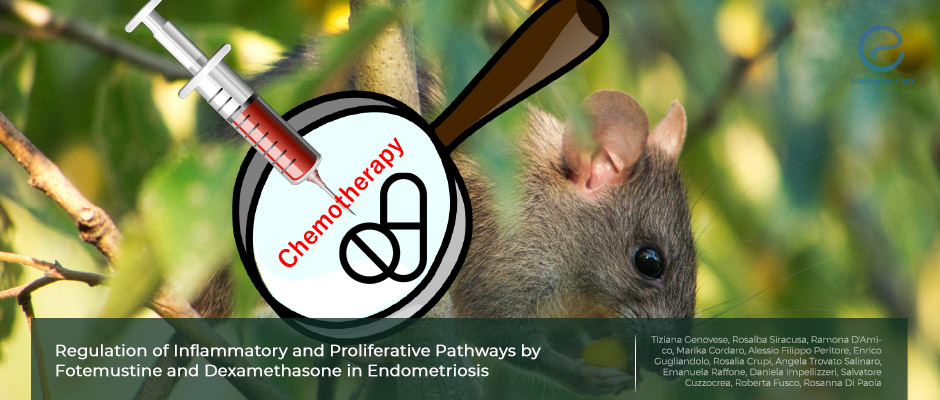 Pioneering success with an anti-tumor agent and steroid combination
Key Points
Highlights:
The development of endometriosis is favored by inflammatory microenvironment, proliferation and impaired apoptosis.
Glucocorticoids have anti-inflammatory effects, and Fotemustine is a chemotherapeutic with antiproliferative action; hence their combination could be a potential remedy for endometriosis management.
What's done here:
A single dose of fotemustine and daily dexamethasone was administered in a rat model of endometriosis to investigate efficacy in suppressing endometriotic lesion growth and inflammation.
Key results:
The combined therapy of fotemustine and dexamethasone reduced inflammation, hyperproliferation and apoptosis resistance in an experimental rat endometriosis model.
Heterogeneous development of endometrial stroma and glands were reduced, and proliferation was decreased through the MAPKinase pathway.
Limitations of the study:
Fotemustine has important toxicities, such as gastric dysfunction and myelosuppression, however this was limited by its single dose usage.
Dexamethasone is also a potent steroid with side effects that would necessitate precautions in its use in clinical trials.
Lay Summary
Tiziana Genovese and associates from Italian academic centers reported their pioneering findings in an experimental model of endometriosis administering an anti-tumor agent and glucocorticoid combination, published in the scientific periodical "International Journal of Molecular Sciences".
Endometriosis is a worldwide common disease without a clear-cut treatment modality as yet. The pathogenesis is still not verified precisely, but investigators agree that cellular proliferation, apoptosis and chronic inflammation all have important roles in its pathophysiology. Fotemustine is an antitumor agent belonging to the widely used nitrosourea family with antiproliferative activity mainly prescribed in the treatment of primary and metastatic brain tumors. However, it is highly toxic with main complications including gastric dysfunction and bone marrow suppression. On the other hand, glucocorticoids have anti-inflammatory effects related to the inhibition of the IL-1β, TNF-α, COX-2, inducible nitric oxide synthase, NFκB and MAPK pathways.
The authors have designed an experimental endometriosis model in laboratory rats by intraperitoneal injections of uterine fragments from donor animals, and endometriotic lesions were allowed to develop for 7 days. Antitumor agent fotemustine was administered once and dexamethasone was administered daily for the next 7 days. Ending the experiment on the 14th day, peritoneal fluids and lesions were explanted besides stomachs for possible side effects. Animals were randomized and assigned to groups as follows: vehicle, fotemustine only, dexamethasone only, fotemustine plus dexamethasone, sham operation groups.
Fotemustine and dexamethasone combination clearly reduced the proinflammatory mediator levels in the peritoneal fluid and reduced the lesions' dimensions. This combination was especially effective in reducing the heterogeneous development of endometrial stroma and glands in microscopic analysis of lesions, as well as proliferation of lesional cells through the mitogen-activated protein kinase signaling pathway. The authors clarified that the combination therapy yielded anti-inflammatory effects by inducing the synthesis of anti-inflammatory mediators at the transcriptional and post-transcriptional levels and by anti-apoptotic activity, restoring the impaired mechanism. This study also demonstrated that the single low dose application of fotemustine did not show any gastrointestinal complications.
---
---
endometriosis
experimental
chemotherapy
fetomustine
dexamethasone
inflammation
IL-1β
TNF-α
COX-2
NOS
NFκB
DISCLAIMER
EndoNews highlights the latest peer-reviewed scientific research and medical literature that focuses on endometriosis. We are unbiased in our summaries of recently-published endometriosis research. EndoNews does not provide medical advice or opinions on the best form of treatment. We highly stress the importance of not using EndoNews as a substitute for seeking an experienced physician.
<< Previous Article

Next Article >>