Persistence of Chronic Pelvic Pain after Hysterectomy
Nov 12, 2021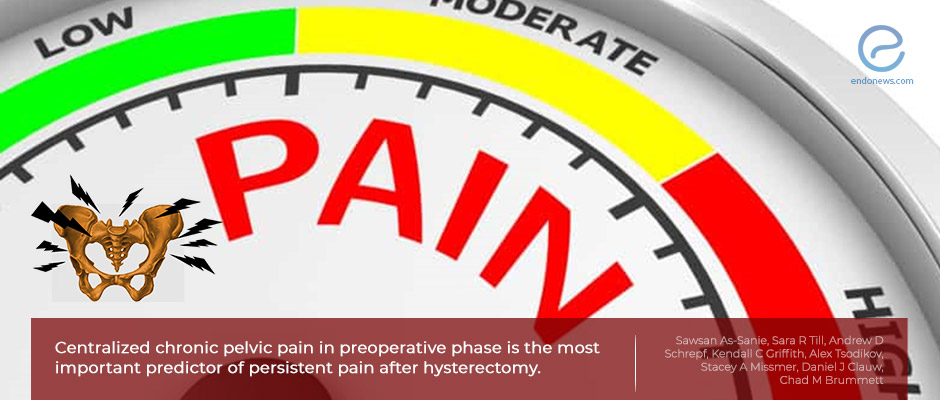 Centralized chronic pelvic pain in preoperative phase is the most important predictor of persistent pain after hysterectomy.
Key Points
Highlights:
The degree of "perception and centralization of pain" determines the response of patients to treatment in chronic pelvic pain management.
Importance:
Women who undergo hysterectomy for chronic pelvic pain should be counseled that their pain may continue in the postoperative period due to the possibility of centralization of the pain.
What's done here?
A prospective, observational cohort study was conducted to clarify the effect of "nociplastic" or centralized pain on postoperative long-term outcomes in women undergoing hysterectomy.
Women undergoing hysterectomy for benign indications were included (n=126), questionnaires including current opioid use and psychological status, 30 days before the operation and at 1, 3, and 6 months after hysterectomy.
Demographic characteristics (race, marital status, education level, occupational - disability status) and pelvic pain severity, anxiety, and depression were obtained.
Central sensitization was measured by the American College of Rheumatology (ACR) 2011 Fibromyalgia Survey Criteria.
History of surgically confirmed endometriosis, indication and the modality of hysterectomy, presence, and severity of endometriosis on histopathologic examination were recorded.
To evaluate predictors for less than 50% improvement in postoperative pelvic pain was the primary aim while assessing the change in pelvic pain over time was the secondary aim.
All variables were compared between the patients with and without persistent pelvic pain.
Key results:
Pelvic pain persisted in 15 patients (11.9%) at 6 months following hysterectomy (worsened in 2, no change in 3, and less than 50% improvement in 10).
There was no significant difference in age, race, average pelvic pain severity or pain duration, presence of depression or anxiety, surgical route and operation findings in the patients with and without persistent pelvic pain.
Preoperative centralized pain scores were significantly higher in women with persistent pelvic pain.
Greater preoperative opioid use and overall pain severity were correlated with centralized pain.
Strengths and Limitations
The use of validated questionnaires, evaluation of intraoperative findings, pathologic evaluation of surgical specimens, and 6-month follow-up were strengths of this study.
The fact that the study was conducted in a single center and the risk of bias due to losses during follow-up could be considered as limitations. It could also be a limiting situation that it was not known whether to use preoperative and postoperative adjuvant therapy. In addition, the number of patients with endometriosis were small.
Lay Summary
Chronic pelvic pain is defined as the "pain in the pelvic area that lasts for 6 months or longer". There are several gynecological, urological, and gastrointestinal reasons for the development of chronic pelvic pain.
Nociceptive pain or central sensitization is the type of pain mechanically different from nociceptive pain which is caused by inflammation or tissue damage, or neuropathic pain that results from nerve damage. The causes are not fully understood but it is thought to be a dysfunction of the central nervous system whose processing of pain signals may have become distorted or sensitized.
Chronic pelvic pain is a heterogeneous condition resulting from a complex interaction of ongoing nociceptive input from peripheral tissues such as endometriosis which can be amplified and persisted by peripheral or central sensitization. The intensity of pain and response of the patient to treatment may change depending on the balance between different nociceptive, peripheral, and central neural contributions.
As-Sanie et al, a group of scientists from the USA, published a study titled "Incidence and predictors of persistent pelvic pain following hysterectomy in women with chronic pelvic pain" in the "American Journal of Obstetrics and Gynecology". The authors aimed to investigate the predictors for poor improvement of pelvic pain in women who underwent hysterectomy with a benign gynecologic condition. They also assessed the change in pain over time using some standardized questionnaires.
Postoperative pelvic pain persisted in 15 patients (11.9%) among the study group, composed of 126 patients. The most important predictors for persistent pain were higher preoperative centralized pain scores, measured using the Fibromyalgia Survey Score, and the presence of intraoperative findings of endometriosis and uterine fibroids. Every 1-point increase in the central sensitization during the preoperative period was associated with a 27% increase in persistent pain.
"Hysterectomy is likely to result in a substantial improvement in pain for many patients with chronic pelvic pain, but patients with a higher degree of central sensitization are at a substantially increased risk of persistent pain following surgery." the authors added.
---
---
central sensitization
centralized pain
endometriosis
fibromyalgia
hysterectomy
nociplastic pain
pelvic pain
persistent pain
DISCLAIMER
EndoNews highlights the latest peer-reviewed scientific research and medical literature that focuses on endometriosis. We are unbiased in our summaries of recently-published endometriosis research. EndoNews does not provide medical advice or opinions on the best form of treatment. We highly stress the importance of not using EndoNews as a substitute for seeking an experienced physician.
<< Previous Article

Next Article >>