Improvement of sexual-life quality in patients with endometrioma
Nov 11, 2021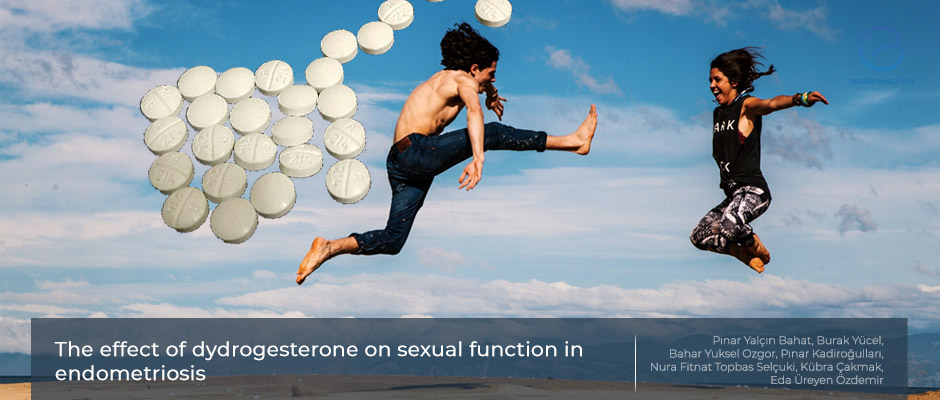 Dydrogesterone improves sexual life quality on patients with endometrioma
Key Points
Highlights:
The periodic monthly use of dydrogesterone may improve sexual life in women with endometriosis.
Importance:
Apart from the decrease in pain, sexual life also can be improved in patients with endometriomas.
What's done here:
Sexually active, ultrasonographic or MRI confirmed endometrioma patients (n=75) have been included.
Deep infiltrating and extra-pelvic endometriosis, and patients with a systemic or psychiatric disease, or treated by hormones or a history of drug use have been excluded.
Patients were prescribed 10 mg dydrogesterone tablets twice daily for 21 days of each menstrual period for 6 months.
The demographic data, the VAS (Visual analog scale) and, FSFI (Female Sexual Function Index) scores of patients before and after the treatment have been recorded.
Key Results:
The size of the endometriomas showed a slight decrease which has not reached a significance level.
The pain scores were improved significantly at the end of the 6 months period.
The sexual function scores including orgasm, satisfaction, and desire have been improved significantly.
Limitations:
It is a single-center study with relatively low patient numbers.
The researchers have not used a control group to rule out the placebo effect.
The diagnosis of endometriosis was decided by imaging modalities without histological confirmation.
Lay Summary
Endometriosis is a painful disease that affects daily life as well as sexual life quality. In the study conducted by Yalcin Bahat et al, the researchers questioned the effect of periodic use of dydrogesterone on the sexual life quality of patients with endometrioma. Dydrogesterone is synthetic progesterone, works similar to progesterone, and is used to treat menstrual disorders caused by a lack of hormones, relieve pain and menstrual cramps, and prevent miscarriages and abortions.
The authors used VAS pain scores and female sexual function survey scores to compare sexual life quality and pain amount of patients who were diagnosed with "endometrioma" by imaging modalities. All patients filled in both questioners at the beginning and at the end of the treatment period.
When the pre and post-treatment results were compared, although the decrease in the size of endometriomas did not reach a significance level, the pain scores were improved significantly at the end of the 6 months period. Furthermore, the female sexual function scores including, orgasm, satisfaction, and desire have been improved significantly.
With the limitations of slightly low patient numbers and being lack of a control group, the authors concluded that dydrogesterone might be used to decrease pain and increase sexual life quality in patients with endometrioma. This interesting article is recently published in the "Journal of Obstetrics and Gynaecology".
---
---
sexual life
endometrioma
FSFI
VAS
orgasm
satisfaction
desire
sexual function
pain.
DISCLAIMER
EndoNews highlights the latest peer-reviewed scientific research and medical literature that focuses on endometriosis. We are unbiased in our summaries of recently-published endometriosis research. EndoNews does not provide medical advice or opinions on the best form of treatment. We highly stress the importance of not using EndoNews as a substitute for seeking an experienced physician.
<< Previous Article

Next Article >>