Pelvic pain characteristics in young girls with endometriosis.
By:
Selma Oransay
- Oct 6, 2022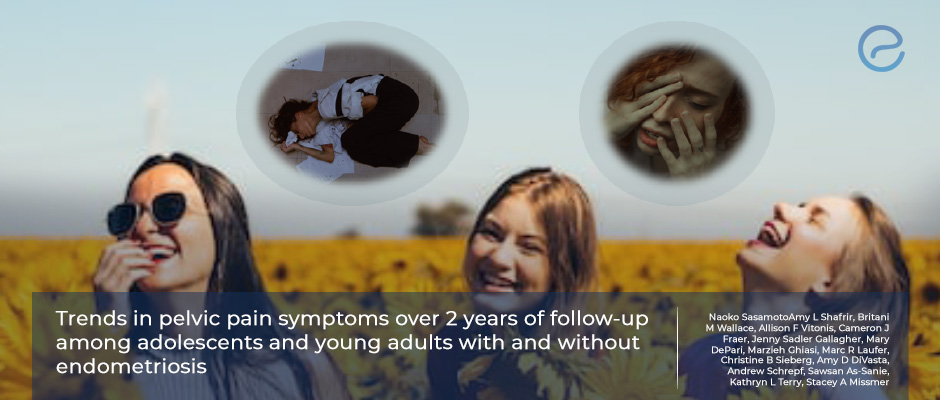 Endometriosis pain has multidimensional features and it is important in adolescents and young adults.
Key Points
Highlights:
Pelvic pain has different trends over time between adolescents with and without endometriosis, and assessment of the multidimensional features may be helpful in early diagnosis.
Importance:
Pelvic pain including dysmenorrhea, acyclic pain, and dyspareunia severely affect the social, physical, and mental life of young women.
What's done here:
This is a longitudinal observational cohort study over two years of follow-up to describe the prevalence and trends of pelvic pain among adolescents and adults.
A total of 620 adolescents and adults with surgically confirmed endometriosis (most early stage) were compared to 672 controls, from the Women's Health Study.
The questionnaire forms about the severity, frequency, and life interference measures of dysmenorrhea, acyclic pelvic pain, and dyspareunia were evaluated.
Key Results:
Patients with a confirmed diagnosis of endometriosis reported more severe, frequent, and life-interfering pains at the beginning when compared to controls.
Dysmenorrhea and dyspareunia values remained stable during the two-year follow-up, however acyclic pelvic pain and daily pain were improved.
Limitations:
The control group may include undiagnosed endometriosis cases, which would compromise the results. The racial distribution of the study is another bias.
Lay Summary
The occurrence of severe and frequent pelvic pain in young women is a piece of evidence that endometriosis begins and develops at an early age. Two-thirds of women with endometriosis who were diagnosed in their adulthood reported the onset of symptoms in their adolescence. However, the lack of basic knowledge about the physiopathology of pelvic pain and its relation to endometriosis causes complexity in planning individualized treatment.
Dr. Sasamato et al. from the Department of Obstet and Reproductive Biology of Brigham and Women's Hospital, Harvard Medical School, Boston, Massachusetts, USA evaluated pelvic pain in adolescents and described the pelvic pain trends among adolescents and young adults with or without endometriosis. This longitudinal observational study included participants from the Women's Health Study who filled out questionnaires about the demographic data, BMI, physical activity, diet, smoking, alcohol consumption, reproductive life as well as pain symptoms, and treatment regimes. The patients were asked to complete the same questionnaires annually for two years to reveal the differences by year.
The severity, frequency, and life interference of pelvic pain in participants over the years were statistically evaluated. Dysmenorrhea and dyspareunia symptoms in the endometriosis cohort were unchanged over the years while acyclic pain and daily pain tended to reduce. Pains in the control group remained fairly unchanged.
The study recently published in the Journal of Pain concluded that pelvic pain has different trends over time between adolescents with and without endometriosis, and the assessment of the multidimensional features may be helpful in early diagnosis.
---
---
dysmenorrhea
dyspareunia
pelvic pain
longitudinal
adolescents
adults
endometriosis.
DISCLAIMER
EndoNews highlights the latest peer-reviewed scientific research and medical literature that focuses on endometriosis. We are unbiased in our summaries of recently-published endometriosis research. EndoNews does not provide medical advice or opinions on the best form of treatment. We highly stress the importance of not using EndoNews as a substitute for seeking an experienced physician.
<< Previous Article

Next Article >>