Patients' opinion about surgical treatment of endometriosis
Oct 30, 2020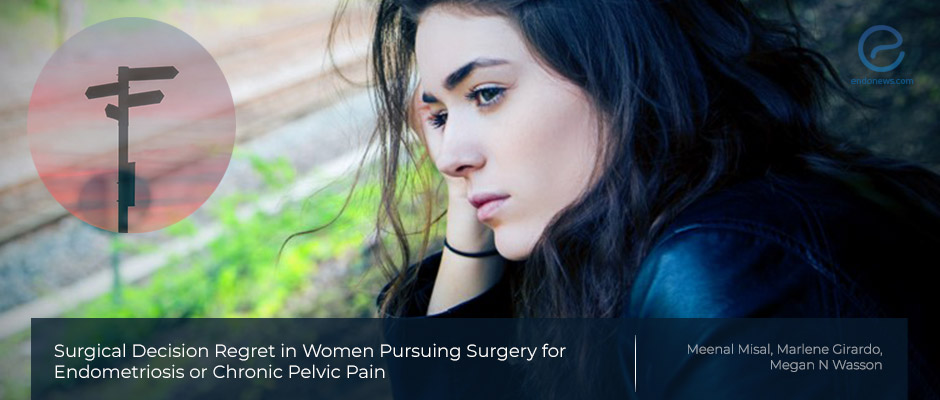 Most women are happy with their decision of surgical excision
Key Points
Importance:
Dissatisfaction with the medical decision is a major concern for endometriosis patients who underwent laparoscopic or robotic surgery.
Highlights:
Gynecologic surgeons must clearly counsel patients before laparoscopic or robotic surgical approaches to give correct information about the risks, benefits, and alternatives to the surgery for their correct final decision.
What's done here:
A retrospective study was conducted in a tertiary academic center on women who underwent surgery with a diagnosis of endometriosis or chronic pelvic pain between January 2016 and Jun 2019.
154 patients out of 253 responded to the question "whether the excisional surgery was the right decision about their treatment".
The statistical analyses and interpretations were made according to the patient's opinions.
Key results:
Responders (161/253) have the same surgical characteristics in terms of the performance of hysterectomy or robotic surgery when compared to the non-responders.
After the exclusion of 7 cases for some reason, the response rate of 154 patients who successfully connected to this study survey was 60.8 % and was included in the analyses.
A similar rate of intrauterine device replacement and postoperative use of hormonal suppression between responders and non-responder groups, whereas responders were more likely to have stage III/IV endometriosis.
Overall 25 patients (16.3%) reported some level of regret after excisional surgery for endometriosis.
Lay Summary
Delayed diagnosis and management of endometriosis and chronic pelvic pain is a major problem in gynecologic practice. Alternatively, providers may feel reluctant to perform surgery although they are aware of treatment options and surgical timing. One possible reason for this delay could be the postoperative regret of the patient if symptom relief is not achieved.
To relieve the gynecologist in this regard, Misal et al., from the Department of Gynecology, Mayo Clinic, Arizona, USA calculated the postoperative contentment of patients by applying multiple questionnaires and recently published the results of their analyses in the "Journal of Minimally Invasive Gynecology".
The literature review show less than 20 percent prevalence of postoperative regret in both benign and oncological non-gynecologic surgeries. The need to know the prevalence of regret after excisional surgery of endometriosis and chronic pelvic pain was the goal of the authors. They were interested in the potential factors such as lack of symptom improvement, surgical complications, negative pathology for endometriosis, time to surgery, age, and socioeconomic status that may impact postoperative regret.
The survey included two validated questionnaires: the decision regret scale and the patient's global impression of improvement scale, to obtain updated demographic information. All patients were operated on by subspecialty-trained gynecologic surgeons.
On the patient's global impression of improvement scale, 62.7% of endometriosis patients reported currently feeling much better than before after the surgery while 7.3% of them suffered the worsening of their symptoms. Regret-related reasons are the misdiagnosis of endometriosis, inadequate preoperative counseling, intraoperative complications, and positive feelings about alternative treatments that can improve their symptoms.
"Surgical treatment for endometriosis is improving the quality of life in women with deeply infiltrated endometriosis undoubtedly. While counseling the benefits of the surgery the patient must be informed about surgical risks and the possibility of unchanged symptoms against the development of regret after the operation", the authors conclude.
---
---
questionnaire
excisional surgery
patients' satisfaction
endometriosis
stage III
stage IVendometriosis
DISCLAIMER
EndoNews highlights the latest peer-reviewed scientific research and medical literature that focuses on endometriosis. We are unbiased in our summaries of recently-published endometriosis research. EndoNews does not provide medical advice or opinions on the best form of treatment. We highly stress the importance of not using EndoNews as a substitute for seeking an experienced physician.
<< Previous Article
Next Article >>