A new Marker to Detect Endometriosis and Its Severity?
By:
Özge Özkaya
- Oct 29, 2020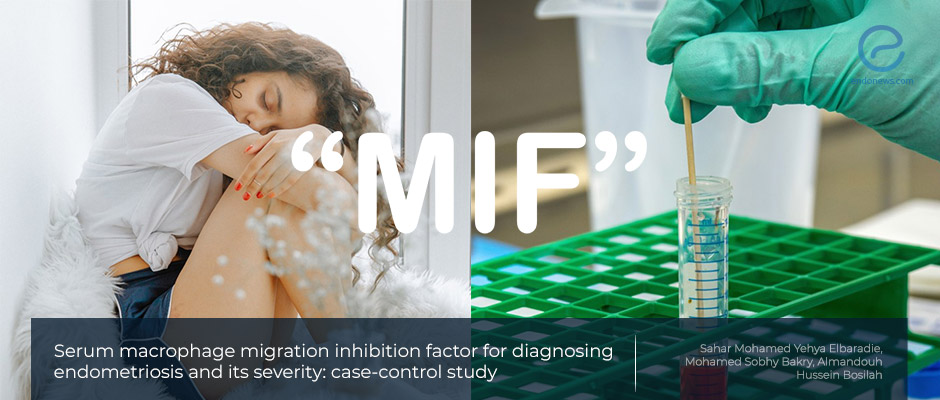 Serum Macrophage Migration Inhibitory Factor is high in endometriosis patients
Key Points
Highlights:
Macrophage migration inhibitory factor could be a reliable diagnostic marker for endometriosis as well as a target for detecting the severity of the disease.
Importance:
This marker allows non-invasive and reliable diagnosis for endometriosis and its stage.
What's done here:
Researchers conducted an observational case-controlled study in 300 women who were infertile or had chronic pelvic pain.
Key results:
Levels of Macrophage migration inhibitory factor (MIF) are significantly higher in women with endometriosis compared to those who experience chronic pelvic pain due to other reasons.
Levels increase with the advancing endometriosis stage.
Endometriotic patients who are infertile and have chronic pelvic pain have significantly higher levels of macrophage migration inhibitory factor.
A cut-off value of 0.85 pg/mL of MIF in the blood can reliably predict the presence or absence of endometriosis, with a sensitivity of 80% and a specificity of 83%.
Limitations:
Only post-menstrual women were included in the study so no information is available about the relationship between MIF levels and the menstrual cycle phase.
This was a case-controlled study and is not as powerful as a cohort study that could more accurately determine the relationship between blood levels of MIF and endometriosis.
Lay Summary
Macrophage migration inhibitory factor (MIF) could be a novel marker that could help diagnose endometriosis as well as to detect its severity. This is according to a new study by researchers in Egypt, published in the scientific journal "BMC Women's Health".
There are currently no reliable markers that can detect endometriosis in a non-invasive method and laparoscopic surgery remains the gold-standard diagnostic tool. However, this is an invasive method that requires surgical incisions to be made.
Macrophage migration inhibitory factor, MIF, is a blood biomarker that is known to be present in the blood of women with endometriosis. In order to determine whether MIF can be used to accurately detect endometriosis in women who are infertile or have chronic pelvic pain, a team of researchers led by Dr. Almandouh Hussein Bosilah at Fayoum University in Cairo, Egypt conducted an observational case-controlled study from March 2016 to September 2018.
The team analyzed 300 women who were candidates for diagnostic laparoscopy for either infertility or chronic pelvic pain. Half of the women had symptoms suggestive of endometriosis or chocolate cysts detected by ultrasound and confirmed by laparoscopy and histopathology. The other half were infertile or had pelvic pain due to other causes (the control group). All women underwent laparoscopy.
When they looked at the level of MIF in the blood of both groups of women, researchers found that these levels were significantly higher in the blood of women with endometriosis compared to the control group. Moreover, levels of MIF increased with disease severity and were significantly higher in women who experienced pain and were infertile. The researchers calculated a cut-off MIF value of 0.85 pg/mL as a marker of endometriosis.
MIF is an important regulator of innate immunity. It is also a potent factor that induces the division of endothelial cells that line the interior surface of blood vessels. Researchers think that endometriosis cells could secrete MIF, which would stimulate cell proliferation.
---
---
Macrophage migration inhibitory factor
MIF
diagnosis
biomarker
DISCLAIMER
EndoNews highlights the latest peer-reviewed scientific research and medical literature that focuses on endometriosis. We are unbiased in our summaries of recently-published endometriosis research. EndoNews does not provide medical advice or opinions on the best form of treatment. We highly stress the importance of not using EndoNews as a substitute for seeking an experienced physician.
<< Previous Article

Next Article >>