Risk of placenta previa is elevated in endometriotic women who underwent surgery.
By:
Selma Oransay
- Dec 5, 2019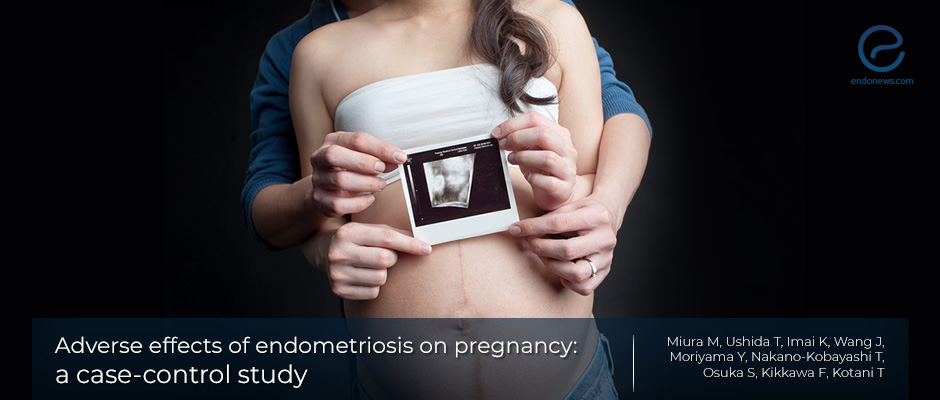 Particular attention for placenta previa of pregnants with endometriosis especially those applied to a previous operation.
Key Points
Importance:
The treatment of endometriosis before conception could affect subsequent perinatal outcomes.
Highlights:
Endometriosis is an independent risk factor for placenta previa especially if a laparoscopic operation performed before pregnancy.
What's done here:
A case-control study was performed to clarify the importance of perinatal outcomes after treatment for endometriotic patients.
Key Results:
The risk of placenta previa is significantly higher in the endometriosis group, compared to the control group.
No statistical difference was found between the 2 groups regarding preterm births, hypertensive disorders of pregnancy, gestational diabetes and placental abruption cases.
All neonatal outcomes such as height, birth weight, SGA, Apgar scores, umbilical artery PH are similar between the 2 study groups.
Endometriosis itself was identified as independent risk factors for placenta previa. Assisted reproductive techniques also considered an independent risk factor for placenta previa per se.
Patients in the surgical treatment group of endometriosis showed a higher risk for placenta previa comparing non-operated groups. This risk tends to accelerate after 5 years gap of the laparoscopic surgery and pregnancy.
Limitations:
The diagnosis of endometriosis in the non-surgical treatment group was not based on laparoscopy, which is the gold standard, which may cause misclassification bias.
The sample size is smaller than the previous studies; hence, further studies are required to test the findings.
Data on the presence of deep infiltrating endometriosis and the stage for patients were not sufficient for an appropriate comparison.
To determine the real effect of surgery on pregnancy complications associated with endometriosis, further study is required comparing a control surgery group without endometriosis.
Absence of definition for the stages of endometriosis is another limitation for this study.
Lay Summary
In the last decade concerns raised for surgical operations performed before pregnancies of endometriotic patients due to significantly increased risk of pregnancy complications such as placenta previa, preterm birth, hypertensive disorders of pregnancy, placental abruption, postpartum hemorrhage and small baby for gestational age.
The comparison of the efficiency of medical treatment versus surgery before pregnancy remains uncertain.
To evaluate the difference between these two regimes affecting perinatal outcomes, Miura et al. from the Department of Obstetrics and Gynecology of Nagoya University Graduate School of Medicine, planned a case-controlled study and recently published their results in "BCM pregnancy and Childbirth". The study included 2769 females between the years 2010 and 2017, whereas only 80 were diagnosed as endometriosis and the rest accepted as the control group.
In the endometriosis group, the disease was confirmed either histologically after laparoscopy (n=49) or by ultrasound and MRI (n=27) and only presence of symptoms (n=4).
Surgically treated group of endometriosis consists of cystectomy for ovarian endometriosis, ablation, and excision of endometriotic implants and adhesiolysis. Medically treated group of endometriotic patients obtained hormone therapies as gonadotropins, progesterone, and oral contraceptives according to their medical records. All the maternal characteristics like age, primipara, pre-pregnancy BMI, pre-pregnancy hypertension, pre-pregnancy diabetes and assisted reproductive regimes between control and endometriosis groups were analyzed using statistical methods.
The results underlined the association between endometriosis itself and the placenta previa. The authors also pointed out that after surgery group placenta previa risk accelerated when compared to the medical treatment group. The reason the operated patients are exposed to much more placenta previa risk might be due to the presence of severe endometriosis in the form of deeply infiltrating endometriosis, or advanced-stage disease. Furthermore, the presence of a five years gap between operation and pregnancy brings higher risk to the endometriotic patient that could be explained by the progression of the disease to the more advanced stages in the coming years.
In conclusion, although there is an increase in the risk of placenta previa in the surgically treated group, this difference appears to be partly due to the severity of endometriosis rather than the surgery itself.
---
---
laparoscopic operation
hormonal treatment
neonatal outcomes
pregnancy complications
placenta previa
ART
hypertensive disorders of pregnancy
DISCLAIMER
Endonews is designed to strictly highlight the most recently published scientific research that focuses on endometriosis. It is not designed to provide medical advice or an opinion on the best form of treatment. We highly stress the importance of not using this site as a substitute for seeking an experienced physician, which is highly recommended if you have any questions or concerns regarding your endometriosis needs. We believe in the consciousness of our reader to discriminate that research is different than "standard of care," and trust that they can keep in mind that here at Endonews, we summarize the newest peer-reviewed scientific medical literature, without bias.
<< Previous Article