CD4, CD8 T lymphocytes gain importance in endometriosis
By:
Engin Aydin
- Dec 4, 2019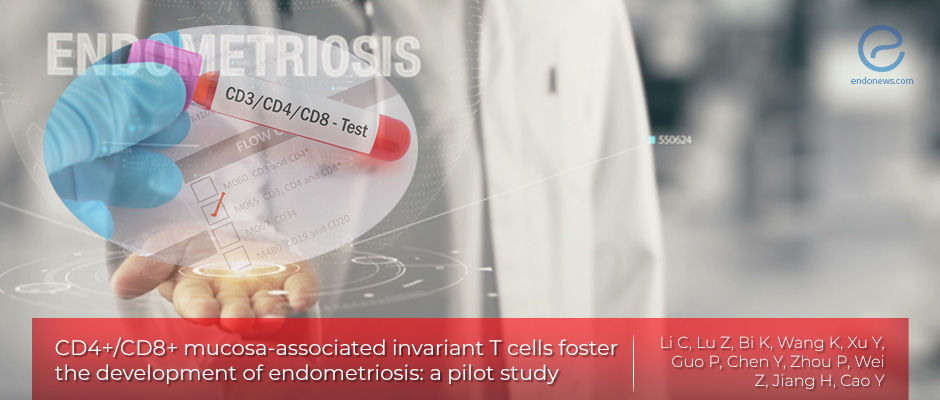 Discovery of T lymphocyte subsets in endometriosis patients
Key Points
Highlights:
Many reports indicate that the development of endometriosis may be related to dysregulation of the immune system and some even consider endometriosis to be an autoimmune disorder.
Recently, a research group has revealed a possible role of these T cell subsets in endometriosis patients.
Importance:
Mucosal-associated invariant T lymphocytes are found both in peripheral blood and tissues, take part in both innate and adaptive immunity.
Based on CD4 and CD8 expressions, they can be divided into CD4-positive, CD8-positive, and double negative.
Though there are various studies investigating the role of immune cells in the development of endometriosis, CD4, CD8 subsets of mucosal-associated invariant T lymphocytes have not been revealed in endometriosis patients.
What's done here:
Peripheral blood and peritoneal fluids from 32 endometriosis patients and 18 controls were collected. T cells were quantified by flow cytometry and mucosal-associated invariant T cells further assigned as CD4+, CD8+, and double negative.
Data:
Endometriosis patients displayed a remarkably higher level of MAIT cells as compared to controls in their peripheral blood without any difference in the subpopulations of CD4, CD8.
In the peritoneal fluid samples, MAIT cells were higher in endometriosis patients as compared to controls, along with the subpopulations, CD4 and CD8 subsets.
Lay Summary
Immune dysregulation is important in the development of endometriosis where the role of various lymphocyte subpopulations has been investigated up till now.
Caihua Li and associates from Anhui Medical University, China, made a unique observation regarding CD4 and CD8 T lymphocyte subpopulations in this regard, publishing their findings at "Reproductive Biology and Endocrinology".
The mucosa-associated invariant T cell is an important T cell subset in the pathogenesis of various autoimmune diseases. There exist three functionally distinct MAIT subsets: CD4-positive, CD8-positive and double negative MAIT cells.
Peripheral blood and peritoneal fluid samples were callected from 32 endometriosis patients and 18 controls. Tests of cytokines in plasma and peritoneal fluid, characterizations of T lymphocytes were performed by flow cytometry, and further CD4 and CD8 subsets were revealed. CD8-positive cells had a high activation in the endometriosis group, producing higher levels of IL-8/12/17 as compared to controls.
Interestingly, control specimens exhibited an impressive upregulation of double negative cells. Accumulation of these cells in the peritoneal fluid was also positively correlated with an elevated level of serum CA125 production in the endometriosis group.
The authors suggest that these results reveal CD4 and CD8 T cell subsets have distinct roles in the progression of endometriosis.
---
---
CD4
CD8
T lymphocytes
DISCLAIMER
Endonews is designed to strictly highlight the most recently published scientific research that focuses on endometriosis. It is not designed to provide medical advice or an opinion on the best form of treatment. We highly stress the importance of not using this site as a substitute for seeking an experienced physician, which is highly recommended if you have any questions or concerns regarding your endometriosis needs. We believe in the consciousness of our reader to discriminate that research is different than "standard of care," and trust that they can keep in mind that here at Endonews, we summarize the newest peer-reviewed scientific medical literature, without bias.
<< Previous Article

Next Article >>