Obstetric Outcomes of Pre-pregnancy Endometriosis Surgery
Dec 8, 2022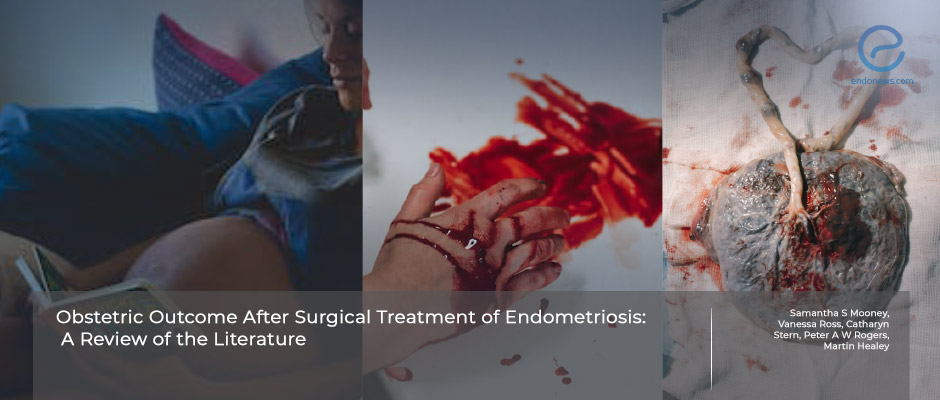 The evidence related to the role of pre-pregnancy endometriosis surgery in ameliorating adverse pregnancy outcomes is insufficient.
Key Points
Importance:
Endometriosis diagnosis is associated with increased risks of adverse pregnancy outcomes, including placenta praevia and preterm birth.
Currently published studies are heterogenous in design, study group definition, the outcome measures, and have a critical risk of bias.
Highlights:
To assess the relationship between surgical treatments for endometriosis and obstetric outcome, prospectively designed studies are necessary.
What's done here:
An Australian research team aimed to evaluate the effect of pre-pregnancy endometriosis surgery on future adverse obstetric outcomes.
A literature review was conducted for the studies reporting pre-pregnancy surgery for endometriosis and subsequent pregnancy outcome compared to controls with unresected endometriosis.
Only three studies met the inclusion criteria.
Key Results:
The electronic database search yielded 824 articles, after screening 37 were selected, and only 3 were eligible for this review.
The currently published studies are heterogenous in design, study group definition, and outcome measures, along with a critical risk of bias.
Pre-pregnancy excision of endometriosis was associated with an increased risk of cesarean section in one of two studies.
Placenta praevia rates were higher in one of two studies.
One study found increased risks of preterm birth, small for gestational age, gestational hypertension, and antepartum and postpartum hemorrhage with pre-pregnancy endometriosis excision.
These results do not predict the increased risk of adverse obstetric outcomes after endometriosis surgery.
Lay Summary
Endometriosis may be associated with poor pregnancy outcomes, including placenta praevia, preterm birth, premature prelabour rupture of membranes, obstetric hemorrhage, gestational hypertensive disorders, fetal growth restriction, and perinatal death. Some authors have attempted to demonstrate a causal relationship between endometriosis and obstetric complications. It is unknown whether pre-pregnancy surgery for endometriosis alters the risk of adverse obstetrics outcomes. Moreover, the effect of assisted reproductive technologies and comorbid adenomyosis on obstetric risk should be investigated.
Dr. Samantha Mooney et al. from the Department of Gynecology of Mercy Hospital for Women, Heidelberg, Australia, conducted a literature search to evaluate the impact of surgical treatment of pre-pregnancy endometriosis on future obstetric outcomes. After the electronic search and detailed analyses of the literature of the last six and half years, only 3 articles met the required criteria: a retrospective cohort study from France comprising 41 patients with colorectal surgery for endometriosis and 26 women with known in-situ colorectal endometriosis without surgery as the control group: another study from Japan which compared maternal and neonatal outcomes for an endometriosis group and controls; and another evaluating the results of Danish Health Registration.
After discussing the risk of bias of included studies, the authors concluded that "It is not possible to determine whether more severe forms or different types of endometriosis also affect pregnancy outcomes from the available literature. Ultimately, prospective studies are required to firstly confirm or refute the possible associations between endometriosis and obstetric complications, and secondly to investigate whether pre-pregnancy management with either medical or surgical modalities alters this risk".
This review article was recently published in the journal named "Frontiers in Reproductive Health".
---
---
obstetric outcome
pre-pregnancy excision
endometrioma
colorectal surgery
caesarean section
placenta previa
ablatio placenta
pre-eclampsia
preterm birth
endometriosis.
DISCLAIMER
EndoNews highlights the latest peer-reviewed scientific research and medical literature that focuses on endometriosis. We are unbiased in our summaries of recently-published endometriosis research. EndoNews does not provide medical advice or opinions on the best form of treatment. We highly stress the importance of not using EndoNews as a substitute for seeking an experienced physician.
<< Previous Article

Next Article >>