Non-hormonal medication for endometriosis-associated pelvic pain
Dec 1, 2022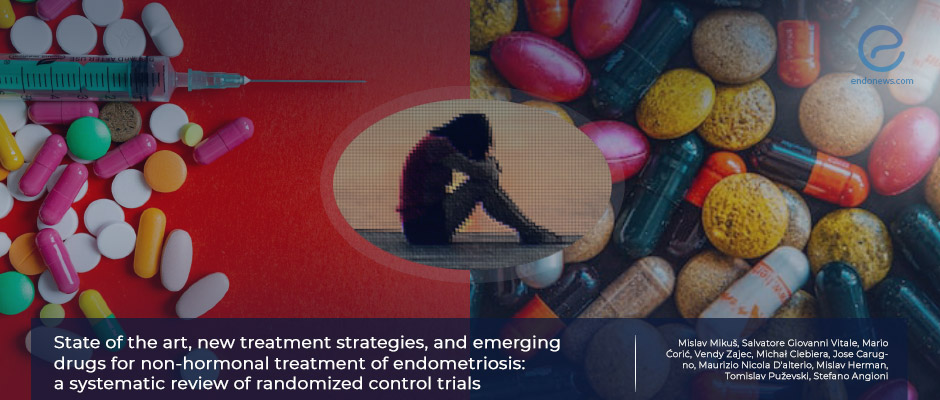 Current non-hormonal treatment options appear to be suppressive rather than curative.
Key Points
Non-hormonal therapy of endometriosis-associated pelvic pain is an alternative method in addition to surgical and hormonal therapies.
Highlights:
Although there are significant advances in non-hormonal therapies for endometriosis-associated pelvic pain, most currently are suppressive rather than curative.
What's done here:
A multi-national team has prepared a review focusing on non-hormonal therapeutic options for endometriosis-associated pelvic pain.
Relevant original studies consisting of randomized control trials have been selected through a literature search between 2012 and 2022.
Seven main articles from 179 electronically selected records met the inclusion criteria, and a systemic review was performed.
Key Results:
Well-founded studies of several non-hormonal drug therapies are angiogenic agents, immunomodulators, and natural components.
Dopamine agonists and an immunomodulatory JNK inhibitor (bentamapimod) have shown promising results in selected randomized control trials.
Agents like TNF-alfa inhibitors and statins failed to demonstrate efficacy or have not been represented in trials.
Lay Summary
The thought of benefiting from non-hormonal therapy in endometriosis pain is based on the pathophysiological findings that include angiogenesis, fibrosis, the presence of inflammatory cytokines and immune cells, apoptosis, and stem cell theory. But the effect of this treatment in improving pelvic pain differs among studies.
A group of researchers led by Dr. Sangioni from the Division of Gynecology and Obstetrics of the University of Cagliari, Italy, penned this systematic review composed of the evaluation of randomized control trials published over the past decade to reveal the efficacy of non-hormonal treatment of pelvic pain in endometriosis. This review was recently published in Gynecologic Endocrinology.
The literature search was conducted with an electronic database using keywords "endometriosis", " chronic pelvic pain", "dysmenorrhea", " dyspareunia", " non-hormonal medical therapy", " new treatment", drug development". Three authors independently screened titles and abstracts of studies obtained by the search strategy, and 4 other authors independently reviewed the selection and data extraction process. Finally, 7 studies were included in the review while 172 studies were excluded.
The reviewed randomized-control trials showed promising results with dopamine agonists and the immunomodulatory JNK inhibitor named bentamapimod. Since antiangiogenic agents are used in life-threatening diseases such as cancer and may pose a teratogenic risk for pregnancy, they should be well-considered before administration. Antiangiogenic drugs may be preferred in advanced stages of endometriosis where fibrosis and inflammation are dominant.
The hormonal treatment used after surgery to prevent the recurrence of endometriotic lesions is an obstacle for patients who wish to conceive. In this particular situation, non-hormonal, non-contraceptive therapies become important. "Based on published evidence, clinicians should consider dopamine agonists and "bentamapimod" in alternative second and/or third-line treatment options ", concluded the authors.
---
---
antiangiogenic agents
immunomodulators
non-hormonal treatment
pelvic pain
resveratrol
endometriosis.
DISCLAIMER
EndoNews highlights the latest peer-reviewed scientific research and medical literature that focuses on endometriosis. We are unbiased in our summaries of recently-published endometriosis research. EndoNews does not provide medical advice or opinions on the best form of treatment. We highly stress the importance of not using EndoNews as a substitute for seeking an experienced physician.
<< Previous Article

Next Article >>