Epigenetic changes in endometriosis: A new target area for therapy
By:
Eylül GÜN
- Nov 30, 2022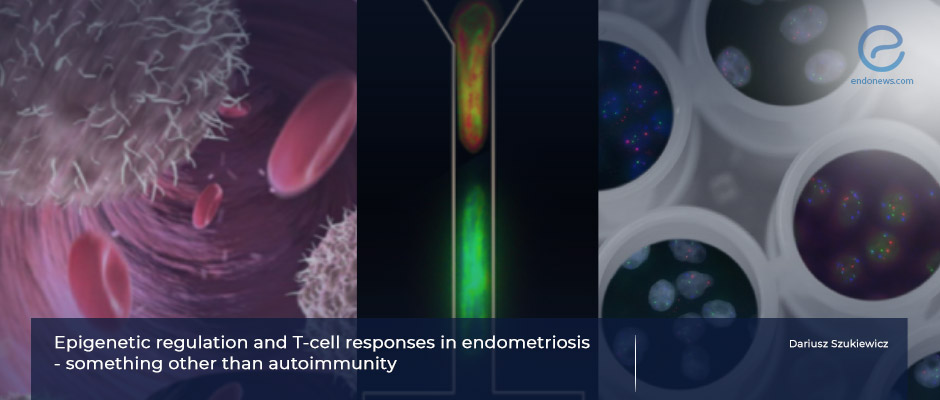 T-cell reprogramming might be effective in overcoming immune system changes in endometriosis
Key Points
Highlight
Epigenetic reprogramming of the altered T-cell function in endometriosis emerges as a new target for therapies.
Importance
Endometriosis is a multifactorial disease with several underlying mechanisms including epigenetic changes.
The altered immune environment in endometriosis is modulated by these epigenetic changes and recognition of the changes makes way for a better understanding of the disease pathogenesis.
What's done here
This is a comprehensive review that summarizes the latest findings considering the immune system changes, in particular, T-cells in endometriosis.
Key results
DNA methylation levels and patterns were found to be different in endometriosis patients.
Gene expression regulation by histone modifications, and differences in many miRNA expressions were proven in endometriosis.
The loss of balance between several T cells results in inflammation that induces the progression of endometriosis.
Th1 lymphocytes were shown to be lower in endometriotic lesions whereas Th17 lymphocytes were significantly higher.
Tregs were found to be increased in specimens taken from endometriosis patients.
Defective apoptotic pathways also contribute to the altered immune response.
Hormonal imbalances contribute to immune changes and may be acting together in inducing the pro-inflammatory state.
Foxp3 protein plays an important role in balancing the immune response by regulating Tregs.
Lay Summary
Epigenetics is the heritable genetic modifications and changes in chromosomes without alterations in the DNA sequence. Numerous mechanisms, like DNA methylation and RNA editing to mention a couple, have been discovered as epigenetic alterations that are triggered by environmental factors. Epigenetics play a role in maintaining the body's homeostasis, and any abnormalities in these mechanisms make way for certain diseases.
In autoimmune diseases, the immune system attacks its own cells and many cells have roles in it as immune effectors. It has been demonstrated that among these, T-cells experience specific epigenetic processes during their development and differentiation. The discovery of these pathways is crucial because it will shed light on the pathophysiology of autoimmune diseases and, more importantly, open the door to novel therapeutic approaches. Endometriosis shares many characteristics with autoimmune diseases but is still not regarded as an autoimmune disease because of its unidentified etiology, however, evidence suggests epigenetic mechanisms play a key role in its etiopathogenesis. In his comprehensive review, Daniel Szukiewicz from Poland aimed to get the epigenetic reprogramming of T cells as a key etiopathogenetic feature in endometriosis recognized. The article was published in the July 2022 issue of the journal Frontiers in Immunology.
Epigenetic factors modulate the immune environment in endometriosis. Studies show that the DNA methylation levels and patterns are different in patients with endometriosis. These differences in methylation results in pro-inflammatory and tissue-remodeling cytokine profiles which affect the T-cell response. What is more, gene expression regulation by histone modifications has been proven in endometriotic tissue as well as differences in many miRNA expressions. Th cells and Tregs constitute the main components of the innate immune system and are thought to have potential roles throughout all the phases of endometriosis. If the balance between Th1/Th2/Th17 and Tregs cannot be maintained, it may result in inflammation that induces the progression of endometriotic lesions. Th1 lymphocytes were shown to be lower in endometriotic lesions whereas Th17 lymphocytes were significantly higher. Moreover, Tregs were found to be increased in specimens taken from endometriosis patients. The exact role of these Tregs is still not known, they may be acting to create an anti-inflammatory environment to suppress the activation of the immune system or they could be trying to reduce the severe inflammatory reaction. in endometriosis.
Considering all the changes that happen in endometriosis, the author concludes that normalization of T-cell function via epigenetic reprogramming is now a clear target for new therapies in endometriosis while taking into account the hormonal imbalances that constitute an important part of the etiopathogenesis of the disease.
---
---
endometriosis
epigenetics
autoimmunity
epigenetic changes
DISCLAIMER
EndoNews highlights the latest peer-reviewed scientific research and medical literature that focuses on endometriosis. We are unbiased in our summaries of recently-published endometriosis research. EndoNews does not provide medical advice or opinions on the best form of treatment. We highly stress the importance of not using EndoNews as a substitute for seeking an experienced physician.
<< Previous Article

Next Article >>