"Kissing Round Ligaments" May Be a Sign of Bladder Endometriosis
Jul 16, 2017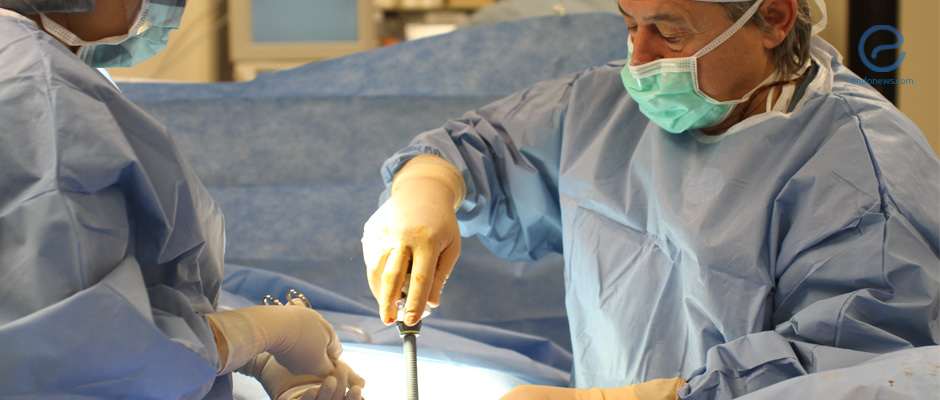 Bladder endometriosis is rare and difficult to diagnose. A new visual scoring system may help surgeons better diagnose the condition.
Key Points
Highlights:
Scientists in Israel developed a visual system that could help surgeons diagnose bladder endometriosis.
Importance:
Bladder endometriosis is rare and underestimated due to many cases going undiagnosed. It is therefore important to have a good system in place to diagnose the condition.
Preoperative evaluation is a key step to plan the correct surgical procedure, however, the preoperative evaluation may not always indicate bladder lesions. Regardless of comprehensive preoperative evaluation, urinary tract endometriosis can still be missed, even during surgery.
Every step of care needs to be improved for accurate diagnosis and better outcomes concerning pain and fertility.
What's done here?
Researchers retrospectively analyzed photographs and videos taken during laparoscopic surgery and defined a scoring system that can help surgeons diagnose endometriosis.
The study covered 642 patients operated for endometriosis between 2005 to 2014, and 69 patients with bladder endometriosis were included in the study.
The goal was to establish the diagnostic intraoperative laparoscopic findings for bladder endometriosis and estimate their severity for further management decision.
Key results:
In patients diagnosed during or after surgery with full-thickness bladder endometriosis, preoperative TVS diagnosed only 66.7% of the patients with full-thickness lesions; cystoscopy diagnosed all cases correctly
The researchers identified three subtypes of laparoscopic findings:


"anatomical distortion": Pelvic peritoneal implants, anatomical distortion, adhesions near the bladder. Mostly (58.3%) associated with a superficial and less (25%) with deep endometriosis.
"proximal tube and/or the anterior compartment blockage": Unilateral/bilateral proximal tubal occlusion almost always associated with full-thickness bladder endometriosis (95%) and deep bladder endometriosis (75%).
"kissing round ligaments": The uterus bends anteriorly due to advanced bladder endometriosis, and bilateral round ligaments assemble: usually associated with a full-thickness bladder endometriosis (71%) and in deep lesions (33.3%).
Limitations of the study:
The study only involved 69 patients
The findings need to be repeated by other teams to confirm the reliability of the scoring system.
Lay Summary
Specific laparoscopic findings may help surgeons diagnose bladder endometriosis, a rare and often undiagnosed condition.
Bladder endometriosis is thought to affect only around one percent of patients with endometriosis. However, this could be an underestimation and many cases may go undiagnosed.
In order to help surgeons diagnose bladder endometriosis, researchers led by Dr. David Soriano in the Department of Obstetrics and Gynecology, at The Chaim Sheba Medical Center in Ramat-Gan, Israel established a visual score of pelvic lesions.
The team used photographs and videos taken during laparoscopic surgery from 69 patients in whom a diagnosis of bladder endometriosis was confirmed using tissue analysis techniques.
They found three subtypes of laparoscopic findings that can help diagnose bladder endometriosis.
They named the most prominent of these "kissing round ligaments" where the right and left round ligaments, or anatomical structures of the pelvis that hold the womb in place, appear closer to each other than normal or even touching.
The other two signs of laparoscopic findings indicating the presence of bladder endometriosis were anatomical distortion and blockade of the tubes.
The researchers also defined a scoring system for the lesion that can help surgeons determine the severity of bladder endometriosis.
"Operative laparoscopic findings may help the surgeon to diagnose bladder endometriosis, and these signs correlate with the severity of the disease," the researchers wrote in their report published in the Journal of Laparoendoscopic & Advanced Surgical Techniques and Videoscopy.
Although bladder endometriosis is rare it can cause severe pain and negatively affect patients' quality of life. The symptoms of the condition can be controlled with a combination of painkillers and hormonal treatments. If left untreated symptoms may worsen over time.
---
---
bladder endometriosis
diagnosis
DISCLAIMER
EndoNews highlights the latest peer-reviewed scientific research and medical literature that focuses on endometriosis. We are unbiased in our summaries of recently-published endometriosis research. EndoNews does not provide medical advice or opinions on the best form of treatment. We highly stress the importance of not using EndoNews as a substitute for seeking an experienced physician.
<< Previous Article

Next Article >>