MTA1 as a predictor for the progression of endometriosis.
Oct 2, 2018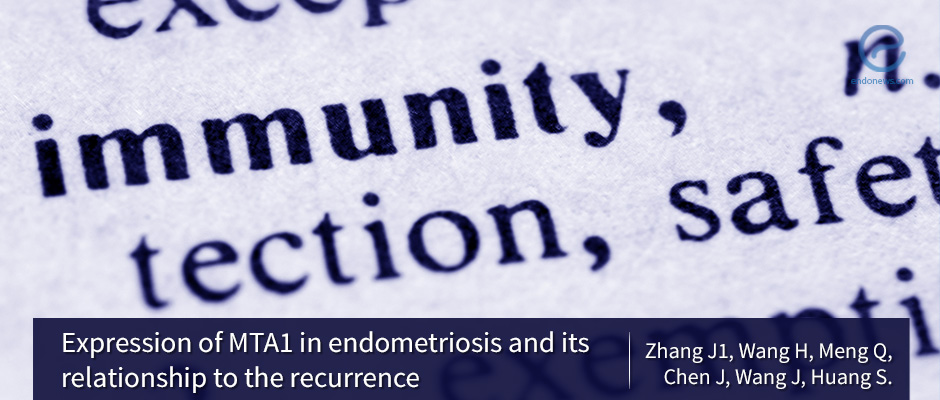 MTA1 plays role in the progression of tumors, how about in endometriosis, which has tumor-like characteristics?
Key Points
Highlights:
MTA1 gene is highly correlated with prognosis of many tumors. The aim of this study is to show whether it has the same correlation with endometriosis progression and recurrence.
Importance:
Metastasis-associated gene MTA family has three molecular types named MTA1, MTA2, and MTA3. The importance of using MTA1 in immunochemistry analyses is due it's carboxyl-terminal which contains an SH3 structure that makes an interaction with signaling molecules.
What's done here:
To compare MTA1 existence in the normal, ectopic and eutopic endometrium samples, the authors studied immunochemistry and reverse transcription-PCR techniques.
Key results:
MTA1 has no relation with the proliferation and apoptosis of endometrium.
After determining MTA1 statistically higher levels (p<0.05) in ectopic endometrium they indicate the role of the metastasis-associated gene in recurrence of endometriosis.
MTA1 mRNA and MTA1 protein levels are higher in stage III-IV endometriosis than in stage I-II that means MTA1 is directly related with the progression of endometriosis.
When results stratified by age, BMI, r-AFS grading, postoperative pregnancy, dysmenorrhea, and evaluated by the multivariate logistic regression model, high expression of MTA1 and rAFS stage were found to be significant risk factors for postoperative recurrence for ovarian endometriosis.
Lay Summary
Jing Zhang et al. from the Department of Obstetrics and Gynecology, Affiliated Haikou Hospital, Xiangya Medical College of Central South University, Hainan, China, published their article in the open access medical journal "Medicine". Their aim was to evaluate the relationship between endometriosis and tumor metastasis gene MTA1 to search its role on the progression and the recurrence of endometriosis.
The surgical and medical treatment combination for endometriosis improve the therapeutic effect in a short time period but recurrence cannot be avoided. Endometriosis is a benign disease but may progress or recur, in other words, may behave like a metastatic disease, thus the authors wanted to see the expression of a gene named MTA1 which is related to tumor metastasis.
Authors collected ectopic and eutopic endometrium samples of one hundred patients with endometriosis during their laparoscopic operations, they also obtained one hundred women's eutopic endometrium samples without endometriosis and compared the level of MTA1 by immunochemical and reverse transcription-PCR techniques. Half of the samples were in the proliferative phase while the other half were in their secretory phase during the laparoscopic operations, similar for both groups.
The results showed that the tumor metastasis-associated gene MTA1 mRNA level is statistically elevated in the endometriosis (ectopic endometrium) (p<0.05), less elevated in the eutopic endometrium (p<0.05) and slightly detectable in normal endometrium samples. There was no difference in the MTA1 expression level when the phase of the menstrual cycle was taken into the account. On the other hand, when the stage of endometriosis was considered, mRNA and MTA1 protein levels were directly proportional to the stage of the endometriosis. Finally, multivariate logistic regression analysis revealed that the high expression of MTA1 and endometriosis stage were independent risk factors for postoperative recurrence for ovarian endometriosis.
Authors concluded that MTA1 protein is involved in the development of endometriosis and suggested to use the MTA1 expression as a molecular marker to predict the progression of endometriosis.
---
---
immunochemistry
metastasis-associated gene
recurrence
reverse transcription
mRNA
MTA1
endometriosis
DISCLAIMER
EndoNews highlights the latest peer-reviewed scientific research and medical literature that focuses on endometriosis. We are unbiased in our summaries of recently-published endometriosis research. EndoNews does not provide medical advice or opinions on the best form of treatment. We highly stress the importance of not using EndoNews as a substitute for seeking an experienced physician.
<< Previous Article

Next Article >>